Sarah Puig-Holzman received the College's Inclusive Excellence Award in the spring, and her capacity for community service seems to have no limits. As she completes her coordinated master's program with the Department of Nutrition and Integrative Physiology, she also serves as a student leader on the University's Anti-Racism Taskforce, and the College's EDI Committee. And she has an extensive volunteer history, working with underserved communities to make sure they have access health resources. But just a few years ago, Puig-Holzman had no idea where she'd end up—fortunately, she's landed in the College of Health.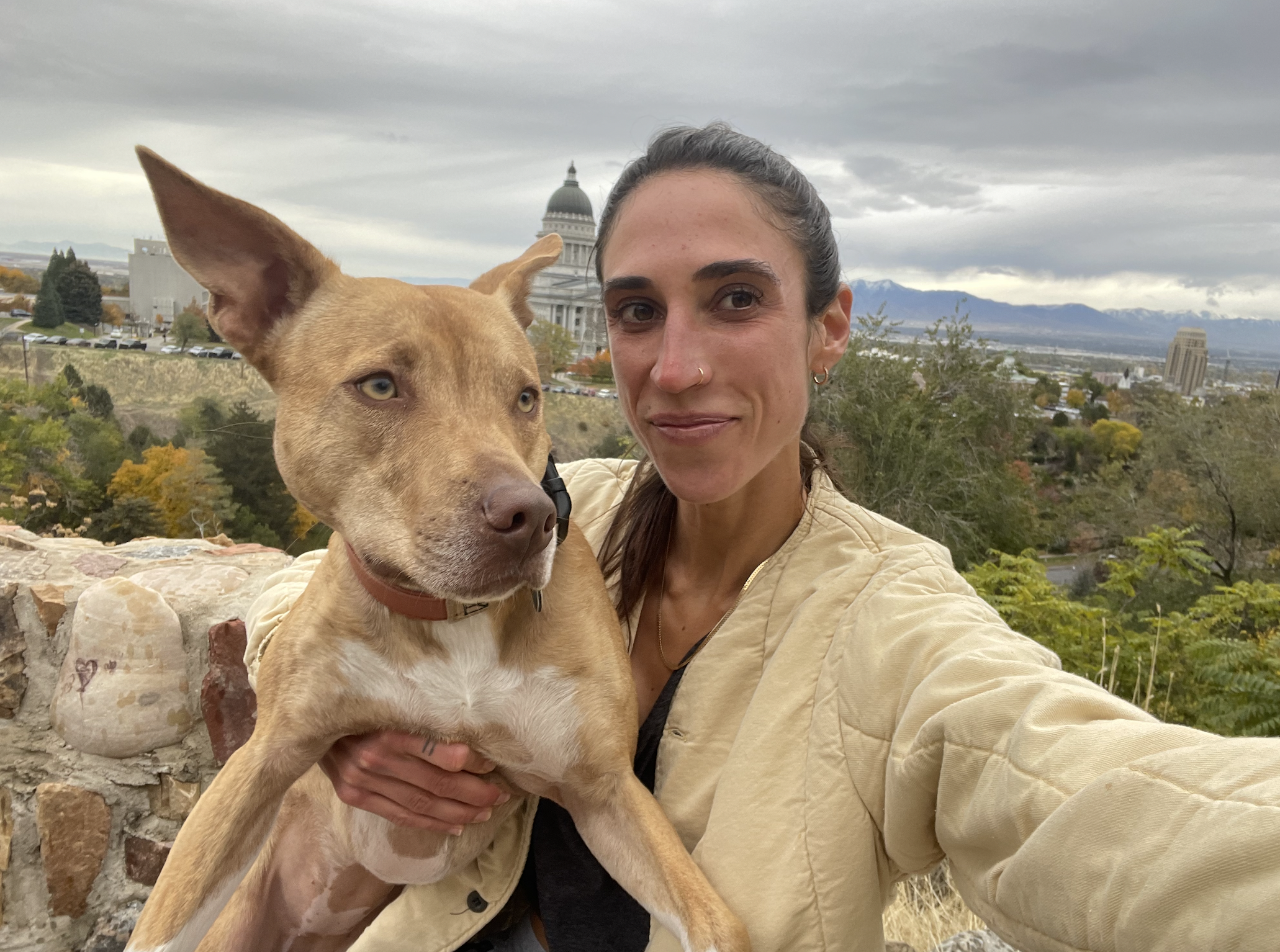 Where are you from originally?
"I'm originally from Texas, but my dad is from Spain, and we moved back to Spain right after I was born. He was a practicing physician, but his green card expired, and we had to move. We lived in Spain for a couple of years and that's still where all my extended family lives. We moved back to the States, and I came to the U in 2012 to start an undergrad in kinesiology with a minor in nutrition. I ended up here randomly, but it all worked out for the best."
How did you choose your program specifically?
"I didn't really know what I wanted to do so I decided to get my pre-med requisites and go to medical school. I was really interested in nutrition, but the U didn't have that as an undergraduate major. When I graduated, I was studying for the MCAT—I did the prep course and had paid all these fees to get my application in order, but I realized I didn't want to do it. I'm a Type A person and realized I wasn't motivated.
I worked in research at the U Hospital for a few years, buying time to figure out what I wanted to do. I thought being in a hospital setting might ignite something. Meanwhile I continued thinking I have no purpose; I don't know what to do. I created wellness challenges at my office and put more energy into that than I did in my work.
Finally, I went to a Coordinated Master's Program information session, it was the aha moment, exactly what I wanted to do. I want to be a registered dietitian.  
As I was working on my application, I would read as much as I could on nutrition and food access, and I realized I want to change the system. I got really inspired. I think every dietitian has a role, whether that's in the hospital or helping a team. I feel like my interest is in giving people access to choose if they want to make healthy choices and live a long life. We can't tell people to eat two to three servings of fruit and vegetables if they don't even have that option. That's what I've been heavily involved in the past two years in the program."
Tell me about some of the clinical and volunteer experiences you've had so far?
"Before I joined the master's program, I volunteered as a site leader and health coordinator for the Connect2Health program for two years. I served at the 4th Street Homeless Clinic and at the Intermountain Pediatric Neurology Clinic. At the clinics, I served as an ally to Spanish-speaking families by providing translation services so they could receive appropriate resources and support. I felt like I was able to make a difference by being able to talk to people in Spanish and relate with them not being able to understand things whether it's inside the hospital or not.
Outside of EDI, to fulfill field experience hours, I did a session with a group of women from the refugee clinic from South Sudan. It was a two-hour session over Zoom on basic nutrition education. Physically I felt awful while doing the session, since I'd received my COVID booster the day before. But I got an email saying that the women loved it and wanted to continue it for six months, so we got together monthly, eventually in person. There was a huge language barrier, but I really loved doing it.
Now I'm working on a focused area of study project with the Utah Department of Health. We've created a survey that we are now currently implementing at as many food pantries that we can in Utah, to get the clients perspective and managers perspective on what they need. We're hoping to gather enough data to present it to the food bank and eventually the USDA to get more funding for food insecurity."
Do you have a favorite professor or memory so far?
"I feel lucky to say that all my professors have truly been amazing. Thunder Jalili, my macronutrient metabolism professor, is a phenomenal professor and pushed me to forget about the grades and focus on actually understanding the content so that I could take what I learned to help people in my future practice. Kary Woodruff stands out too—she made sure MNT was never easy, but without her talent in teaching, I wouldn't have had the skills I needed to succeed in my supervised practice. Outside of "class," Sarah Elizabeth's insight and drive has empowered me to keep fighting the good fight in advocating for equity, diversity and inclusion."
A favorite memory of mine is my supervised practice. When I found out my clinical rotation was going to be in Ogden, I knew it would involve leaving at 6 am every day to commute for two months. Initially I was upset, but it turned out to be the best thing ever. When I started doing my supervised practice, I realized that I could get along well in any setting with people. I do have the ability to connect with others, listen and validate them—I have the potential to change lives."
What are your career aspirations and future goals?
"I want to work in a community setting to help improve food access, teach nutrition education and make it all accessible to everyone and anyone. It's great that a lot of folks can get all their food from the grocery store and have a great diet, but that's not possible for everyone. For those who have a chronic condition or disability, I want to make food and eating enjoyable for them. That part of the Spanish culture sits with me, you're not eating on the go. When you eat it's around people and you're making shared experiences."
Fun fact about you?
"I love sloths so much. I'm obsessed with them, and I think they're adorable. I got to see one in Costa Rica one time, it was the cutest thing ever. I want to go to a sloth sanctuary so badly. It's like $5,000 to spend the night with a sloth but I'd love to do that."
What does "More Health, Less Medicine" mean to you?
"Enabling people to take control of their own health and feel good, without all this extra stuff. I think a lot of people don't know that they can still enjoy life by making daily lifestyle changes that will make them feel so much better. Medicine obviously still plays a role—I take my Zoloft—but focusing on nutrition, wellness and sleep is huge."