Congratulations 2019-2020 and 2020-2021 Graduates!
The College of Health will be holding in-person convocations to celebrate our graduates. We will also feature live stream videos and recordings of the ceremonies.
Programs
Programs will not be available during the events for safety reasons. Programs can be downloaded using the link below.
Watch Simul-Cast 2020-2021 Graduation
Live
The live ceremonies will be streamed from Rice-Eccles Stadium. You can watch all of the events below. Once events have finished they will be available to be viewed and downloaded on this page.
COH Undergraduate
9:00 am, Friday, May 7
COH Masters
11:30 am, Saturday, May 8
.
Missed the live events?
Watch the recordings
Undergraduate Students
COLLEGE OF HEALTH Convocation - Spring 2021
Master's Students
COLLEGE OF HEALTH Convocation - Spring 2021
Programs
Due to safety precautions, College of Health programs will not be available at the events. If you would like a copy, please download a program.
Location
Rice-Eccles Stadium
451 South 1400 East
Guests
Each graduate is allowed four guests
Tickets
Convocation Ticket Link
Please log in at the link above with your University email address (u#######@utah.edu), create a new password, and reserve a ticket for yourself ("student") and four guests. Step by step instructions can be found here.
If you experience difficulty obtaining tickets, please contact Ticketmaster directly for assistance:
(801) 581-8849 or tickets@huntsman.utah.edu
Masks are required for everyone in attendance. Social distancing will also be enforced throughout the entirety of the event.
Participate Virtually
Both the convocation ceremonies and General Commencement will be streamed on Utah.edu/live. Please check scheduling and emails for communications about additional ways to participate.
Weather
The event will be held rain or shine, umbrellas are welcome.
Regalia
Caps & gowns, and other regalia can be purchased at the campus bookstore from now until the event.
ADA Accommodations
We are happy to help make this event possible for all. Please contact Kelly Brown if you have any ADA accommodation requests for yourself or your guests.
Parking
Please see the Convocation Parking Map for information on where to park to attend this year's convocation.
Ride TRAX within campus at no charge (For This Event ONLY).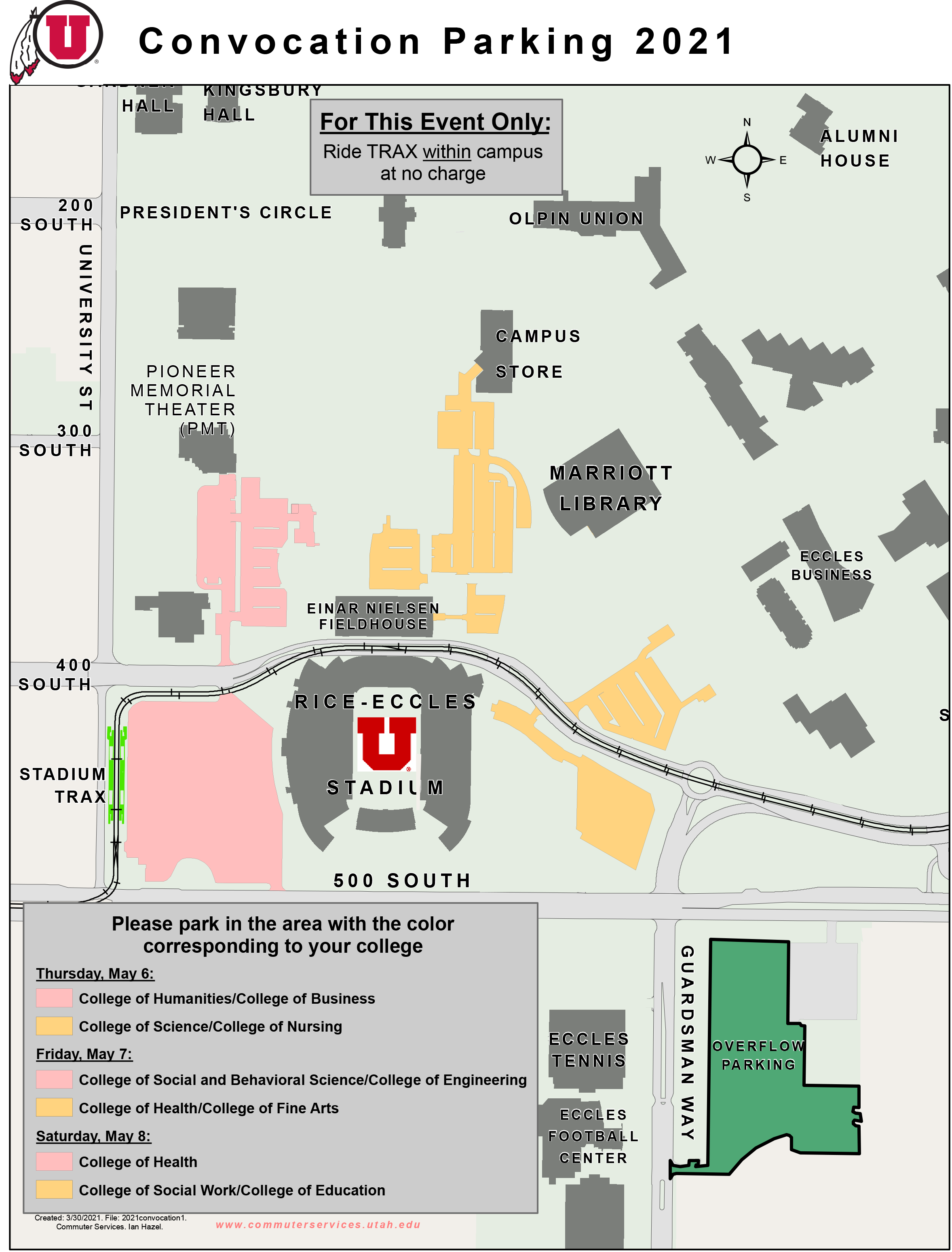 Candidates for Master's and Doctoral Degrees
Time
11:30 am, Saturday, May 8, 2021.
The ceremony will begin at 11:30 am. Students should arrive by 11:00 am.
Candidates for Bachelor's Degrees
Time
9:00 am, Friday, May 7, 2021.
The ceremony will begin at 9:00 am. Students should arrive by 8:30 am.
Another Way to Watch Convocation
Convocation speeches were filmed ahead of the live ceremonies so that you can enjoy them anytime.
If you missed the virtual celebration of the Class of 2020
Despite the current conditions that prevent us from celebrating this monumental achievement in person, we at the College of Health want to celebrate and inspire this year's graduates. We look forward to seeing you all and we hope that until that time you will join us virtually in celebrating the class of 2020.