The College of Health recognized several individuals for excellence in teaching, research and employment at the annual spring meeting. This year's award winners are: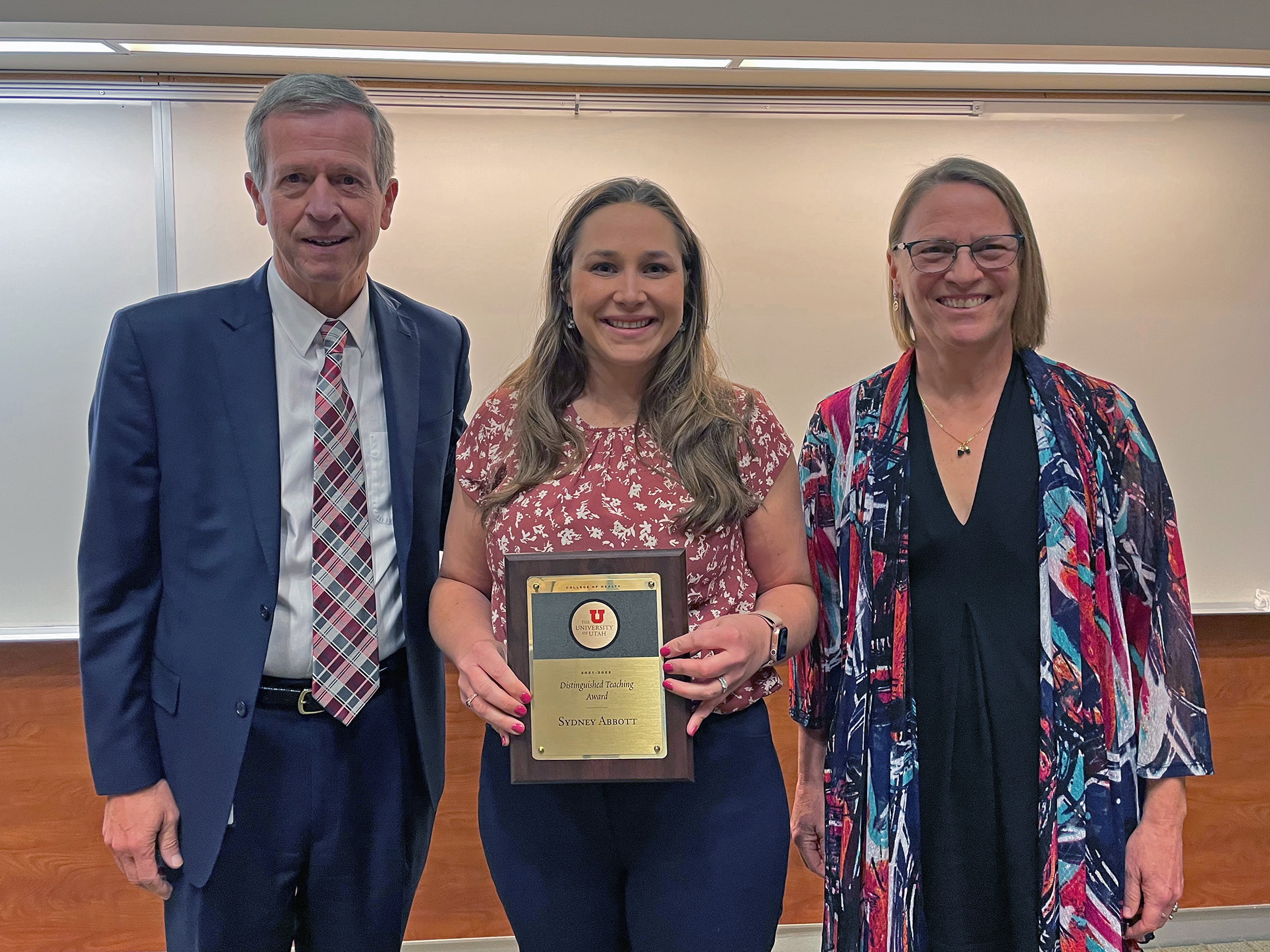 Sydney Abbott, MS, RD, Distinguished Teaching Award
The award recognizes superlative classroom instructors as well as excellent instructors in clinical settings. Abbott is an assistant professor in the department of nutrition and integrative physiology. She excelled in teaching a wide audience of undergraduate and graduate students, who had vastly different levels of nutrition knowledge and interest. She received specific compliments for her class, The Cultural Aspects of Food, which addresses personal influences of food culture, including gender, socioeconomic status, religion, and health. One colleague stated, "using food as a medium for discussion, Sydney guides students to a greater acceptance of other cultures by bridging the divide of religion, national origin, socioeconomic status, food preferences, physical needs and overall health."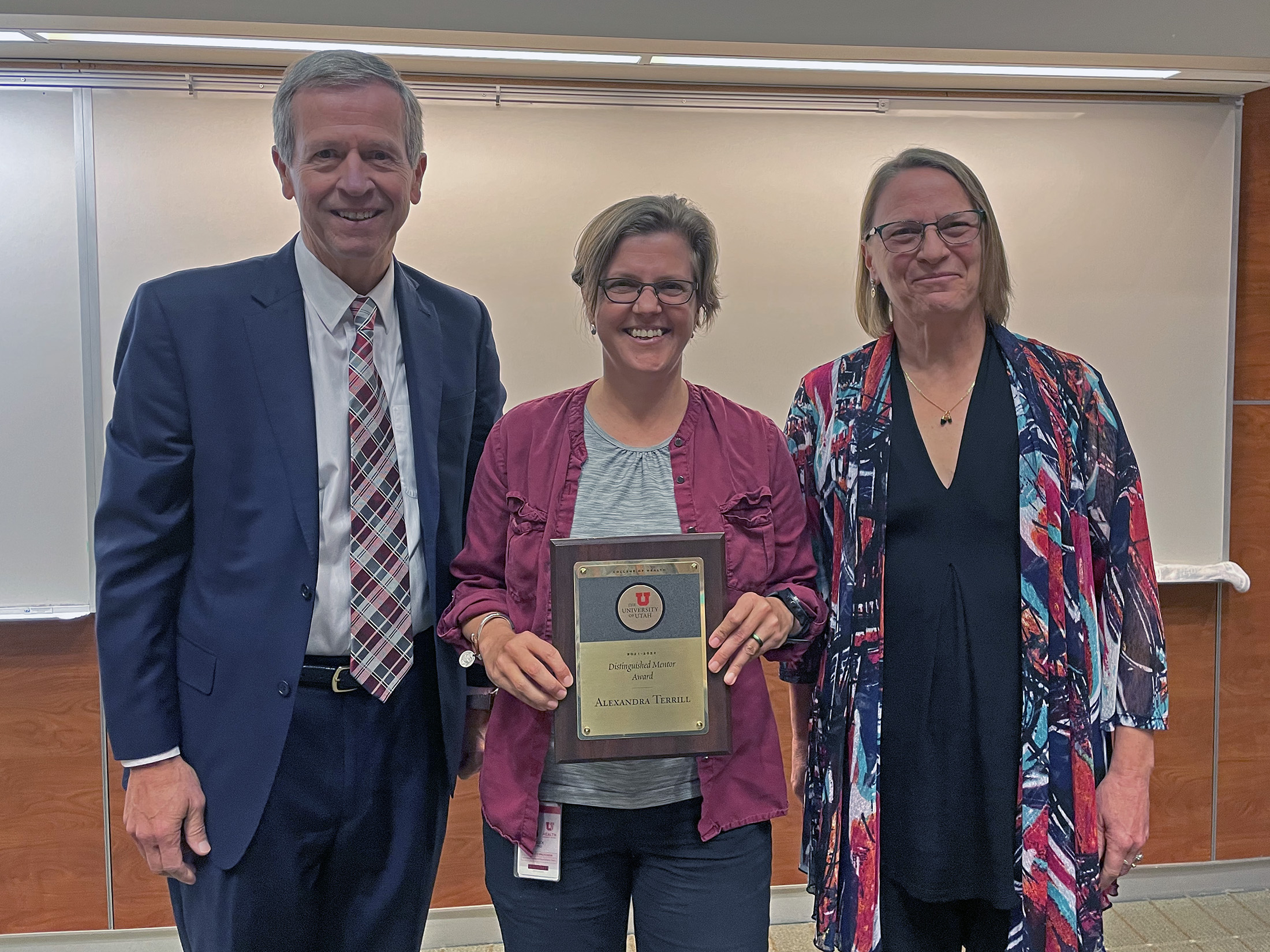 Alexandra Terrill, PhD, Distinguished Mentoring Award
This award recognizes faculty members who have made outstanding contributions to the education and guidance of undergraduate and/or graduate students. Terrill is an associate professor in the department of occupational and recreational therapies. Since joining the faculty in 2014, she has mentored 29 master's students, two post-doctoral fellows, three PhD students as a chair and four as a committee member, and 12 post-professional students. To date, she has over 80 mentee-led posters and presentations at local, national and international meetings.  Students are co-authors on 31 of her research manuscripts and one book chapter, while others are lead author.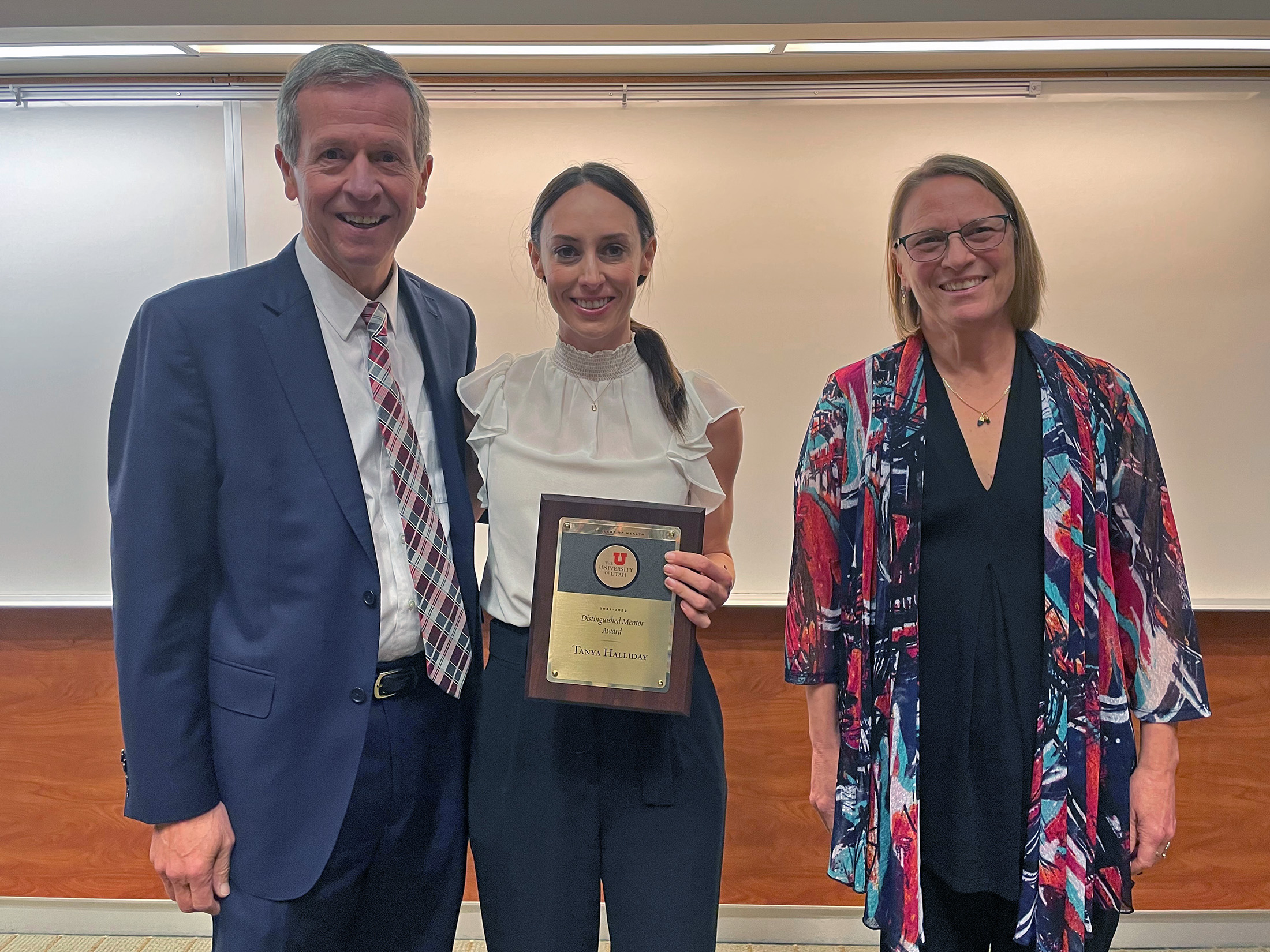 Tanya Halliday, PhD, RD, Distinguished Mentoring Award
The second recipient of this award, Halliday has directly supervised three graduate student committees and serves as a member on an additional seven graduate student committees. She's an assistant professor in the department of health and kinesiology but has assisted committees in nutrition and integrative physiology and nursing. She's also mentored eight undergraduate students: four received funding from the Undergraduate Research Opportunities Program and three were scholarship recipients. All of this mentoring has taken place within the past four years, and without exception, all students remarked that Halliday's primary goal is to advocate for each of them.
Maddie Miller, Staff and Advising Excellence
These awards recognize exceptional service to students, staff, and faculty. Miller is an advisor in the Sorenson Legacy Foundation Center for Student Success—and she's responsible for nearly 450 undergraduates in health and kinesiology. She's known for her commitment to keeping on top of student progress and personalizing every interaction she has with students. She also helped simplify the vaccination approval policies for undergraduate students seeking shadowing opportunities at Primary Children's Hospital. With fellow advisor Eric Gardner, she even helped secure a picnic table for faculty, staff and students to enjoy near the HPER North building.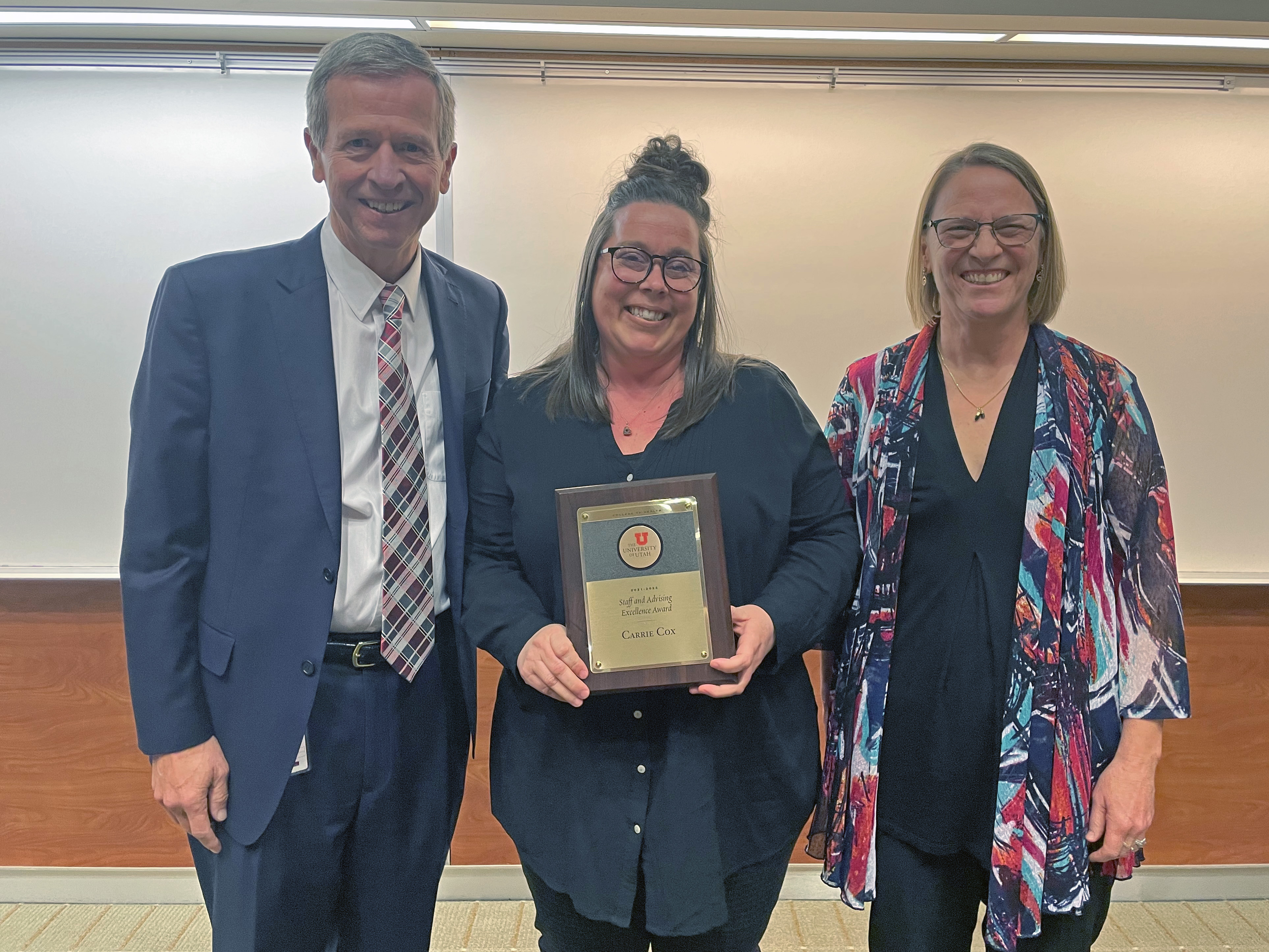 Carrie Cox, Staff and Advising Excellence
Cox is lauded for "doing all the things" for the department of occupational and recreational therapies, including budget management, purchasing, faculty review process management, and hiring and on-boarding of teaching and research assistants. She supports students, staff, faculty, research participants, guest speakers, consultants, and other visitors to the department with kindness and respect. She does this all while pursuing her own education in business. Nominees noted her inclusive and friendly demeanor, great sense of humor, and impressive technical skills.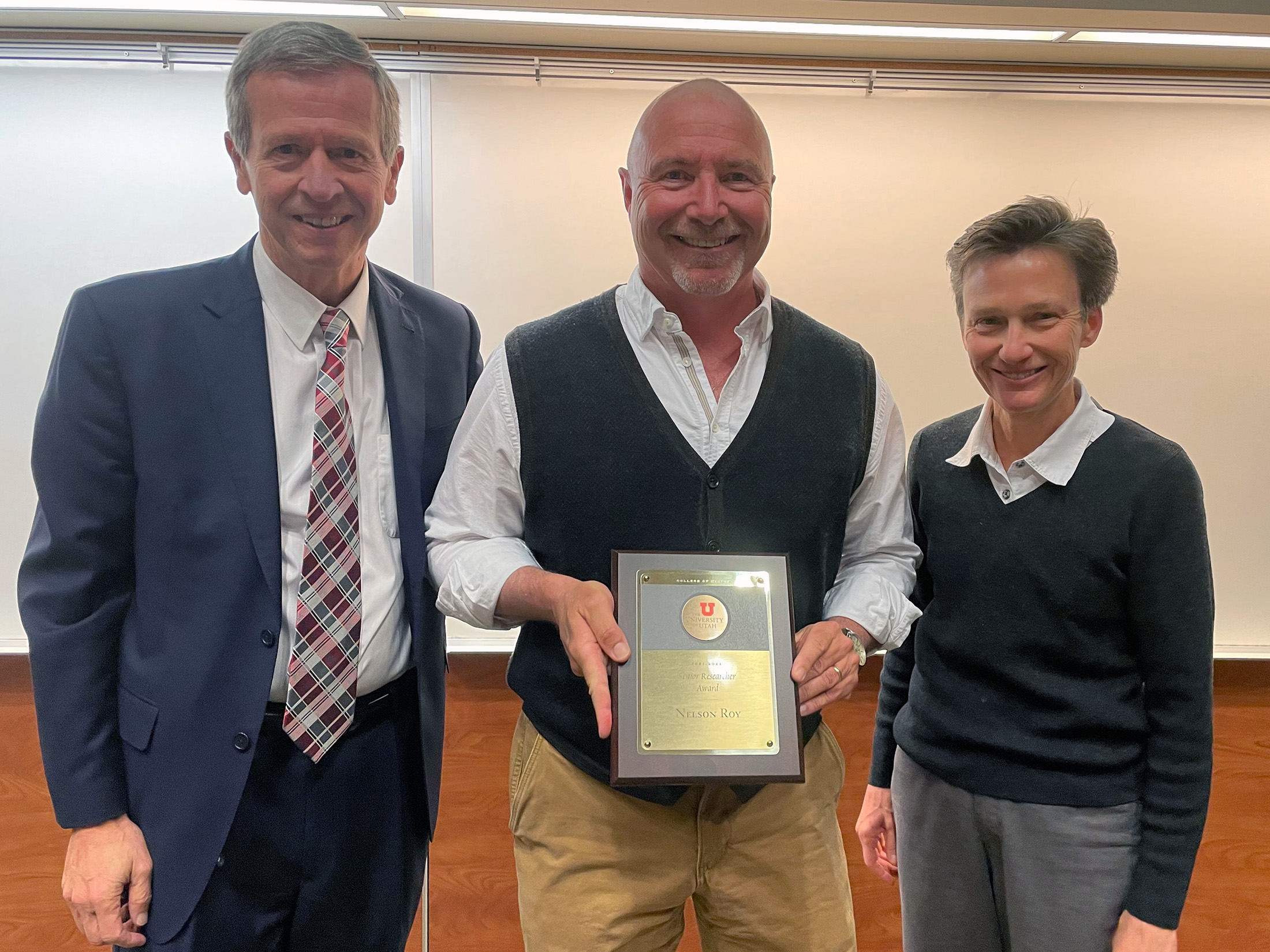 Nelson Roy, PhD, CCC-SLP, Senior Researcher Award
This award is given to an individual with 10 or more years with a faculty appointment, who has made significant scholarly contributions to his or her field. Roy is a professor in the department of communication sciences and disorders, and joined the faculty in 1999. Since that time, he has steadily gained a national and international reputation for his work in voice disorders. His scholarship places him in the top one percent of all communication sciences researches and he has published more than 125 peer-reviewed publications and two books. His chair noted that he brings national and international recognition to the department thanks to his contributions.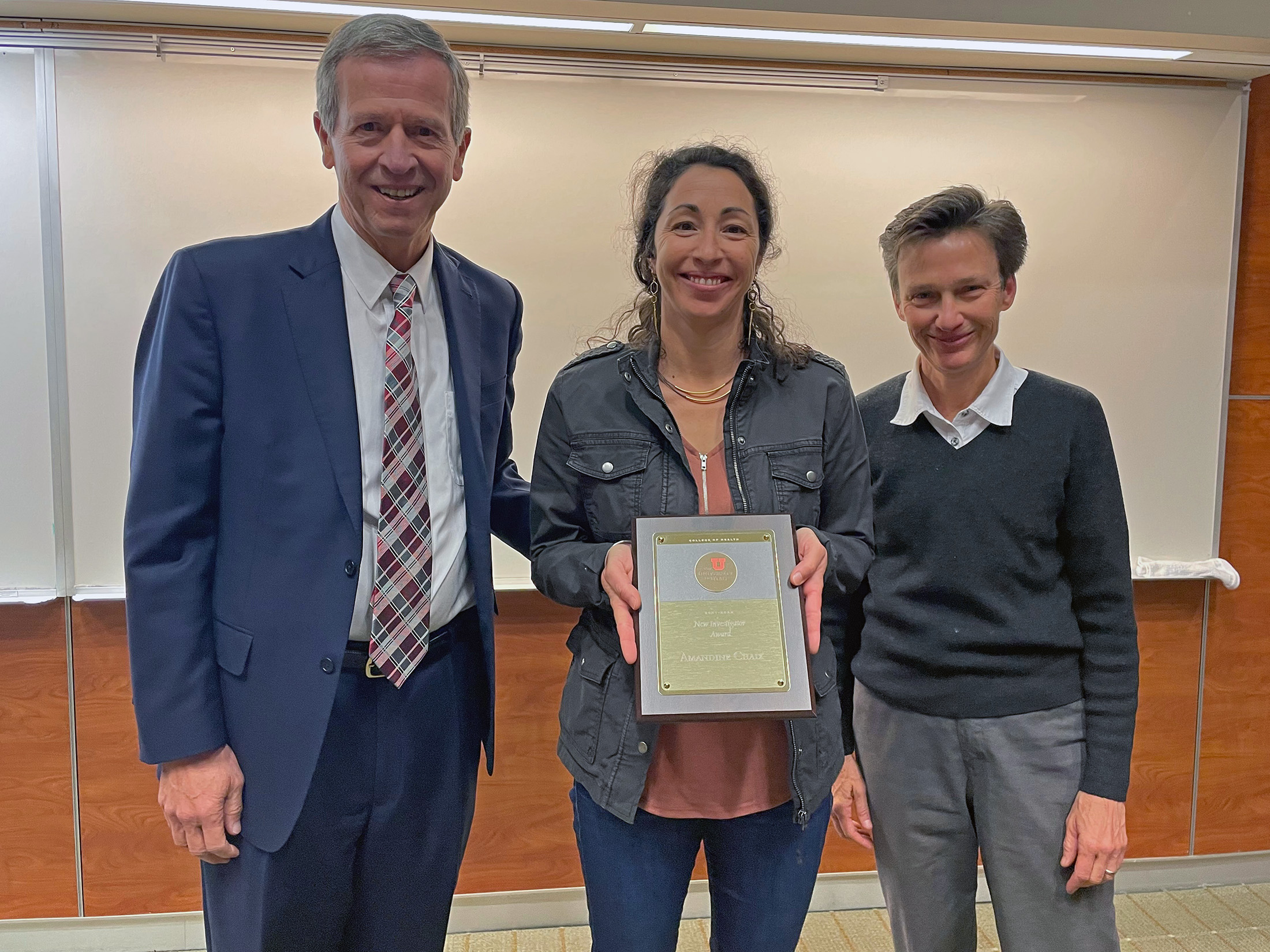 Amandine Chaix, PhD, New Investigator Award
This award recognizes those in the College who have made significant scholarly contributions to their fields. The New Investigator Award specifically honors an individual less than 10 years into their first faculty appointment. Chaix is an assistant professor in the department of nutrition and integrative physiology, joining the faculty in 2021. She's recognized by her peers as a rising star in the field of metabolism research. Her work has been published in top scientific journals and in the popular press, including the New York Times and Wall Street Journal. She's been funded externally by the NIH, American Diabetes Association, and the American Heart Association.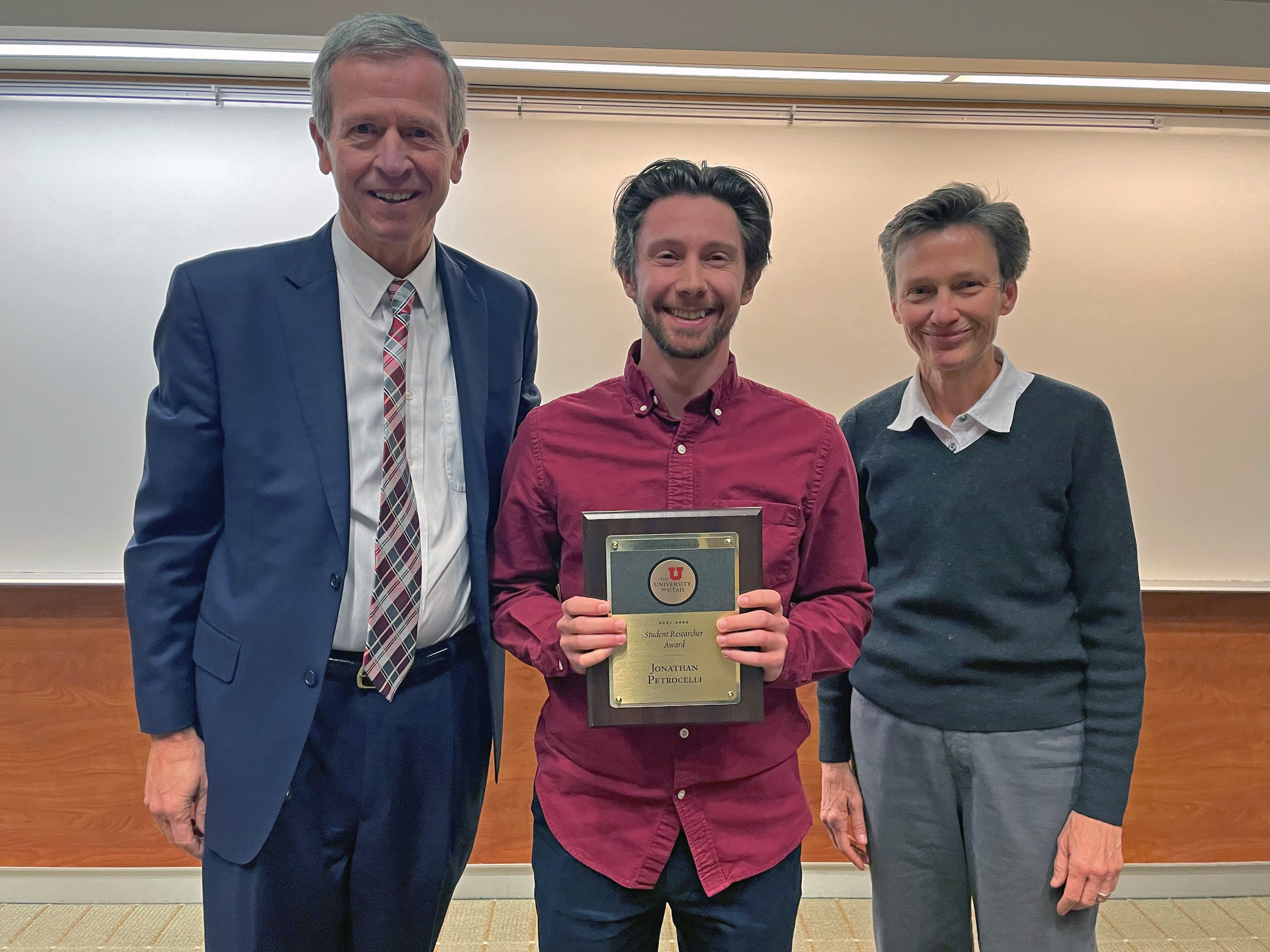 Jonathan Petrocelli, Graduate Student Researcher Award
This award is given to recognize scholarly contributions of a graduate student in the College. Petrocelli is a PhD student in the rehabilitation sciences program through the department of physical therapy and athletic training. Since beginning his program in 2018, he's had many notable accomplishments. He is an author on 14 publications, including three as first author, and he's the recipient of the most prestigious NIH predoctoral award. The F99/K00 Award is only given to three students nationwide, and will fund the remainder of his pre-doctoral training and four years of post-doctoral work.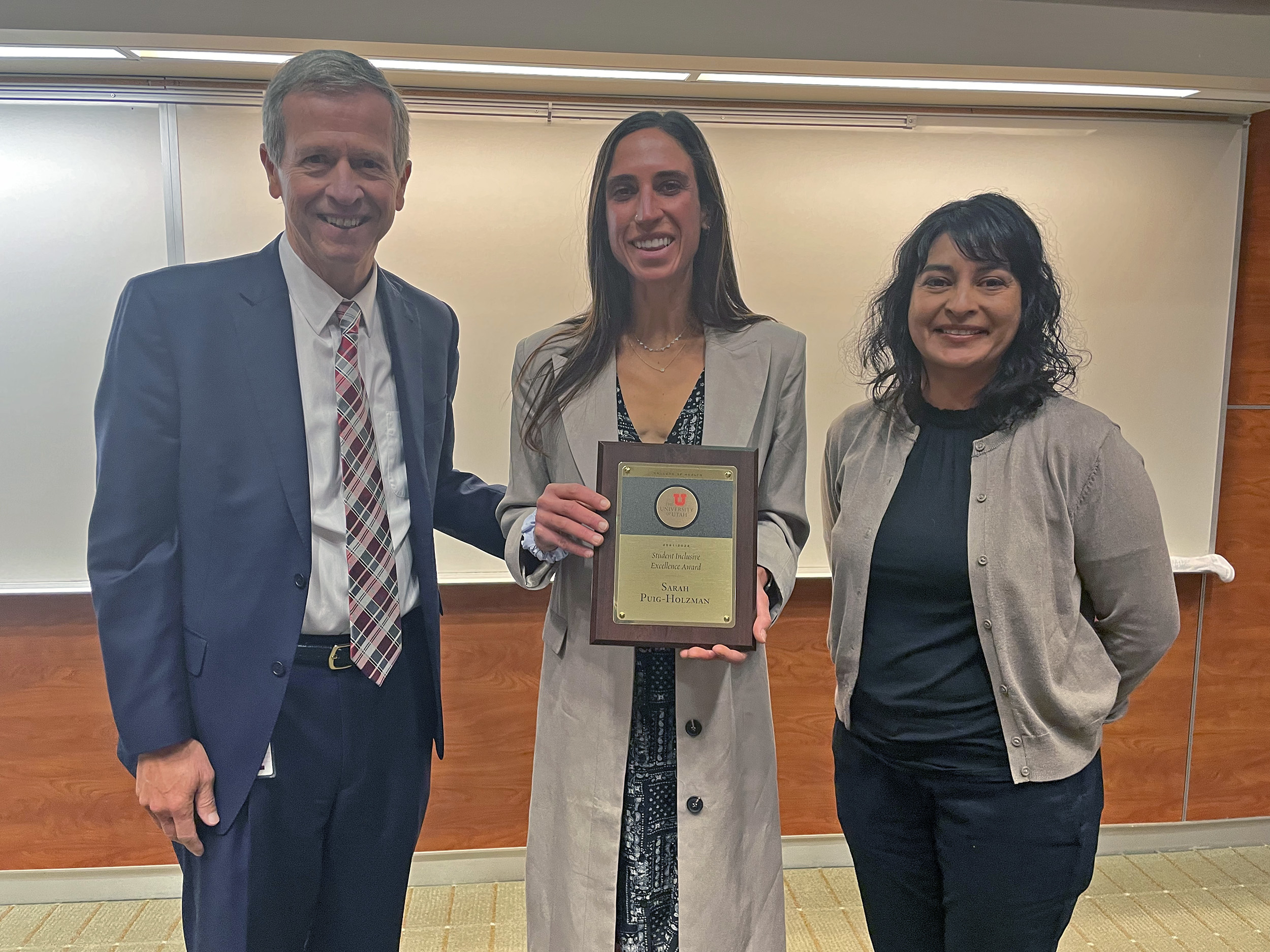 Sarah Puig-Holzman, Inclusive Excellence Award
This award recognizes faculty, staff, and students who have exemplified the values of respect and equity, and demonstrated diversity and inclusion in extraordinary ways. Puig-Holzman is a master's student in the department of nutrition and integrative physiology. Before entering the graduate program, she worked a site leader and coordinator with Connect2Health at the 4th Street Homeless Clinic. She currently serves as a student leader on the U of U Health Anti-racism Taskforce, and the College's Diversity and Inclusion Committee. She leads monthly community nutrition education sessions for the Utah Department of Workforce Services, and she developed a departmental pathway program for the University's Defining Your Path Program.
Jessica Bodily,

Outstanding Teaching Assistant Award
This award recognizes student teaching assistants who have made distinguished contributions to the College by demonstrating excellence in instructional capacities. The inaugural award recipient is Jessica Bodily, a third-year student in the occupational therapy master's program. She received the award in part for her efforts to pivot the Body as a Component of Occupation class to online over the summer, before her official employment could even begin for the department. Students provided glowing remarks on her compassion as a teacher, as well as the time she spent to facilitate successful learning.