Kara Sephel knows something about winding paths thanks to her time as a mountain biking guide. She originally planned to travel the globe and teach English after college, but after a dream outdoor job brought her to Utah, her life started down a different path. It ended up at the College of Health, where Sephel completed a coordinated master of science in nutrition sciences through the Department of Nutrition and Integrative Physiology. Despite some initial hurdles, once Sephel entered the program she embraced every part of graduate student life—so much so that she was awarded the College's Outstanding Graduate Student upon receiving her degree. She excelled in volunteering, completing over 100 hours with the Wellness Bus, Journey to Health, Palmer Court, and more. And she recently secured her next dream job: clinical dietitian with Intermountain Healthcare in Park City. We caught up with Kara to learn a little more about her path to the College of Health and her experiences with us.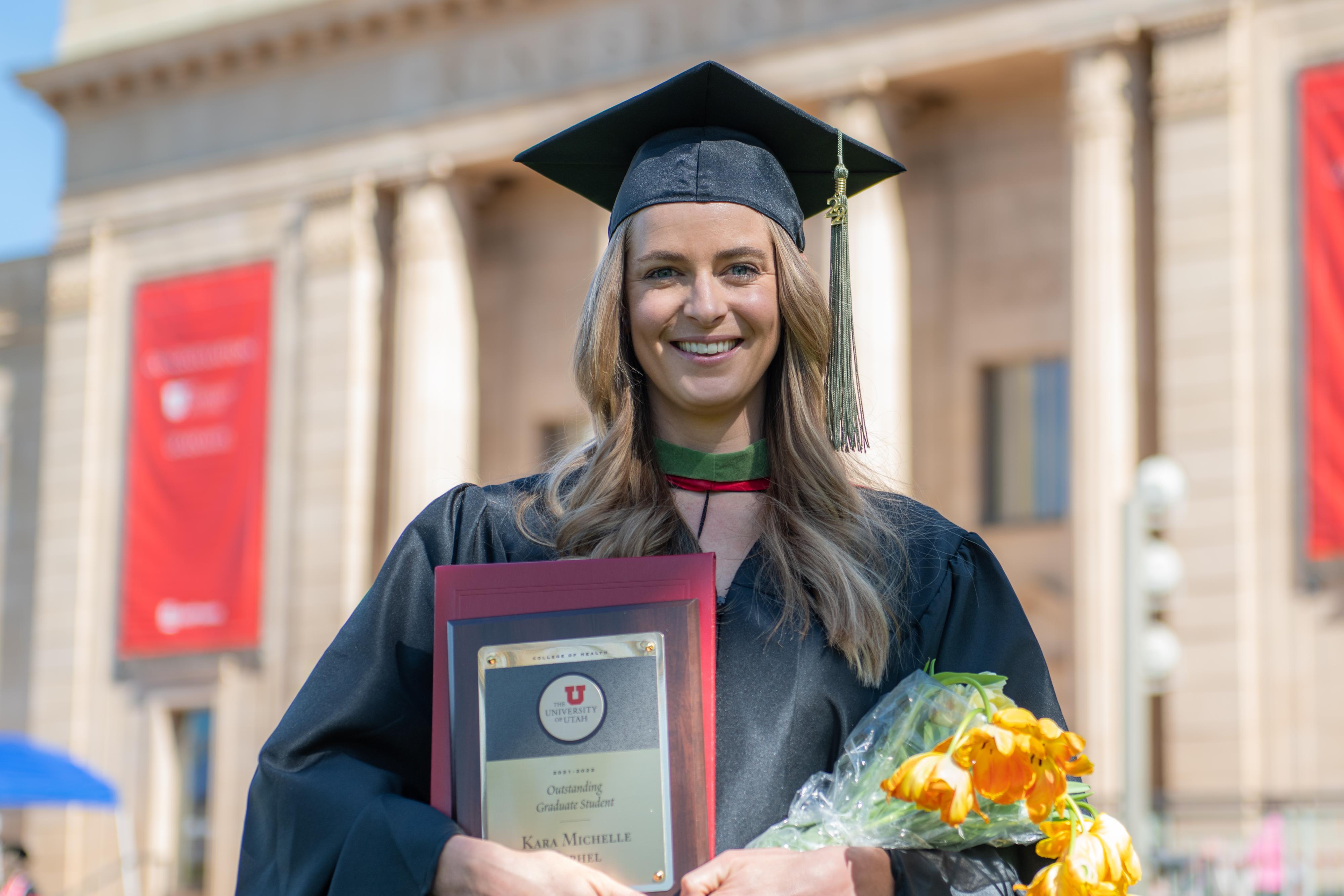 What brought you to the College of Health?
I have kind of a different background, I'm from Nashville originally and double majored in Spanish and European History at Belmont University. I had the travel itch and I had to get that out of my system, so I started guiding backcountry mountain bike tips and that brought me to Utah. That experience helped me connect the dots over the years for my passion for food, helping others, and teaching. I realized that nutrition, at least in terms of dietetics, was something that connected those passions. At that point I'd been based in Utah since 2012 and had to take all my science prerequisites to get into the program at the U. It's funny because my parents grew up in Southern California, but both did their graduate degrees at the U—my dad got a PhD in clinical pathology, and my mom got a master's degree in medical technology.
What were your goals for the program?
Well, I applied twice! My original goal was to get in and then crush it. Within the program I had that imposter syndrome for the first semester, it didn't feel real for a while. But I got my feet under me, and I wanted to take advantage of all of the great opportunities. Being a coordinated program, we had coursework but then we also had field experiences and a capstone. I felt like since the program was only two years, I needed to try everything. I volunteered a lot and that helped me find out what I was really interested in, which was an outpatient or community setting within nutrition.
How did your travel experiences help you as a graduate student?
When I traveled, I learned how uncomfortable it can be when your language isn't the first language that everyone is speaking. In the program, we try to practice motivational interviewing with patients and my travel experiences helped me be humble and better understand where they are coming from. Also, you have to be able to pivot quickly when traveling, and that was really helpful in this program. If you have an open mind and you're not afraid to be curious and go down a certain path, you can really learn so much about yourself.
Any favorite memories from the College of Health?
One that comes to mind is with Journey to Health. We teach one class a week for four weeks and the community participants continue to do one-on-one counseling with the dietitian on the Wellness Bus. Six months later, they come back for a community meal. At the meal, it was really neat to hear how participants had made little changes that influenced their lives. It's creating ripples that go out into the community. Sometimes when you volunteer, you're not sure if you're making an impact, so to be able to come back and see that was a cool experience.
What was one of the most important things you learned?
The faculty showed me that they set such a high bar in professionalism, empathy and patient-centered care. Because this was a total pivot from what I was doing in the past and my first taste of being in the health industry, that really set the tone for me. I was so impressed by that level they set for us. When you come into a program like this you don't really know what to expect, but I was blown away.
How would you describe your experience in three words?
Chaotic, life-changing and positive!
What advice would you have for a student interested in a College of Health graduate program?
If there's someone looking to start from scratch, like I did, be persistent. There's a lot of hurdles and it can really feel like a wall—how am I going to tackle everything. Once you're in, it's amazing how you can adapt to the workload and it's completely worth it. If it's something you're interested in, just go do it.
Dean Perrin on Kara:
"Kara has been actively engaged in a number of projects and initiatives to, as she says, 'advocate for fairness and for voices that are repressed, misunderstood, or unheard.' Through her role in developing the Journey to Health program, she taught education for diabetes prevention in under-served communities, utilizing her Spanish language skills, which she has bolstered through a medical Spanish course. She is also a nutrition educator for Latina women at Diabetes Night at the Midvale Free Clinic, helping them to create nutrition and lifestyle goals toward healthier living."
By Sarah Shebek