The National Academy of Recreational Therapists (NART) has recognized Becca Westenskow, MS, TRS, CTRS as the recipient of their 2023 Future Scholar Award. Westenskow completed her bachelor's and master's degrees in Recreational Therapy in the Department of Occupational and Recreational Therapy and plans to pursue her doctorate in the field. She's the second student from the department to win the award in the last three years. 
A highly involved and motivated student, Westenskow is interested in working with older adults, individuals with dementia and developing programs that promote nature engagement. She's published research on robotic pets with older adults in the Canadian Journal of Recreation Therapy. Her master's thesis research on adaptive biking with a memory care unit led to a $5,000 National Council for Therapeutic Recreation Certification (NCTRC) research grant. 
Westenskow grew up dancing and originally considered dance therapy as a profession, but she knew she wanted more. After enrolling at the U and joining an undergraduate research lab she discovered a world of possibilities.
A clinical experience at an assisted living facility sparked her love of working with older adults and she currently serves as memory care director at Crescent Senior Living in Sandy, Utah.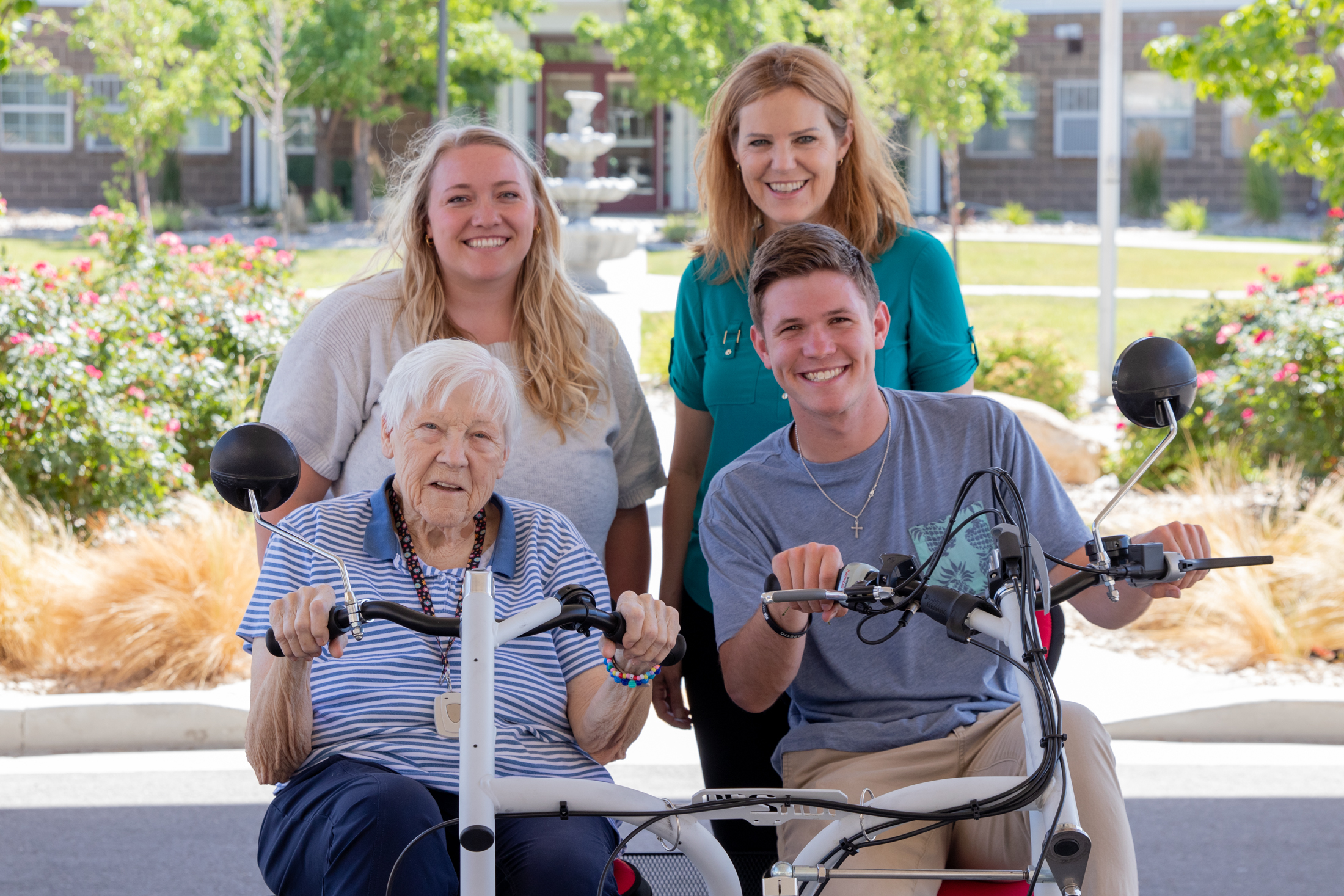 "I was bit by the research bug in undergrad and Rhonda Nelson helped guide me into the master's program," she said. "I love being able to document improvements and put some numbers behind what I'm doing. I can run a group or an intervention and see it's benefiting people, but it's great to be able to use an assessment in a standardized way to show what I did is beneficial."
It's safe to say Westenskow's research is successful. As part of her master's thesis, she tracked down a tandem electric bike for the memory care unit at Crescent Senior Living. She paired up residents and staff for eight bike rides over the course of four weeks. The results showed a significant improvement in resident happiness and a significant decrease in stress for staff members.  
"It's exciting because no other research has been done with this particular bike," she said. "They're made in Denmark and hard to find, but I was able to connect with a dealer in North America and everyone at our facility has loved it."
The NART Future Scholar Program included funding for Westenskow to attend this year's American Therapeutic Recreation Association (ATRA) Conference in St. Louis, MO and paired her with a mentor in the profession. She presented a poster on a glass art program that she started at her facility in the spring and gave an oral research presentation on the adaptive biking program. Her poster was awarded first prize for Best Practice Poster at the conference.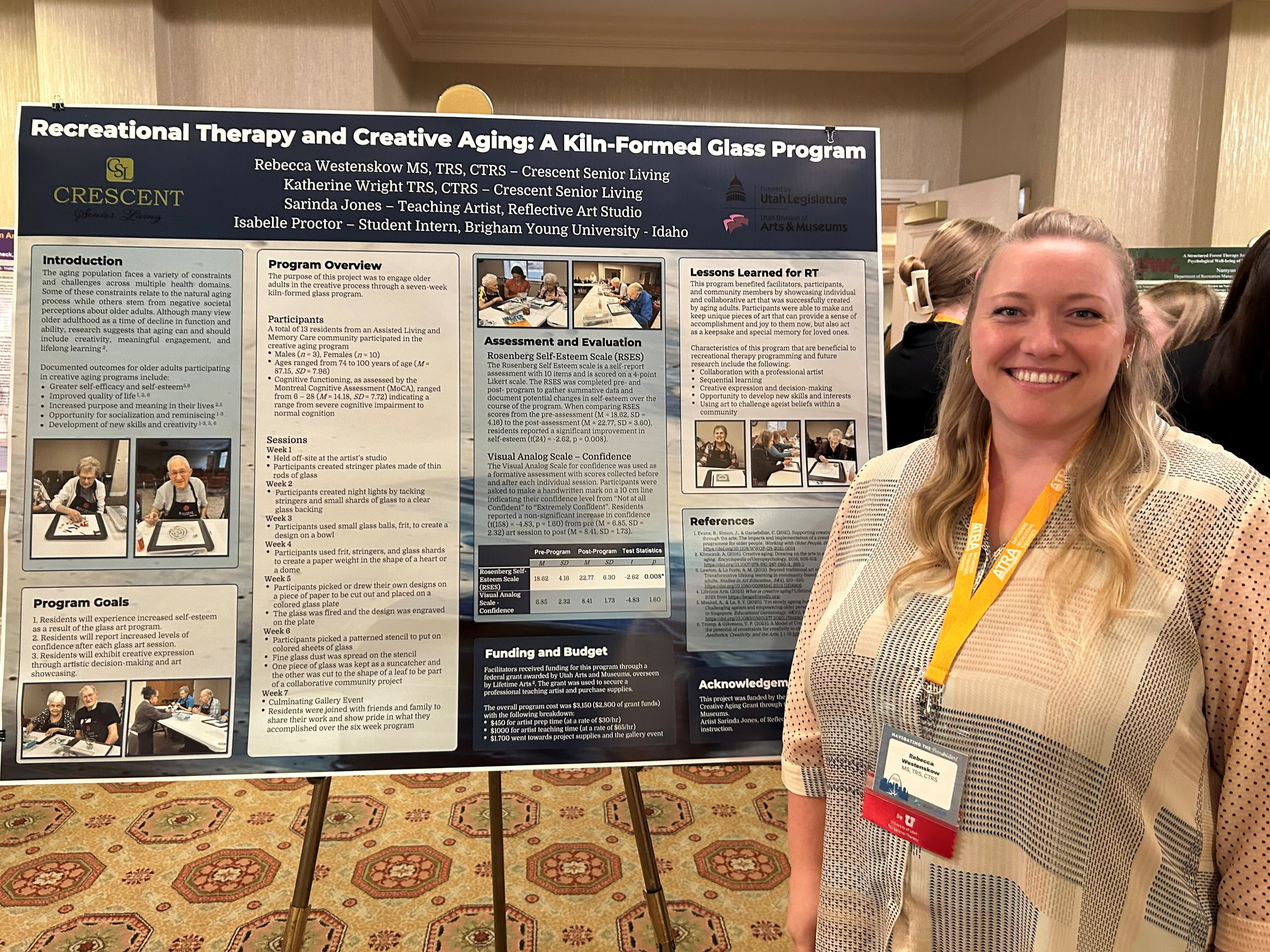 "We often focus on training our students to be clinicians, but early on Becca realized she had this passion for research, which not a lot of students have," Nelson said. "She's really embraced that interest and taken advantage of every opportunity she could."
In the future, Westenskow will go back to school for a PhD and the University of Utah is high on her list. She knows her experience as a student has opened the door for a promising future as a scholar and professor. 
"My professors have been amazing and I had a lot of great face time with them in the programs," she said. "I've been able to take advantage of the research and mentorship opportunities at the U and I'm really excited to see what's next."