The New England Occupational Therapy Education Counsel, after receiving a nomination from The Massachusetts General Hospital (MGH) Institute of Health Professions, awarded Yda Smith, PhD, as an innovator of fieldwork education. The award recognizes individuals and organizations who support exceptionally creative and non-traditional fieldwork opportunities.
Smith has served as faculty in the College of Health's Department of Occupational and Recreational Therapies since 1999. She created a first-of-its-kind fieldwork program for occupational therapy students to work with people who are refugees and immigrants.
"The learning curve is massive for some people coming in—if they're from rural environments sometimes they've never seen electricity or used indoor plumbing, never ridden a bus or paid a bill," Smith said. "In working with them, I ended up using skills that I'd used as an OT, but not because they'd had a medical diagnosis. Their condition is adapting to a very foreign environment and overcoming all the obstacles involved."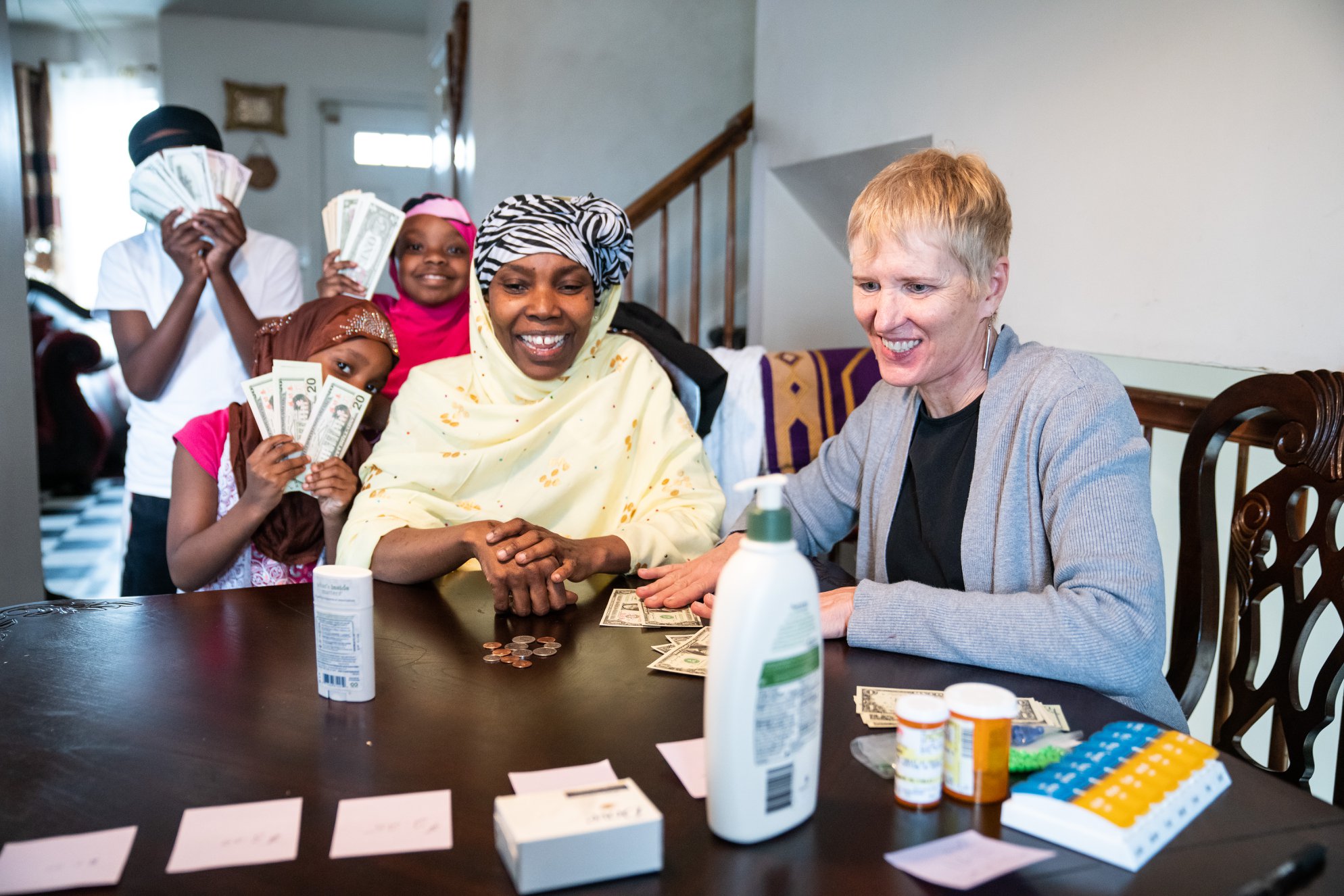 In 2003, Smith used the department's Fieldwork Level I course to introduce OT students to different cultures and life experiences for a few hours a week through work with refugees, specifically the Somali-Bantu population. The students partner with the International Rescue Committee (IRC) and have also worked with University Neighborhood Partners.
"Our OT students get to work with people who might be struggling with certain concepts, like prescription management," Smith said. "They break it down for them and help teach it in a way that they can practice and understand. The students that I've had over time have proven to the IRC how valuable they are."
Today, Smith leads and mentors an OT Level II field study experience for advanced students from across the U.S. Each student takes a caseload of six to seven clients at a time and spends 12 weeks working with them full time. The students create adaptive strategies that are a good fit for their clients and can practice activities as much as needed.
"I love mentoring these students, it's been awesome," Smith said. "They get a lot of joy out of it—they find it challenging but really applicable to their OT education."
In awarding Smith, MGH noted that "Through Yda's leadership and mentorship, OT students develop sound skills to enter into practice in both traditional and nontraditional roles with a strong sense of the values of an occupational and unique contribution of the Occupational Therapy Profession in improving the lives of individuals and communities."
Lorie Richards, chair of the Department of Occupational and Recreational Therapies, praised Smith's dedication to service and the opportunities she's created for OT students. Traditionally, OTs primarily work with clients with disabilities in a healthcare or school setting. Smith's program allows students to go into their clients' homes or into the community together, creating a "much richer" experience.
"Yda and her program are internationally known," Richards said. "Her program was first in the world and now some other schools have started similar programs. It's so exciting to see the success she's had—she's been amazing to work with."
After more than 20 years with the College of Health, Smith will retire at the end of the year and take a half-time position with the IRC in Salt Lake City office. She'll establish internal programming to further her work on a national scale, as well as grant writing.
"It's thrilling and I'm ready for a new adventure," Smith said. "But I have mixed feelings, because the COH has been a fabulous place to work. They've been so supportive and given me the time and resources I need to pursue these efforts."