RJ Black is a first-generation college graduate who's leveraged his love of sports into a career in the front office—but it hasn't always been easy. He graduated from the Department of Parks, Recreation and Tourism this spring as a non-traditional student, working full-time to support his wife and family. He's had a winding path to his current position as ticket operations coordinator with the Salt Lake Bees, with stints in solar, finance and nonprofits. Despite multiple job changes, RJ was determined to find his passion and pursue a college degree. His experience in PRT "pivoted me forward to success in all aspect of my life."
Tell us about your background?
I am originally from Southern California, I attended high school there and I was a three-sport athlete. That's kind of where my passion for sports kind of excelled and started to grow. I've been living here in Utah for over 10 years, my family moved out here while I was doing a church service mission. 
From there I got involved in a lot of different industries for work. I worked in financial banking, e-commerce, and then got involved in the parks and recreation field. I started volunteering for a local parks and recreation department here in Sandy City, Utah. I started there in 2013. And I stayed there until I graduated in 2023 doing all kinds of things: umpiring, score keeping, site supervising, assisting the rec programs and directors.
In early 2019 I worked for Playworks as a research coach and decided to pursue a degree in parks and recreation. That's when I learned about the University's PRT program. I got my associate degree through SLCC, then spent two years finishing my degree at the U while I worked fulltime. I was able to have opportunities with Salt Lake City's Parks and Recreation department as well as with the Jazz—I interned during the 2022-23 season and got to work the NBA All-Star weekend. Before I graduated, I accepted a job with the Salt Lake Bees as a ticket coordinator.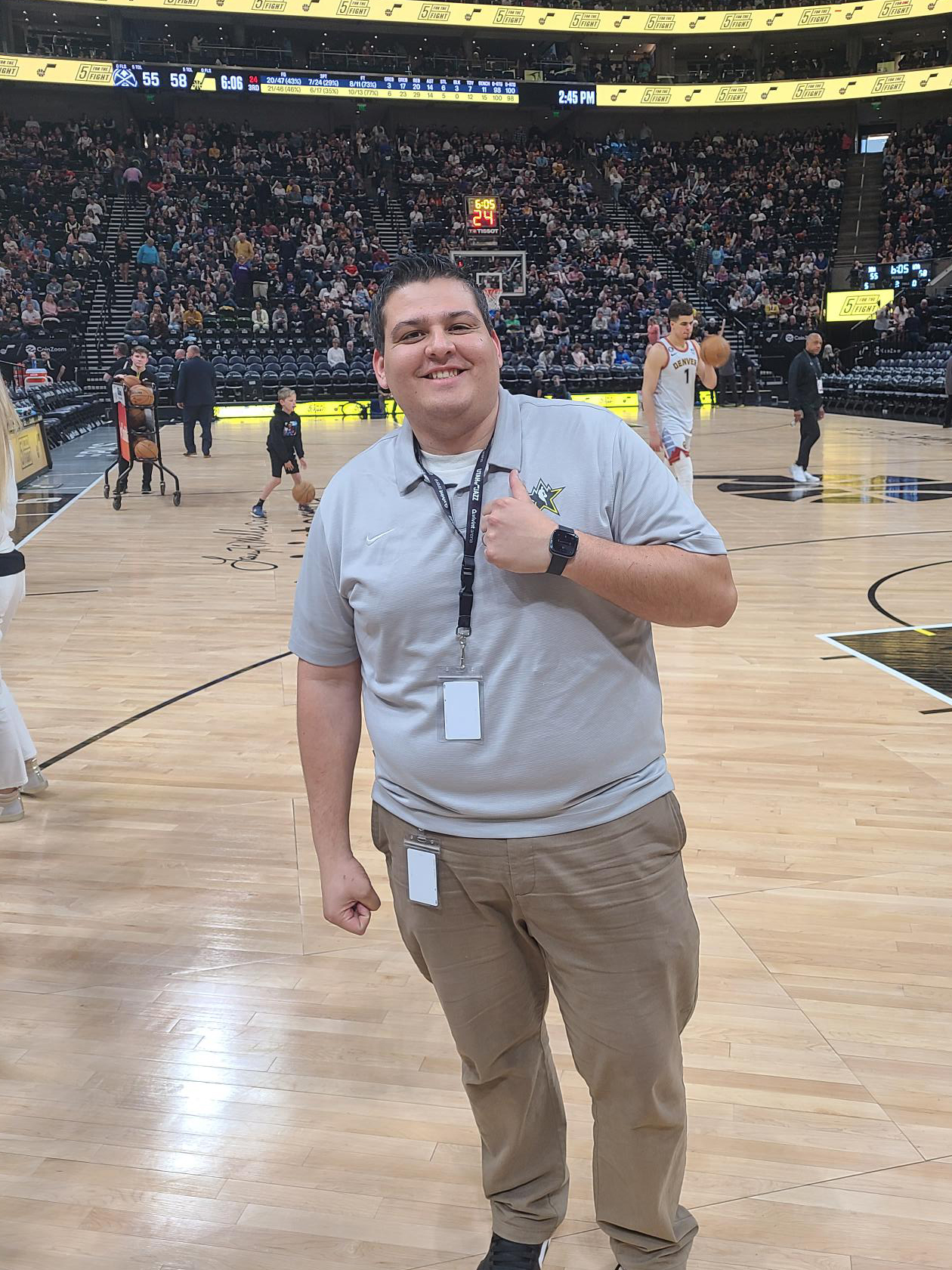 How were you able to balance so many career shifts while pursuing your degree?
I've tried to create work life balance. I've been lucky to have employment opportunities that have given me that. My immediate family has given me a lot of support—I'm a first-generation college graduate in my family, so they've been able to see the sacrifice and the hard work I've put into it. Their support has helped me stay the course. I'm a religious person so faith plays an important role, I find time to connect with God and the faith system I've built over my life. 
Another big thing is learning how to set realistic goals, just continuing to repeat that process over and over again. It's helped me create a vision and a path and realize that it's something that takes time. Finally, just finding resources in the department like Eric Gardner and putting in the work—doing the assignments and the reading. 
Do you have a favorite memory from your time with PRT? 
I took Preston Tanner's Sports Business class the semester before I graduated. I think it helped me get the job with the Bees and it's helped me a lot currently with understanding ticketing and budget strategies. He did a great job making sure the class was filled with relevant knowledge and that it had a real-world application. 
What are your career aspirations? 
I'd like to continue to grow and develop in my current role with the Bees and the Larry H. Miller organization. There's a lot of talk about bringing more professional sports to the state of Utah. If you do a good job and have a skillset and voice that to the right parties, it does create an opportunity for you down the road. I'd like to continue working in professional sports and hopefully develop into a mid-manager or senior manager role. 
What advice would you give to a current student?
As a kid growing up, I thought I'd be playing professionally. I saw very quickly that pro sports wouldn't be my path and I would have never imagined that I'd be working in the front office for a professional organization. If you would have told me that at age 13, I would have said no way. 
I've trusted the process and the right opportunities have come my way. That's motivated me to stay the course and trust that there's a light at the end of the tunnel. 
Don't give up on your hopes and dreams. You never know what connections and opportunities you have now that could impact you three to five years down the road.