The College of Health recognized several individuals for excellence in teaching, research and employment at the annual spring meeting. This year's award winners are: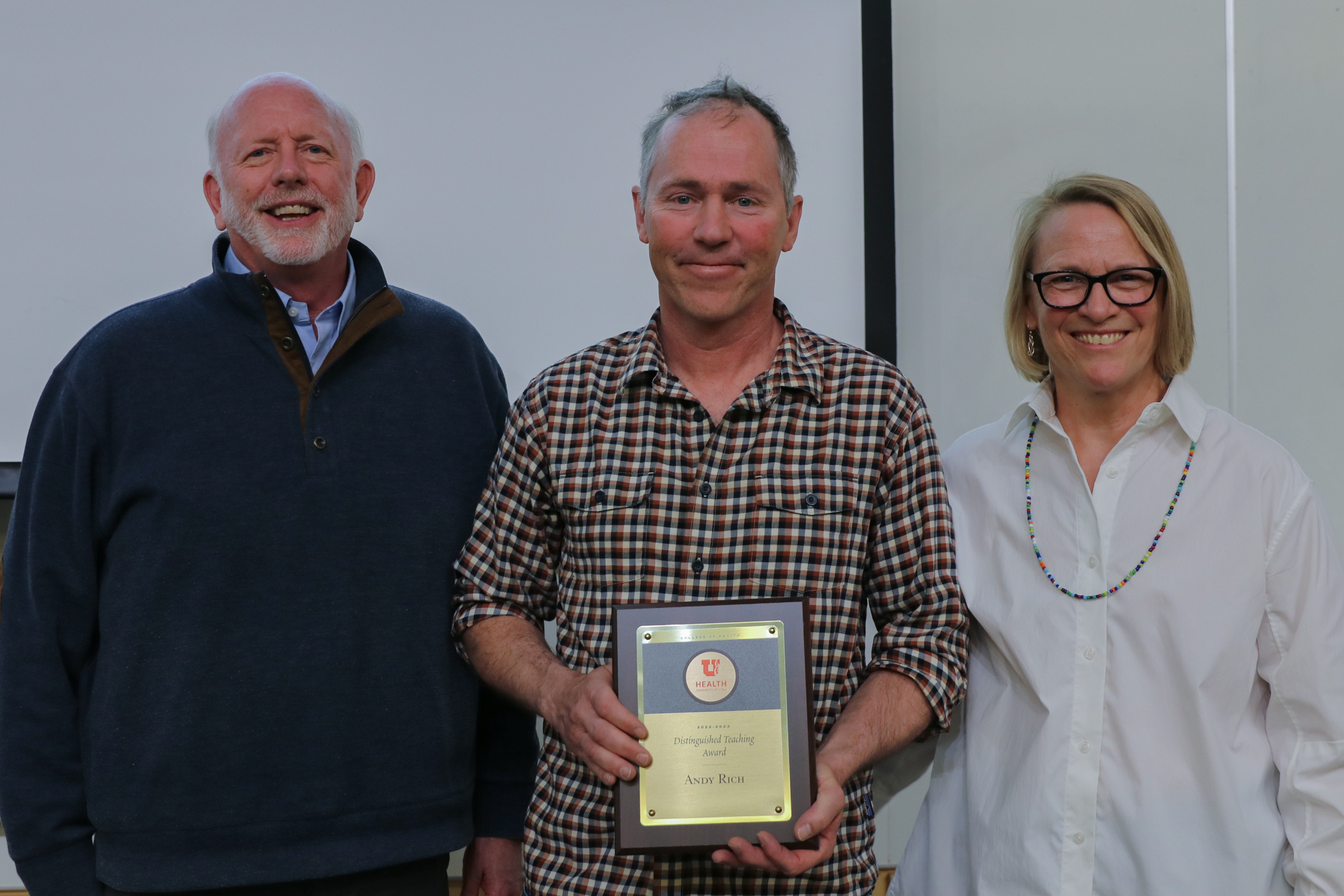 Andy Rich, Distinguished Teaching Award
The award recognizes superlative classroom instructors as well as excellent instructors in clinical settings. Rich is an assistant professor (lecturer) in the Department of Health and Kinesiology and the program coordinator for the Remote Rescue Program within Emergency Programs. His primary courses include Avalanche, Swiftwater, High-Angle and Advanced High-Angle Rescue Techniques and Theory. In the classroom, Rich is relaxed, his students are attentive and engaged, and dialog that centers on student learning fills the space. During two independent peer teaching evaluations, the faculty peers summarized their observations, stating "that we had just witnessed a master class in the fundamentals of superior pedagogy."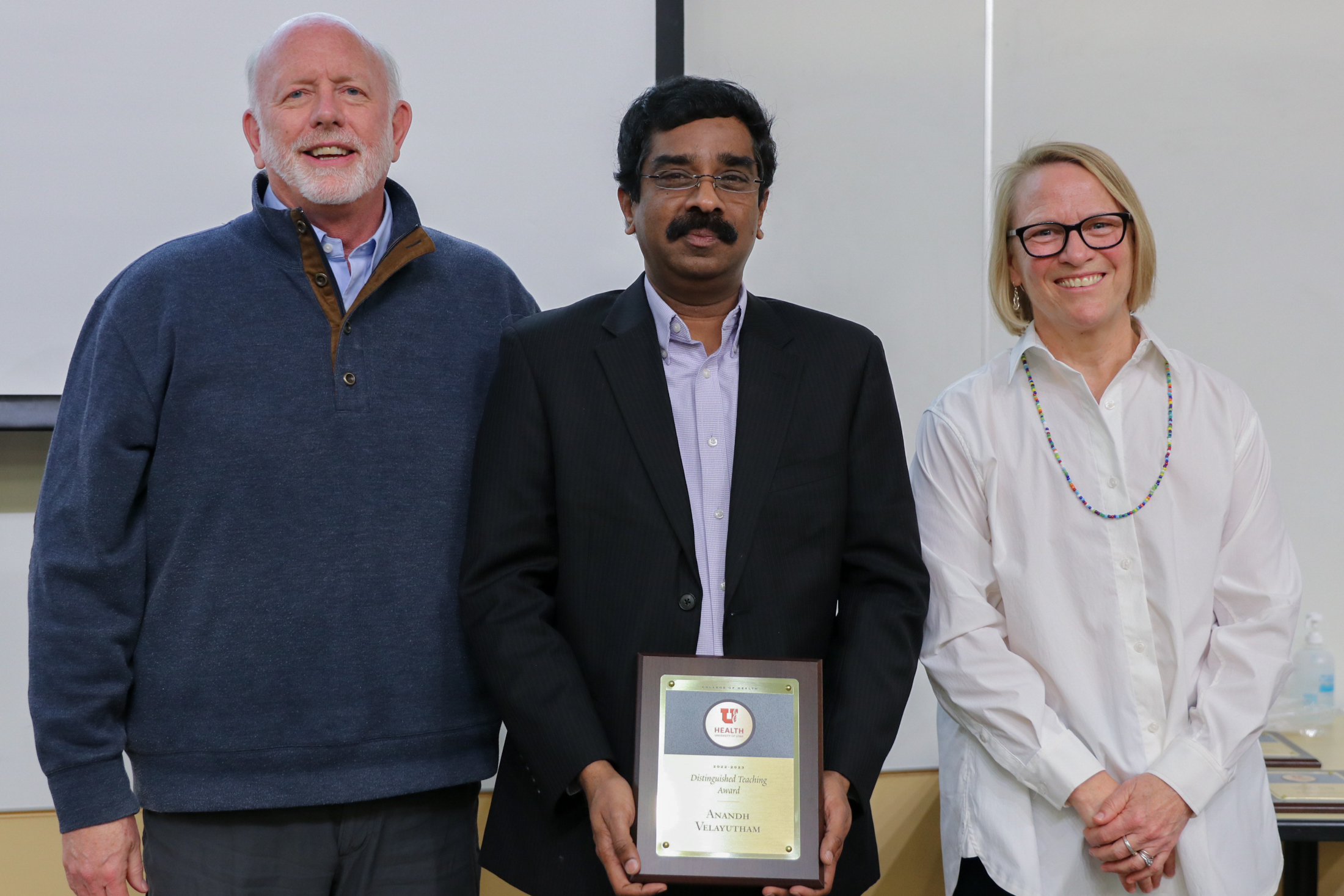 Anandh Babu Pon Velayutham, PhD, Distinguished Teaching Award
Velayutham is an associate professor in the Department of Nutrition and Integrative Physiology.  The nomination and supporting letters indicate that Velayutham embodies a passion and enthusiasm for science that engages students in the classroom as well as in research settings.  His course evaluations are overwhelmingly positive—especially in his online course, which points to his ability to capture students' attention regardless of the format.  Students appreciate that Velayutham is organized, patient, and knowledgeable and has a great sense of humor.  One student commented "Dr. Velayutham is the best teacher. He is a very patient professor who not only has expertise in his field but a compassion for students." Whether teaching nutrition biochemistry, energy metabolism, or simply extolling the virtues of blueberries, students overwhelmingly endorse Velayutham as their favorite.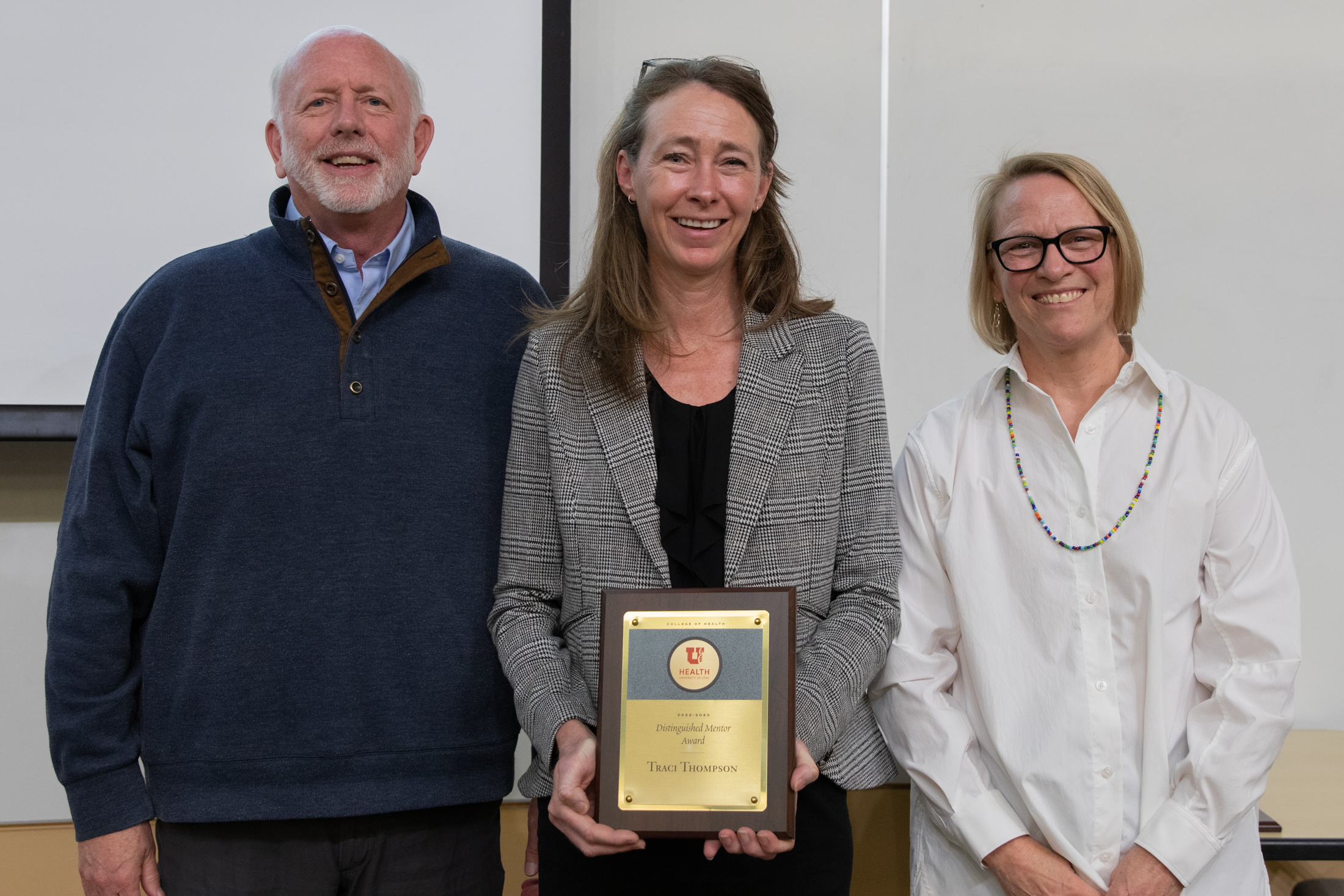 Traci Thompson, Distinguished Mentor Award
Thompson is the director of PEAK Health and Fitness and faculty member in the Department of Health and Kinesiology. Presently within PEAK, Traci mentors approximately 8-14 graduate and 30-50 undergraduate students each year, primarily from Health and Kinesiology, Nutrition and Integrative Physiology, and Parks, Recreation, and Tourism. She provides a supportive learning environment while stretching students' skill sets to promote their growth.  She also provides weekly journal club meetings and hosts workshops with the University's Career and Professional Development Center. Despite this ever-changing landscape of trainees that she does not specifically recruit, Traci develops relationships with students and provides them with the encouragement to face their challenges so that they may meet their professional goals.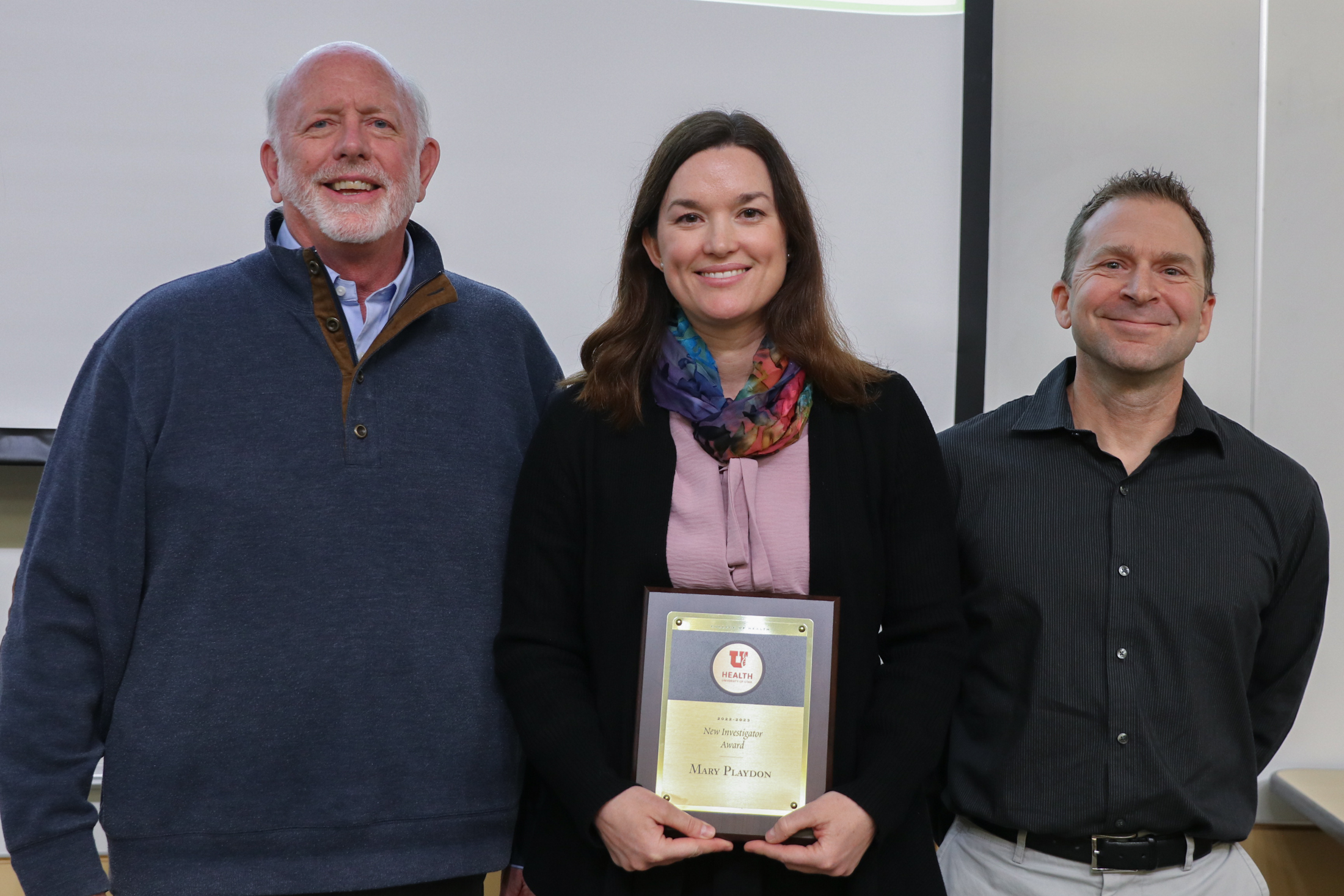 Mary Playdon, PhD, MPH, New Investigator Award
This award recognizes those in the College who have made significant scholarly contributions to their fields. The New Investigator Award specifically honors an individual less than 10 years into their first faculty appointment. Playdon is an assistant professor in the Department of Nutrition and Integrative Physiology. She is an expert in nutritional and molecular epidemiology, where she applies statistical and machine learning approaches to understand the relationships between metabolism and disease. She has more than 50 publications and numerous grant awards where she is the co-investigator or principal investigator. According to one reviewer: "she publishes like mad, has received several huge grants, is engaged with the community, is putting together a metabolic kitchen ... she gets my vote."
Alek Peterlin, Graduate Student Researcher Award
This award is given to recognize scholarly contributions of a graduate student in the College. Peterlin is a fourth year PhD student in the Department of Nutrition and Integrative Physiology under the mentorship of Katsu Funai. He is conducting obesity research and has received a F31 NIDDK pre-doctoral fellowship. He already has several publications, including two as first author. Peterlin has also taken on numerous service opportunities and participated in many mentoring activities. He's a "motivated and passionate student, the type one feels honored to mentor."
Emmanuel Kofi Addo, Inclusive Excellence Award
This award recognizes faculty, staff, and students who have exemplified the values of respect and equity and demonstrated diversity and inclusion in extraordinary ways. Kofi Addo is a doctoral student in the Department of Nutrition and Integrative Physiology. He has been avid about advancing equity, diversity, and inclusion as a graduate student and beyond. At the university level, he is a member of the Black Advisory Council and co-chairs the Black Graduate Student Association. This year he also served on the Black History Month Planning Committee. At the college level, he is a member of the COH Diversity and Inclusion Committee and is the doctoral student representative on the NUIP EDI workgroup.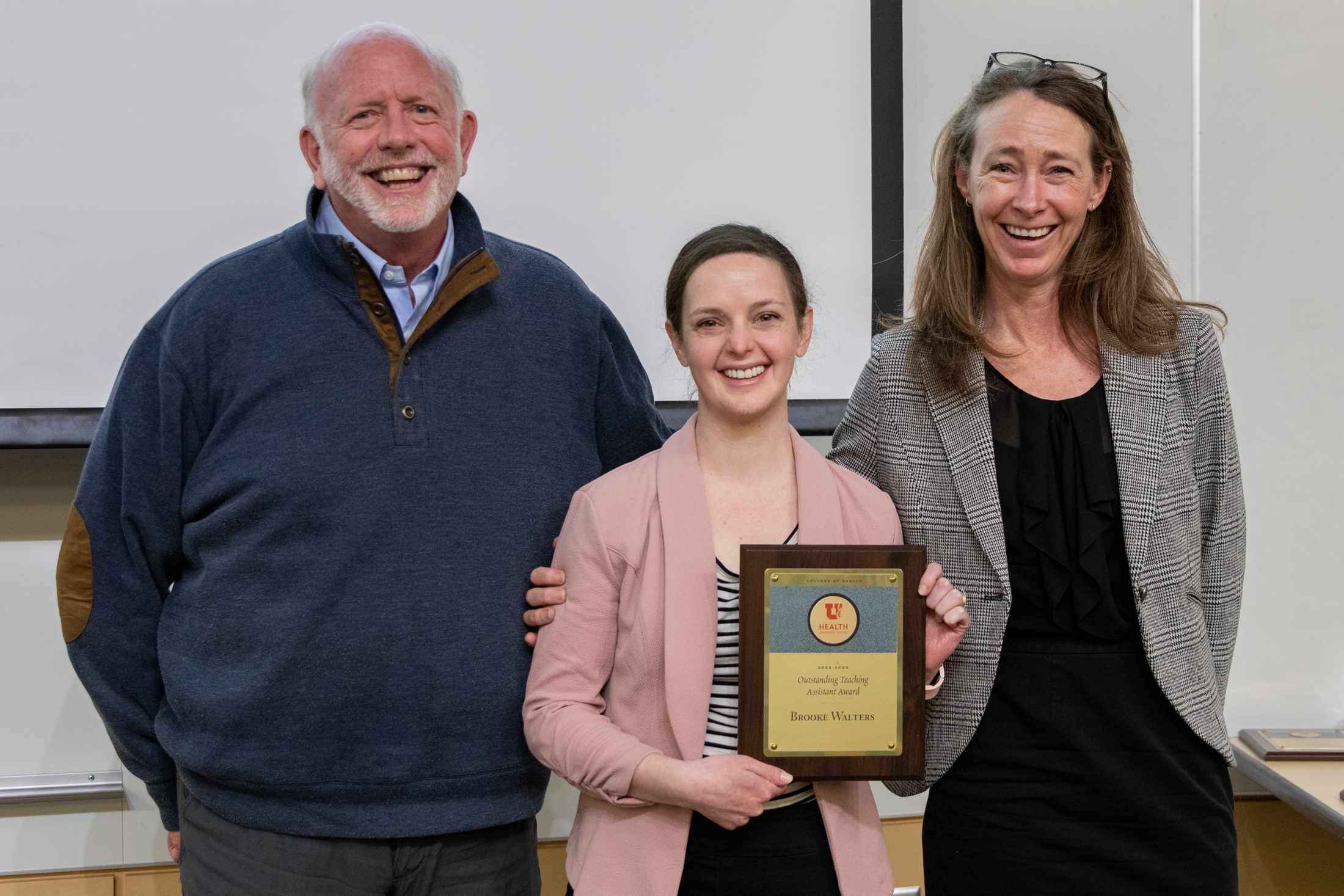 Brooke Adams, Outstanding Teaching Assistant Award
This award recognizes student teaching assistants who have made distinguished contributions to the College by demonstrating excellence in instructional capacities. Walters received raved reviews for her teaching assistant work from multiple faculty members. She has been the TA for Medical Nutrition Therapy and Scientific Foundations of Human Nutrition and Health, where she goes above and beyond to improve student learning. She excels at providing detailed feedback and extra learning opportunities for students to master challenging subjects. A student noted that while Brooke's encouraging words may seem small, they made a significant difference to her student experience.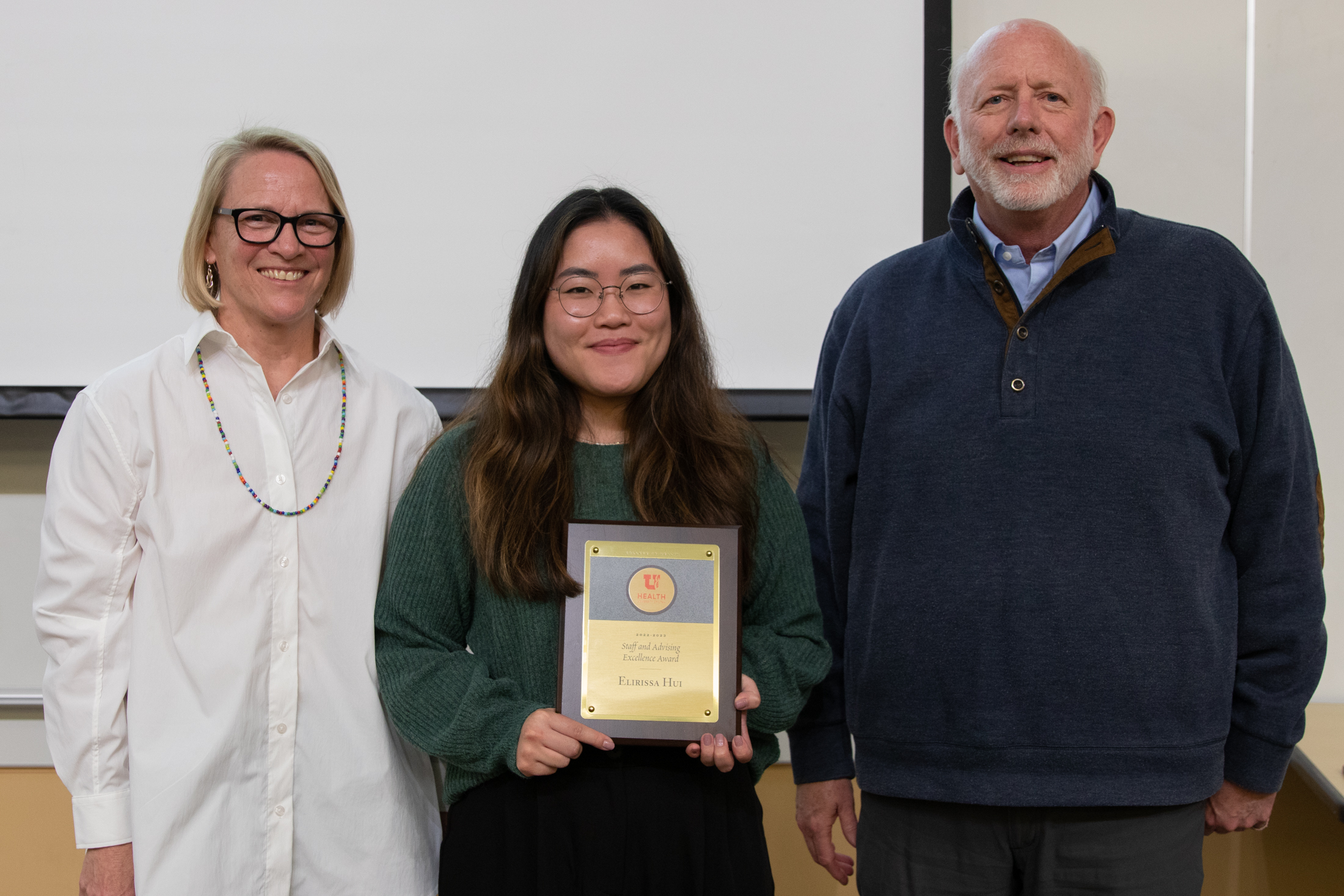 Elirissa Hui, Staff and Advising Excellence
Hui is a thoughtful and supportive academic advisor in the Sorenson Legacy Foundation Center for Student Success. She joined the Center when the University was working remotely due to the pandemic and had to complete her job training and shadowing virtually by zoom.  Despite being isolated from her peers and supervisor in the Center, she rose to the occasion and created multiple online and tracking materials to help students navigate their respective programs. Today she advises nearly 450 undergraduate majors in the Department of Health and Kinesiology and Speech & Hearing Science, and all students pursuing minors in Health and Nutrition. She also serves as a bridge advisor. Despite these time-intensive responsibilities, Hui has a knack for being available when needed, for a quick consult, an impromptu meeting with a student outside of her area of advising expertise, or to assist students with their graduate school application materials.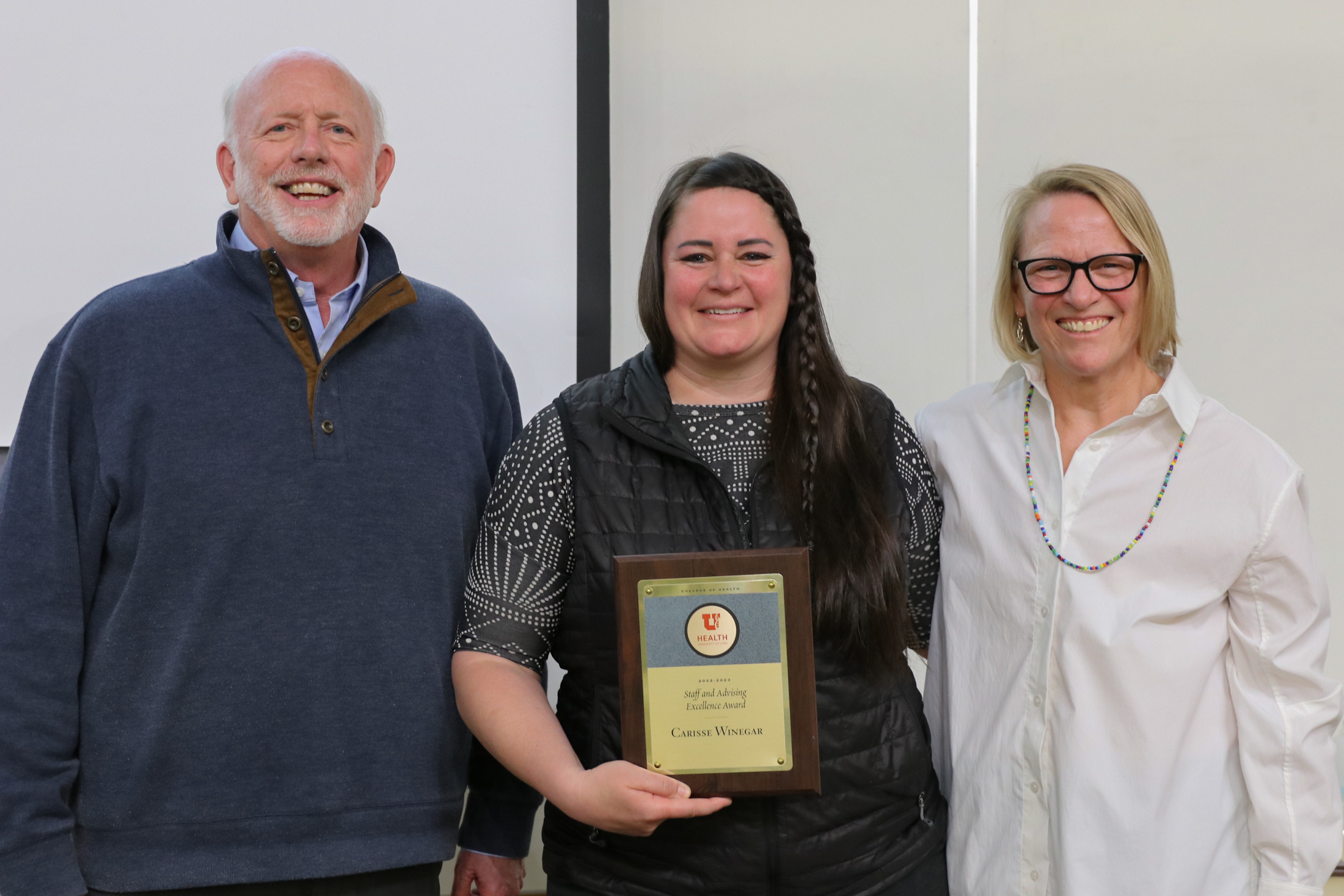 Carisse Winegar, Staff and Advising Excellence
Winegar is the program manager of academics in the Department of Nutrition and Integrative Physiology.  An alumna of the College and former soccer athlete, she brings to NUIP "a strong work ethic and unquestioned honesty and reliability," according to Department Chair Scott Summers, PhD. Among her many duties, she is the primary contact for all graduate students, schedules classrooms, maintains the NUIP website, newsletter, and teaching laboratories, manages departmental financial records and supervises part-time staff. Aside from her assigned duties, she is the go-to person who can address just about any question related to NUIP, HPER North, or anything related to the university, given her outstanding institutional knowledge. Above all, faculty comments illustrate great appreciation for Winegar's sense of camaraderie and, according to one faculty member, her "ability to promote community in our department."