RESEARCH
For Country and Classmates: Student Veteran Serving on Every Level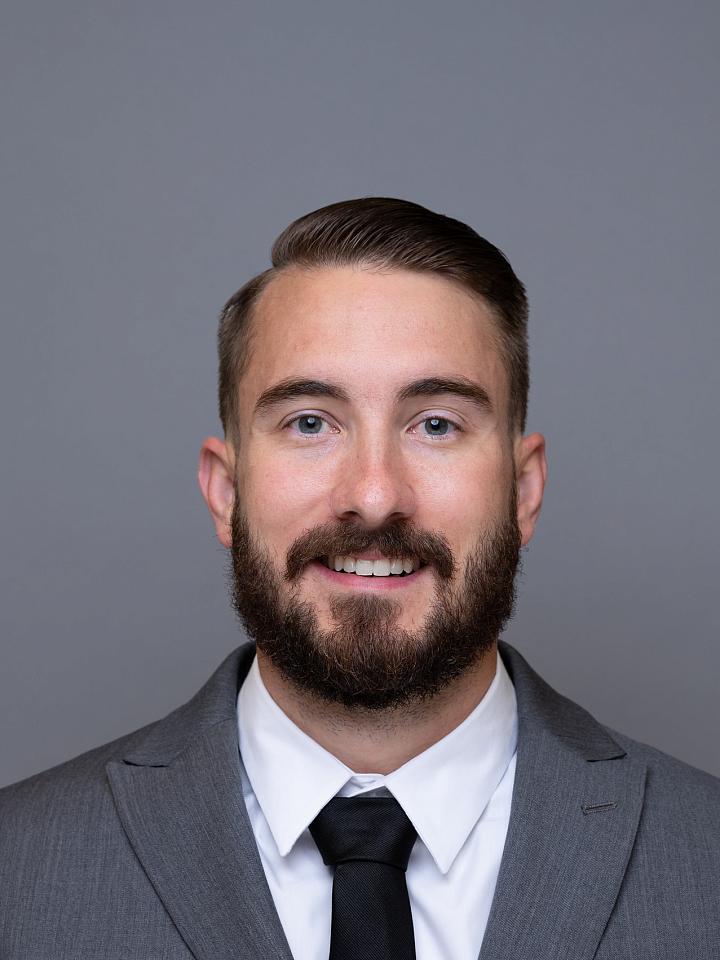 Cody Crane joined the military so he could afford college—now he's the university's Student Veteran of the Year.
His journey from metro Detroit to Salt Lake City took him through two deployments in the US Air Force, and those experiences shaped him into an outstanding leader in the College's Doctor of Physical Therapy (DPT) program.
Today, he directs the program's pro bono board, overseeing three clinics that serve uninsured and underserved community members. He's also the class representative for the American Physical Therapy Association.
But as one of six siblings in a military family, Crane's path to college seemed uncertain.
"The way we grew up, it wasn't really feasible for us to go to college financially, so my dad recommended that I join the military," Crane said. "The GI bill would help, but I'd also get some life experiences that I wouldn't get anywhere else. I started that process early in high school and stuck with that decision when I graduated."
Crane joined the Air Force, serving on the Security Forces/Military Police for six years. Stationed at Tyndall Air Force Base in Florida, his two deployments took him to Oman, Afghanistan, and Qatar. He was honorably discharged as a staff sergeant and received the Elizabeth N. Jacobson Award for Expeditionary Excellence during one of his deployments.
"It was a great experience to work with people all over the world and get experiences and perspectives that I wouldn't normally have," Crane said.
Still, college remained Crane's focus, and his roommate happened to be from Utah. Taking advantage of a military leave, they visited all five of the state's national parks. Crane was hooked. He applied while he was still deployed and completed an undergraduate degree in the Department of Health and Kinesiology.
But Crane wasn't finished with his education. He interviewed for doctoral programs in physical therapy and ultimately decided to stay at the U for the DPT program.
"I did interviews at several schools and the U felt more personable, more family oriented," he said. "They care about school, but they also care about you."
Once he started the DPT program, Crane started looking for more leadership opportunities. He'd served as a supervisor in the military and enjoyed it, so he applied for a director position on the pro bono board.
"I've always had this interest in leadership, just the challenge of it," he said. "I think it's a way to help me get better as a person, but I very much like being able to work with others and accomplish a goal."
The board oversees three pro bono clinics that provide free physical therapy services in the Greater Salt Lake area and provide community-engaged learning opportunities for doctoral students.
As a second-year student, Crane has big plans for making the board even better: fixing wear and tear in the clinics post-pandemic and improving the board's structure and operations.
"I wanted to make a change in the board, and the best way to do that is to be on the board," he said. "When we're more efficient, we can focus more on the patients."
Crane's classmates have taken notice of his leadership skills. Five of them nominated him as the U's Student Veteran of the Year, noting his "steady, earnest, and energetic effort." The award is presented annually by the University of Utah Veterans Support Center (VSC). It recognizes academic achievement, community/campus service, and military accomplishments.
Not one to rest on his laurels, Crane was "very flattered" to receive the award but doesn't feel that he's going above and beyond. And there's not much time to rest in general, since Crane and his wife recently welcomed their first child together.
"Short term, I just want to be able to manage being a father and starting a brand-new career," he said. "I don't know what area of PT I want to work in, so I guess it's a goal to find that area and become the best I can be."