Not every student gets to present their capstone research at one of their field's top international conferences, but Marilyn Schneider, OTD is one of them. She presented "Occupational Therapy Fieldwork in Morocco: Student, Supervisor, and Stakeholder Perspectives" at the World Federation of Occupational Therapists Congress in Paris at the end of August.
Schneider, who's employed with the Life Skills Clinic through the Department of Occupational and Recreational Therapies, completed her graduate degrees at the University of Utah. For the past few years, she's also taken occupational therapy students to a clinic in Morocco to complete fieldwork. To accomplish her capstone research, she investigated the outcomes from this opportunity for students, supervisors and clinic practitioners.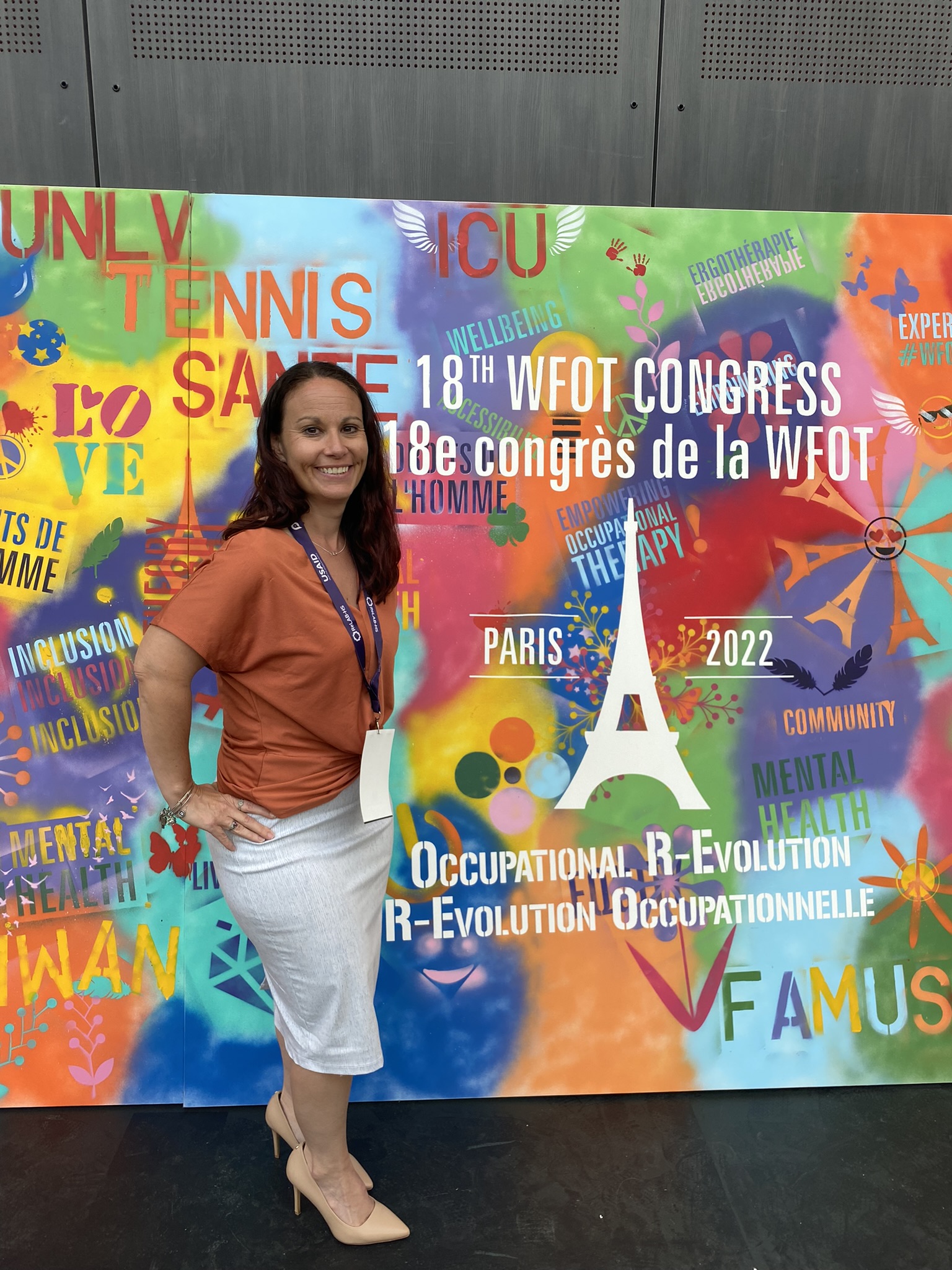 From Service to Research
The clinic is based in Marrakech, Morocco and serves as a neurorehabilitation facility. Owner Dr. Mo Sbai had adjunct taught at the University and connected with the college's physical and occupational therapists. Since 2018, Schneider and a select group of students have traveled to the clinic, teaching occupational therapy concepts and assisting the therapists with their caseloads.
"No surprise, it turns out that it's an enormous learning opportunity for students," Schneider said. "They compared the quality of learning in two weeks to the learning they get in a 12-week clinical rotation. For the clinic and clients, across the board it's been a great help and they've learned a lot."
Her capstone paper focused on qualitative interviews from participants in 2018 and 2019. To apply to present at the conference, Schneider submitted an abstract of her work. And with approximately 3,000 submissions to present internationally, the field was quite competitive.
Paris Bound
"I was so shocked, I submitted the application and I was like there's no chance this going to happen," she said. "I don't think it really set in until I was physically there and standing in front of everyone presenting."
The 18th annual World Federation of Occupational Therapists Congress welcomed more than 2500 delegates from over 100 countries. This year's conference ran as a hybrid event, offering both in-person and online attendance options. Schneider traveled to Paris to present her research in person on August 29, her first time presenting at a major conference.
"It was wild," she said. "This was my first 'whoa here's my big thing that I just did.'"
Schneider didn't have much time to relax after returning from Paris—she left on the college's annual trip for Morocco two weeks later. But she's used to a busy schedule after completing her post-professional doctorate while working full-time at the Life Skills Clinic. And the work in Marrakech, as her research shows, is endlessly rewarding.
"Every time I go, I see they're implementing some of the practices that we've taught them," she said. "It's really fulfilling to serve in an underserved setting."
By Sarah Shebek