Maren Butcher is proof that you can use a College of Health degree almost anywhere: from classrooms, to hospitals, to home settings. The Department of Physical Therapy and Athletic Training graduate has built a successful career caring for others, and it all started with a high school textbook. Today she's piloting innovative work through virtual physical therapy assessments, bringing high-level assessments to remote rural areas. We caught up with Maren to learn more about her journey through the world of healthcare.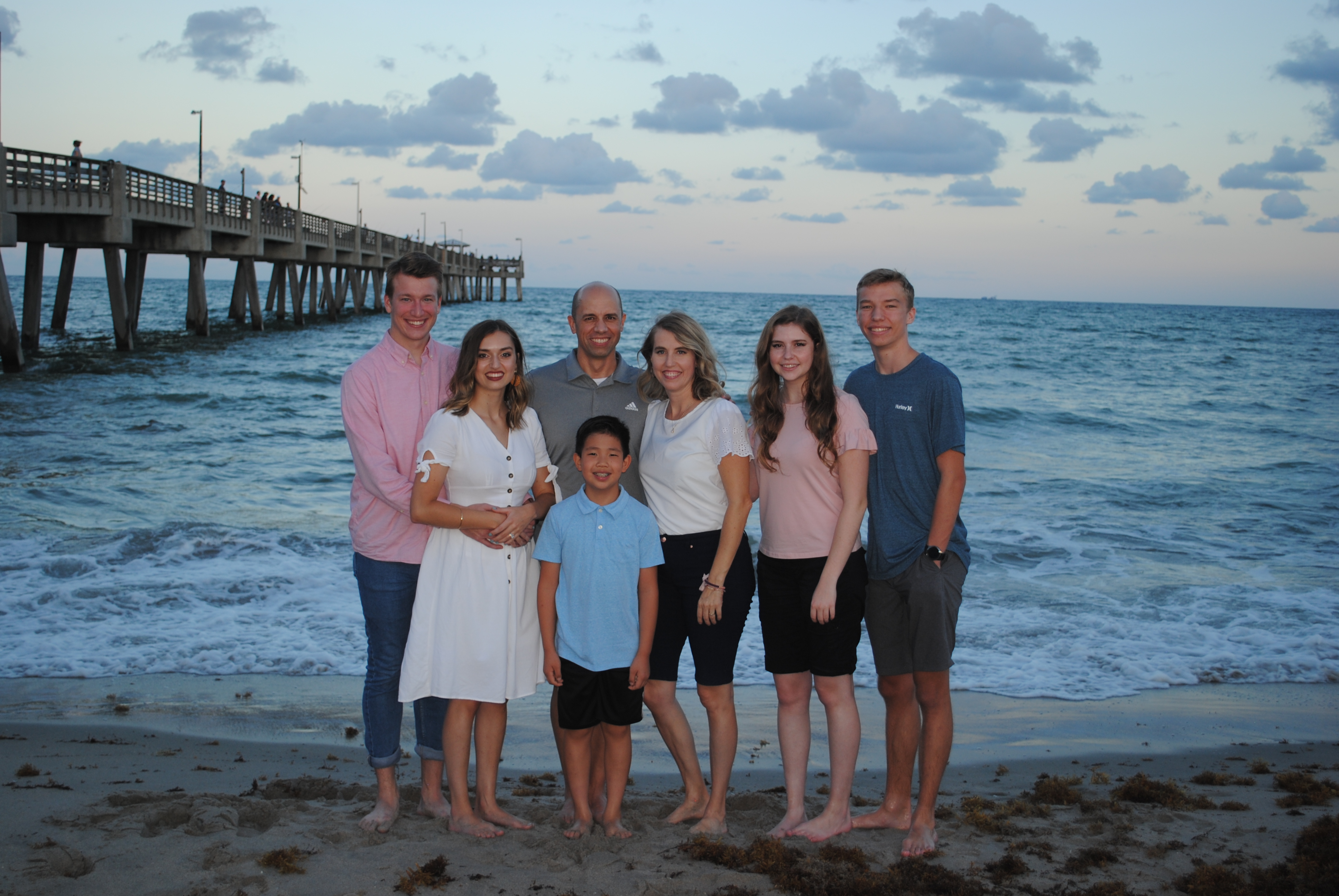 Tell me about your experience in the College of Health: why did you choose the COH, and what did you think you'd do with your degree at the time?
"I remember the moment I decided to become a physical therapist: I was a sophomore in high school sitting in my health class. The class was a little boring, so I had the textbook in front of me and I was thumbing through it. I saw this vignette about physical therapy, and it showed someone being treated on a neuro treatment table. I thought 'what is this?' and then, 'I'm doing it.' The job is perfect for me, since I love sports and being active. I told my parents, and my dad linked me up with a physical therapist who lived across the street. I started helping them for free, watching and observing, I was absolutely committed.
I'm originally from El Paso, Texas and went to BYU for my first undergraduate degree in exercise science. My parents are University of Utah graduates, so the U was my first choice to continue my education. I was told the likelihood of me getting in was very low due to not being a resident. I got into other schools and the U was last to get back to me, but I did get in and it was awesome. I finished my degree in 1996 and I was in the last class of undergraduate students in the physical therapy program."
Any favorite professor or particular favorite memory from your time in the College?
"I loved the U because of the professors. Back when I went to physical therapy school it was in the annex building—barracks built during World War Two right in the middle of campus. I remember first meeting Scott Ward, Carolee Moncur and Robin Marcus, among others. The professors were awesome: zero negative, they just made the experience great. I felt like I was so prepared. Evidence-based practice is the rage now and it wasn't quite like that when I was in school, but my professors would refer to the authors of the study whenever they brought up a new concept. I wasn't getting opinions; I was getting solid information. There hasn't been a job I've started where I haven't had the fundamental skillset necessary."
Tell me about your career now and how you got to this point?
"Right out of school I got my dream job working in pediatrics at Shriner's Children's Hospital, using that same neuro treatment table I saw in my high school textbook. I married, and my husband's job moved us to Austin, Texas. I worked in two hospitals there in acute care and outpatient and wound care. While I was in Austin, I was able to keep seeing a few pediatric patients in their homes: early intervention with small children. I kept tabs on my Shriner's patients: one of them actually entered the Paralympics and one is a successful influencer.
We moved again to Chandler, Arizona and I ended up at a skilled nursing facility for five years. It wasn't my favorite place to work but I loved my patients and I learned a lot. After that I worked in pediatrics and home care visits again through the Department of Disabilities. I got back into home care and did that for 13 years—I loved it, and I still keep a few patients.
During the pandemic I threw my hat in the ring for a virtual physical therapy job. It's a pilot program for a rural school district in Arizona. I'd been on the radar and a recruiter contacted me. It's ground level up but they had a good system in place, and it's worked extremely well so far. I virtually assess preschoolers for gross motor delays while they are being evaluated for SPED schools—I zero in on deficits that might qualify them. It's an informal assessment via Zoom, but otherwise it would be done by a non-clinical person, since there's a shortage of clinicians who live in such rural areas. The schools also have a much higher caseload than they can manage, especially coming out of the pandemic where there are more developmental delays. I have a lot of experience I'm able to offer, and I've already had a couple of classroom consults to really change some things."
What's your life like outside of work?
"I have four kids, including one we adopted internationally. He had some developmental delays, and we weren't able to bring him home for two and a half years. I could see he had some deficits, and he had a great foster mom. So, I'd burn DVDs of me working with my neighbor kid, showing exercises and translating cards. His foster mom used these to work with him and got him stronger and more capable. Now he's a super active kid in multiple sports and it ended up being a huge blessing to my own family. My oldest is a data scientist, my second one is in dental school and my senior wants to be an engineer.
I try to incorporate my kids into my free time as much as possible: trail riding, paddleboarding, playing the cello. I love to read the classics like Jane Eyre, as well as books about medicine like The Double Helix. I got my Doctor of Physical Therapy degree from AT Still University during the pandemic and was also diagnosed with a very rare cancer. Thanks to my scientific knowledge I had access to a lot of resources and was able to do a lot of research. I asked my surgeon if we should do a case study and that might happen."
Any advice you'd give to students who want to pursue physical therapy as a career?
"The main advice I'd give is if you really want to do it, do all you can and go for it. Go into a clinic, volunteer, get exposure to it. Study as much as you can in school, because the tragedy I've seen is a lot of people want to do it and they can't get into a program. You have to go all in. Love the experience and what you're learning because it's not wasted. Whatever you're learning, it will apply, and you will eventually use it. If you like a very active job where there's a lot of variety, PT is the job for you."