Johnny Rivera is a familiar face at the University of Utah—he's spent countless hours volunteering and working on campus before, during, and after completing his degree in Health & Kinesiology. He's also the first person in his family to obtain a bachelor's degree and he uses his experience to help students as an academic advisor in the College's Center for Student Success. Johnny's already made a big impact at the University, but he has even bigger goals ahead. We caught up with him before he started his second year of full-time advising work. 
Tell me about where you're from and your background prior to coming to the College?
"I'm a first-generation student—my parents immigrated from Peru. I was the first person in my family to get a bachelor's degree. There were a lot of unknowns and questions to be asked. Navigating college really started out with my three of my high school teachers at Highland High believing in me while others did not. I was not a great student, but I did find subjects I liked. I enjoyed working as a teacher's aide for P.E., as our soccer team's equipment manager, and riding my road bike to school. That's what got me into the realm of kinesiology specifically because I enjoyed being physically active and I wanted to be better at that.
I started out at SLCC and it was the first time I felt focused and engaged in education. I researched all the in-state programs to get my bachelor's degree in kinesiology. But I knew that location and housing were most important to me to be around family. I worked part-time at the University of Utah and grew to really like it, especially the diversity of people I met and their interests and dreams they shared with me. Over time, I realized University of Utah is affordable and the commute was manageable. I felt elated when I got into my number one college."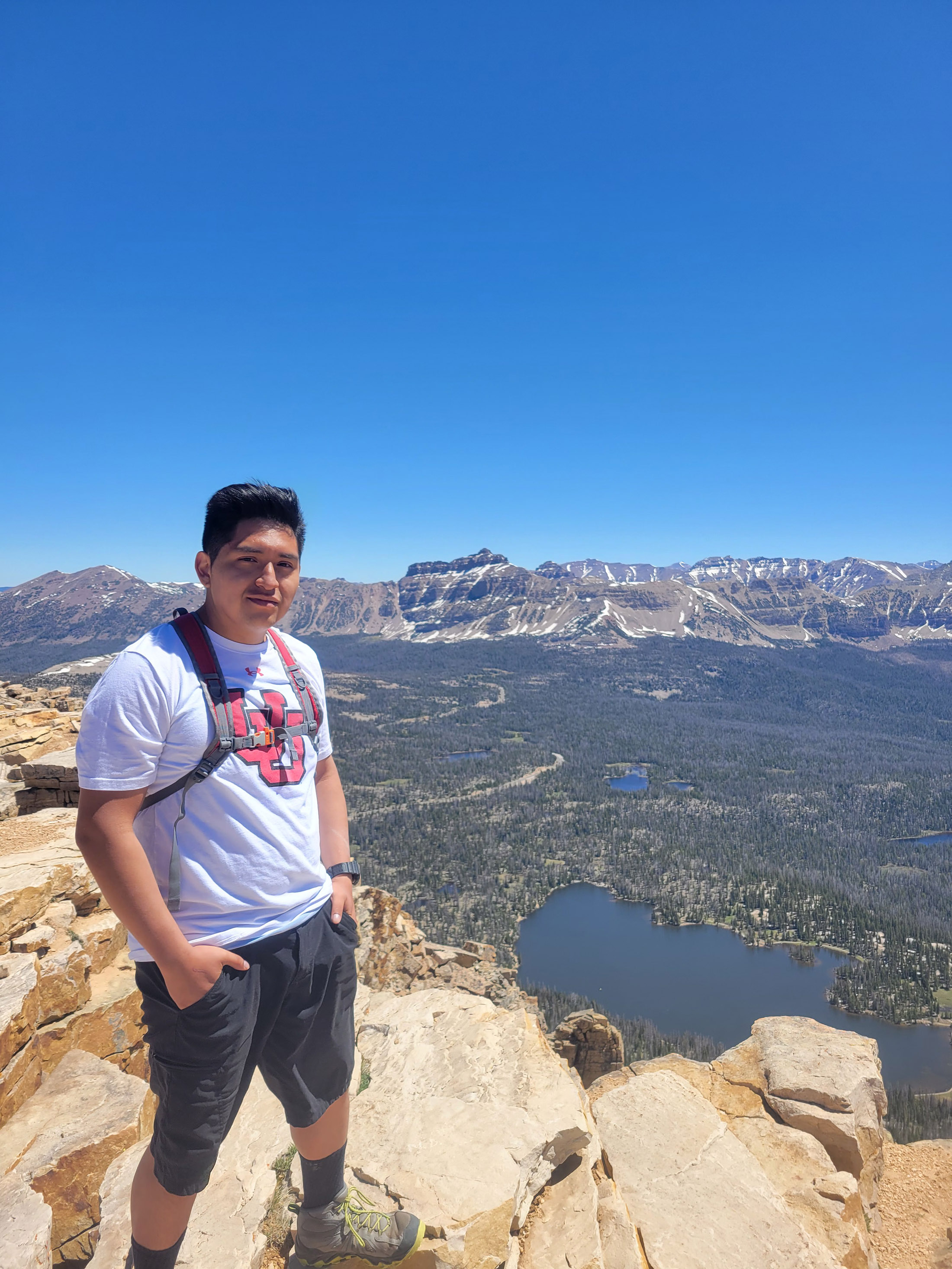 What was your experience as a student like?
"As a non-traditional student and a transfer student, I didn't have a built-in group of friends, so it was a little lonely in the beginning. I supported myself for three years in college and was fortunate to receive Pell grants, and scholarships from the TRIO program and the Community Partners program. I was an ACES scholar and peer health educator focused on harm reduction through the Center for Student Wellness. I also did a work-study job as an academic advising assistant through the College of Social Work and I was involved with the Bennion Center as a Bennion Scholar.
My favorite experience was my capstone collaboration with the College of Health and the Bennion Center. I was able to create my own wellness program for students to be physically active and provide awareness around mental health. I consulted with Dr. Nick Galli on the health education promotion side of things to help me determine what the need was and what the process was to develop this. I ended up creating a Canvas module with information on mental health, sedentary behavior and the benefits of being physically active. My program was designed to be integrated in Center of Student Wellness's ACES Scholars program for mental health cohort when I graduate college.
As I pursued my bachelor's degree, at first, I had goals to become an athletic trainer or strength and conditioning coach. I did informational interviews to find out how that would be. Over time, I had a good feel for what those careers would be like, and I didn't think it was a good fit. I decided I wanted to do graduate school to continue my interest in providing a service for underrepresented groups or communities. I wasn't entirely expecting to get hired right out of college, but I did because of the connections and people I met in my academic journey. It was thanks to them I earned my job."
How did you get involved in student services and advising?
"I was an academic advising assistant for seven months for the College of Social Work, and before that I was an office admin for three years. I had a good working relationship with all the academic advisors there. At the time the director was Elizabeth Perez and we worked on some programming and revising their websites. I helped them out with file management, assisting students with registration, and I revamped BSW and MSW resources websites for them. That gave me enough leeway to request a letter of recommendation from Elizabeth.
I did an informational interview with Dave Belt to what the job entailed and decided to go for the position. I used some of my experiences and coaching from Elizabeth Perez to help me do well in the interview process. I told some of the faculty about my interview, and I had two different faculty reach out on my behalf to Shari Lindsay to say that I'd be a good candidate. As of a few days ago it's been a year in my current position."
What's your favorite part about the job?
"The uniqueness of students and how they approach college. They're trying to understand what college life is about. They have similar needs but every student I interact with, I like helping them learn. Once they start getting it, they don't have to come to me as often. I try to provide options and autonomy and hear their thoughts. I let them know the information they need, and whatever they decide I'm very supportive of that."
What are your goals for the next 5-10 years?
"I'd like to go to graduate school and become a registered dietitian. I think the most demand is clinical setting, so my goal would be to focus on nutritional counseling. I kind of do counseling in my current job already, so I think that experience can be transferrable down the road. Especially when I use concepts like motivational interviewing, I try to make sure the students know that they're heard. I'll hopefully apply next year to start my prerequisites. My biggest goal is to be more involved and gain experience in student-led programming and collaboration is a big thing for me."
What's a fun fact about you?
"If I didn't choose higher education, I probably would have been a firefighter instead. I had a chance to take a continuing education course about firefighting in high school. It was very rigorous and intense for a pilot course—there were 35 students at the start and by the end of the second week there were only six students. I was one of the six that stayed and enjoyed it. I had the opportunity is participate in stimulated fires at the fire academy, wearing firefighting suits and air tanks, and practice shooting water and taking out fires. I didn't end up pursuing it because I wasn't 18 when they did their recruitment, and I would have had to wait another two years for the next recruitment period."