Her handle on Twitter is @NutritionNerd. She's published more than 32 peer-reviewed manuscripts. She recently won the College's Distinguished Mentoring Award and mentored the departmental graduate student of the year. It's safe to say Tanya Halliday, PhD, RD, is a model faculty member in the College of Health: passionate, involved, and savvy. And she's only four years into her tenure at the U. We caught up with Halliday before she dives into another busy year of research and mentorship.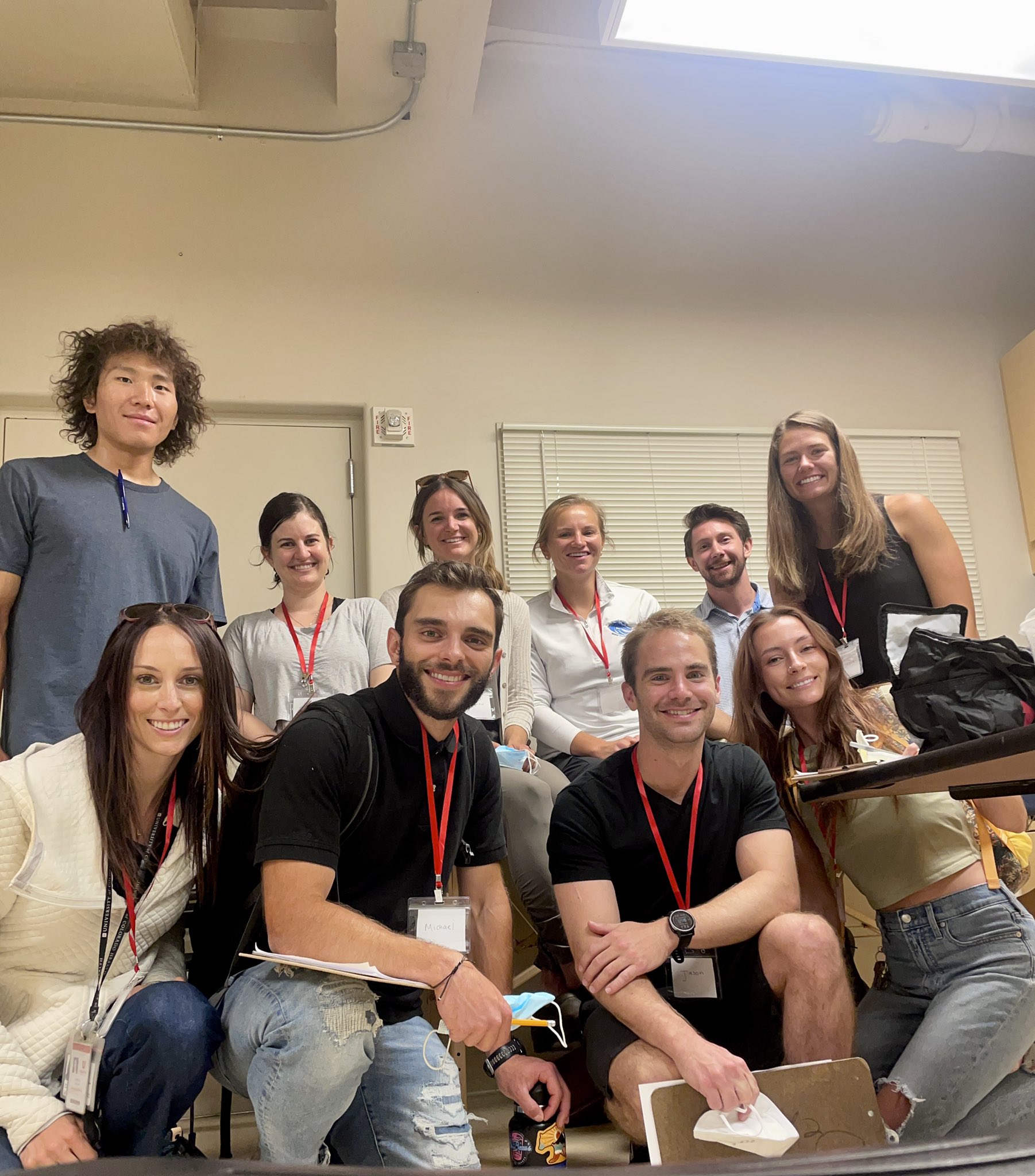 Halliday (L) and some of her mentees at a data collection day for an ongoing trial
Tell me about your background and how you ended up at the College of Health?
I went to the University of Wyoming for my bachelor's degree as a student-athlete, playing on the soccer team. I was thinking about becoming a registered dietitian and sports nutritionist, so I served as a teaching assistant for an Intro to Nutrition class as an undergrad. I also took a class from Dr. Enette Larson-Meyer who ended up as my faculty academic advisor. I brought up a research article I'd been reading, and she was shocked that an undergraduate student would actually read research. She asked me if I wanted to get involved in her lab, and I said yes—I ended up getting a first author publication out of it. That combination of teaching and research made me think I wanted to be a faculty member.
After undergrad I went to the University of Houston for a dietetic internship, with a research rotation in the exercise immunology lab. Then I completed my PhD at Virginia Tech, where my research focused on helping people with prediabetes decrease their risk for developing type 2 diabetes. As I was working on one project, I got really interested in the spillover effect from people who engage in exercise: they may be making changes in their diet to compensate that negate some of the benefits, or they might use it as a springboard to make other beneficial lifestyle changes. That ended up becoming my dissertation.
I knew I wanted to get more training in direct methods of dietary intake assessment and physiological outcomes, so I did a NIH-funded postdoctoral research fellowship at the University of Colorado Anschutz Medical Campus. For one of our trials, we put people in an MRI scanner and show them photos of appetizing foods or bland foods, along with control images. We'd look at different brain regions that were activated and determine if exercise can help control responses to hedonic foods, as well as measure levels of circulating appetite hormones. I saw the position at the U about a year into my postdoc, and thought it sounded right up my alley. I've been here for four years now.
Why did you decide to enter the VPCAT program? What was your experience like?
I saw the call initially for the VPCAT program from Dr. Julie Fritz, Associate Dean for Research in the College of Health, and we were encouraged to apply when we first got to the U. I waited a year so I could establish a relationship with my mentor Dr. Molly Conroy, a physician-scientist who is an Endowed Chair and Division Chief of the Division of General Internal Medicine. I was fortunate that I got a small pilot grant my first month and Dr. Conroy came on as a co-I and mentor. Due to our established research relationship, it made sense to transfer it into the formal VPCAT program. What I heard about the program seemed like it was the structure that would help junior faculty be successful here. And it was fantastic, it was instrumental in helping me make connections in order to pivot with lab space challenges, leadership changes and COVID. The ability to work with Erin Wachs, the VPCAT Research Manager, and Dr. Michael Rubin, the VPCAT Director, was very helpful.
I like that the program pairs you with both a scientific mentor and a senior mentor who can help you navigate the infrastructure and troubleshoot barriers. I ended up getting a KL2 award and it was thanks to the VPCAT program that I was able to submit such a competitive application. I also put in my first R01 this past June with support from the VPCAT program.
What drives your passion for research?
When you look across our society you see people going from being active college students and young adults to not being able to be as active or eat as healthy. A lot of it is outside of their control as our environment promotes inactive and the intake of high calorie, hyper palatable foods. Thus, I have a lot of compassion for how challenging it is for an adult to maintain healthy lifestyle habits. That's why I'm so drawn to lifestyle approaches. Furthermore, a lot of focus in the areas of cardiometabolic health outcomes is on weight loss, but we frequently see that people struggle to maintain weight loss long-term. As a result, I have shifted my lab's focus to weight loss maintenance interventions.
I'm particularly interested in helping people who have successfully lost weight continue to maintain that weight loss, and associated health benefits, long-term. Multiple studies have been done to model how a reduction in the overall prevalence of overweight and obesity would reduce the economic and healthcare burden associated with obesity-related complications. However, we don't yet have effective strategies for promoting weight loss maintenance long-term. I'm really excited about the work we are doing in this area as I think it will ultimately result in improved standards of care and thus improved health of patients overall.
You're also a very involved mentor. Why is mentoring important to you and what tactics do you use to be a successful mentor?
Mentoring is so important to me because that's what I credit all my success to: having people that believed in me and gave me opportunities to get involved in research, took me to meetings, and introduced me to colleagues. Each person that's been a mentor to me is really the reason for my successes today. Knowing how important good mentorship has been to my success makes me passionate for mentoring my students.
I try to be available and be empathetic to the situation my mentees are in. Because I'm so fresh out of my training I remember what it's like to be living on a meager stipend, in the lab late at night, writing your first abstract or manuscript, and having it take a couple of hours to write a few sentences. It's not that far removed from where I am as a junior faculty member. Basically, I try to be understanding and compassionate to their current career stage. I also try to protect students from the extent of behind the scenes work that is required to conduct research projects. As they progress along in their academic development, I provide more insight into this as well as the realities of being a research-intensive faculty member. I think it is important that we not overwhelm them initially with all the parts of our jobs, but that they need to be aware of the demands of the job as they grow in their own role as trainees.
How do you divide your time between research, mentorship and teaching?
Some days not well! I think that's been the hardest thing about transitioning to faculty. You realize you have to delegate things and you can't be at every single data collection event. I do suffer a little bit from feeling guilty from not attending all study visits or being "in the trenches" every day. The reality is in order to keep the lab moving, I need to be working on grants and papers, meeting with collaborators, in addition to professional service, teaching, and faculty meeting responsibilities.
What I try to do is block all my lab meetings and one on one mentee meetings to one or two days a week. Then I know I have my Monday heavily reserved to work on grants and papers. I protect my time as best as I can, but this is a constant work-in-progress.
What's your favorite part of being with the College of Health?
I really like that our department and our College span both the medical institution and the main campus. I've been at institutions where you're primarily undergrad focused and maybe you have a medical center, but it's far away. And I've been at a medical campus where there are no undergrads. I like having the resources and facilities of the medical campus so I can utilize the clinical enterprise for conducting research, but also feel like I'm part of a vibrant undergrad campus community. The integration of the two campuses is my favorite things.
What are your career goals for the next 5-10 years?
Hopefully this coming year I'll land a couple of big grants and breathe a little sigh of relief having the lab well-funded and get that boost of confidence that my peers like the work. I want to transition taking what we're learning from research studies and getting them into clinical practice. For example, I'm collaborating with Dr. Eric Garland, Endowed Professor and Associate Dean for Research in the College of Social Work, who has created a mindfulness-based program that we are utilizing in the weight management space. If that program is efficacious and we can offer it to patients, I think it would have an enormous impact on patient health and wellbeing long term. Ideally, my vision is for effective weight management interventions to be integrated into the medical care patients have already established.
Currently, I am conducting a pilot study to see if this mindfulness-based intervention can prevent weight regain following intentional weight loss, with plans to expand this for our R01 which is in review. For the pilot we are recruiting from the comprehensive weight management center, which primarily consists of surgical and medical weight loss patients. The physicians in this clinic expressed interest in our study because their patients are interested in mindfulness. If our intervention is shown to be beneficial, I would love to more formally integrate it into our standards of care here at the U.
What do you enjoy in your free time?
Everything here in Utah: hiking, running, skiing, and horseback riding. My partner Jason Shepherd, PhD is faculty (Associate Professor in the Department of Neurobiology and Huntsman Endowed Chair) here at the U so when we're not submitting grants, we like to go hiking with our three dogs or skiing in the winter. I just can't think of any other campus where you can have an international airport, major ski resorts, and a legitimate medical campus all within such close proximity.
What do you think of when you hear the phrase "More Health, Less Medicine"?
When I hear this phrase, my mind immediately goes to "prevention", which is directly in-line with my research interests: preventing development and progression of chronic, non-communicable diseases like diabetes. If we can get people to begin and/or maintain health-promoting behaviors, it will likely reduce their need for medical treatment over their lifetime.
However, it is important to recognize that engagement in health-promoting behaviors is not something that comes down to individual willpower. It does require understanding of, and alterations to the multiple systemic, structural, and environmental barriers which also impact our ability as a population to lead healthy lifestyles. Finally, I think it is important that this phrase reads as "less medicine" and not "no medicine" as the need for evidence-based, patient-centered medical care will always exist. "Health" and "Medicine" should not be viewed as dichotomous outcomes.