Rebekah Nicholson wanted to make a difference as a registered dietitian—but her research skills are next-level.
A third-year PhD student, Nicholson received a competitive F31 grant, which supports up to five years of predoctoral research training. And she recently placed second in the University's Three Minute Thesis (3MT) competition, where students compete to effectively explain their work in three minutes to a general audience.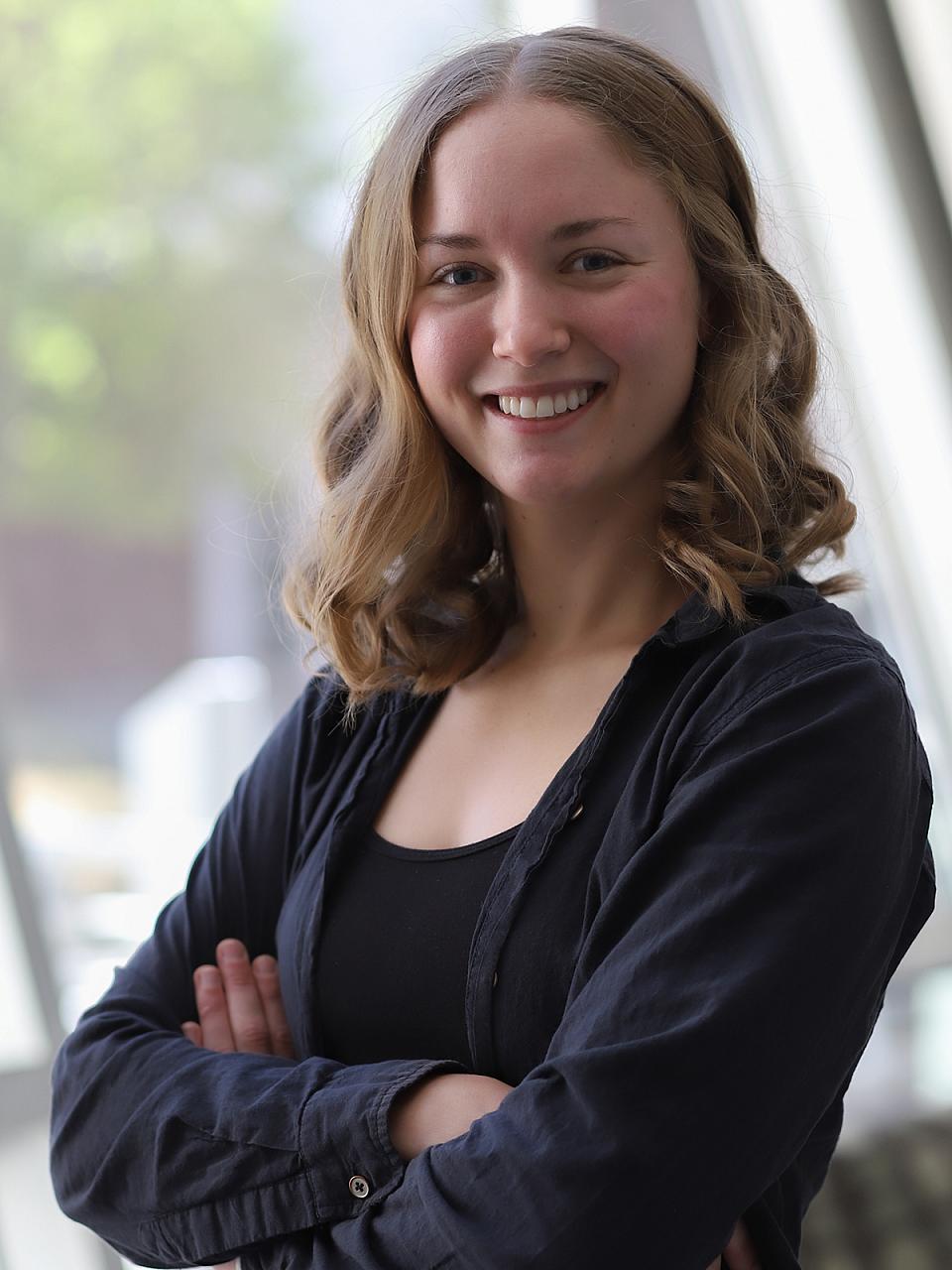 Surprisingly, Nicholson didn't have any research experience in college. She decided to pursue a coordinated master's degree with the Department of Nutrition and Integrative Physiology to become a registered dietitian and try her hand at research. But after working with individuals with kidney failure as a focus area in her program, she reached a turning point.
"It was rewarding to work with patients with kidney failure, because if they made the dietary changes results showed up almost immediately in their labs, and that's not always common," she said. "However, I really struggled with the reality that we have so few therapies to combat these individuals' disease. I decided to continue as a PhD student in Scott Summers and Will Holland's lab and pivot my research focus to study ceramides in kidney disease."
Nicholson finished her masters, received a license as an RD, and began the PhD program in 2020. Her focus is renal lipid metabolism—lipids are fats that are either absorbed from food or synthesized by the liver. Her research investigates if increasing or decreasing lipids will worsen or improve kidney issues.   
"When someone has kidney failure, there's a whole progression of chronic kidney disease prior to that, and there's not a drug to help treat it," she said. "I'd like my research to be translational and contribute to the development of new therapies for the kidneys."
In 2021, Nicholson applied for the F31 grant, an extensive application that's submitted directly to the NIH. Her first submission didn't receive a fundable score, but she changed the grant and received a "pretty solid score" on resubmission, qualifying for funding. She'll transition directly from a T32 fellowship to the F31 grant this summer.
"I'd like to do a postdoc next and achieve an academic career as an independent researcher," she says. "I'd love to keep working on the kidney and stay at an academic institute, but as long as I'm having a translational impact on people, I'll be happy."
Nicholson is also passionate about science communication, so when she found out about the 3MT competition, she decided to apply. The competition spans all graduate schools at the university and after a semifinal video submission, she made the final with nine other students.
"The idea is that graduate students should develop good enough science communication skills to present their work in three minutes to a lay audience," she said. "The way everyone was able to translate what they were doing was awesome."
The 3MT program has spread to over 85 participating countries worldwide and the University of Utah began holding a 3MT competition in 2013. This year's final competition was held on March 3 and Nicholson's presentation "Fats as Fuels, Not Foes: Redirecting Lipid Metabolism to Treat Kidney Disease," received second place.
"I had to boil down these complex ideas of cellular metabolism and physiology into three minutes," she said. "Now I have a lot more skills in terms of how I can talk about my research."
That's helpful, since Nicholson is also a student organizer for the University's Diversity and Science Lecture Series. The chapter started last year and works to make science more accessible and approachable. They're currently facilitating writing workshops that are open from high school students up to faculty members, and they hosted a Ted-X style talk at the Natural History Museum last fall. 
Whatever her next steps are, Nicholson credits the collaborative nature of her department and the patient-centered focus of the College of Health for her success.
"Our metabolism research is some of the best in the country and the world and being able to train in that environment has made me a good scientist," she said. "But the College of Health also emphasizes bench-to-bedside and translational research, and that connection to people is important to me."