PhD in Nutrition & Integrative Physiology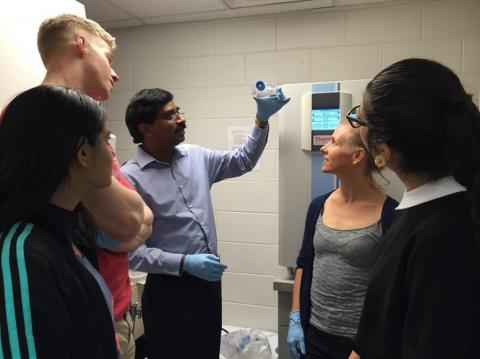 Nutrition & Integrative Physiology
DOCTOR OF PHILOSOPHY
The PhD program in Nutrition and Integrative Physiology trains students interested in conducting translational research on the metabolic basis of disease.
Our unique program, generally completed in four to five years, focuses on the primary literature and teaches students the latest technologies needed to be elite scientists and research scholars.
Students generally align their courses along with one of the following tracks:
Nutrition
Integrative Physiology
Molecular Metabolism
Students have the option to refine coursework requirements in consult with their thesis mentor and advisory committee.
The bulk of the time in this program revolves around the doctoral dissertation, generally culminating in the publication of two to four papers describing original research findings in the medical literature.
Students in the Ph.D. program are responsible for tuition based on the schedule published by the graduate school at the University of Utah.
The Department of Nutrition and Integrative Physiology offers financial assistance to most students through the award of Teaching (TA) and Research (RA) Assistantships. These positions provide financial assistance to graduate students in exchange for teaching/research and/or service related work for the department. A full assistantship provides a tuition waiver and a stipend paid throughout the academic year; these are usually reserved for doctoral students. 
EXPECTED LEARNING OUTCOMES
All program graduates will demonstrate a mastery of key concepts in the following areas: research design, statistical analysis, scientific writing, macronutrient metabolism, general metabolic physiology, muscle, cardiac and pulmonary physiology. Specific learning outcomes are:
Demonstrate a mastery of key concepts in physiology, nutrition, and metabolism as they relate to health and disease conditions.
Integrate scientific information gained through literature and laboratory discovery into their own research applications.
Demonstrate effective communication of nutrition information using written reports, professional presentations, multimedia approaches, and technical research formats.
Understand professional, academic, and scientific ethics.
Demonstrate an ability to self-educate through literature review and analysis.
Ph.D. Program graduates will possess advanced technical laboratory skills that are relevant to modern basic and / or clinical research.