NUIP FOODS LAB - HPER N 227
Open Outlook Calendar:
Click "Open Calendar" on the top menu panel
Click "From Address Book"
Select "Offline Global Address List"
Search and click Nutrition and Integrative Physiology
Click "Calendar"
OK
View calendar to identify available date(s)/time(s)
Email nutrition@health.utah.edu to request a reservation, make sure your request includes time for food prep and clean-up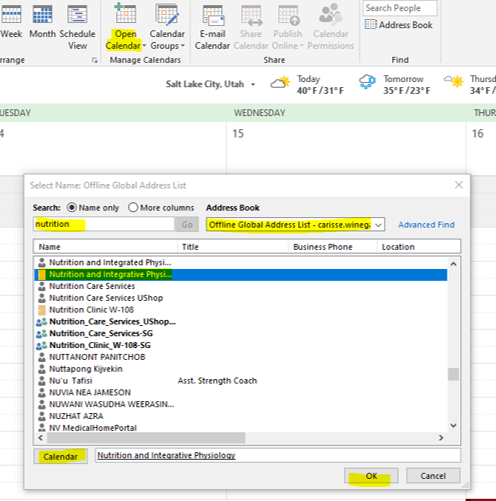 Email nutrition@health.utah.edu with reservation date(s)/time(s), make sure your request includes time for food prep and clean-up
Receive and complete Foods Lab contract:

Collect a chart field from department accountant
Enter all the event details
Enter department contact information
Sign contract on page 2
Review cleaning checklist and sign on page 3
Email completed contract to nutrition@health.utah.edu

Schedule an in-person Foods Lab orientation with ALL event instructors or ALL event instructors watch both virtual orientation videos
ALL event instructors review, initial, and sign the Foods Lab Orientation Checklist and send it to nutrition@health.utah.edu
UCard badge access will be granted after completed Foods Lab contract and signed Orientation Checklist is received
HPER N room 227 capacity is 30 (5 people per station)
6 color coded fully equip kitchens
Rental fee: $175 per day (Chartfield or check accepted)
Center island with 15 chairs for participants
Cooking Demo station (black station) with large tilting mirror

To fully utilize the cooking demo station for a presentation and open the partition, see instructions on how to reserve the classroom (HPER N 226) next door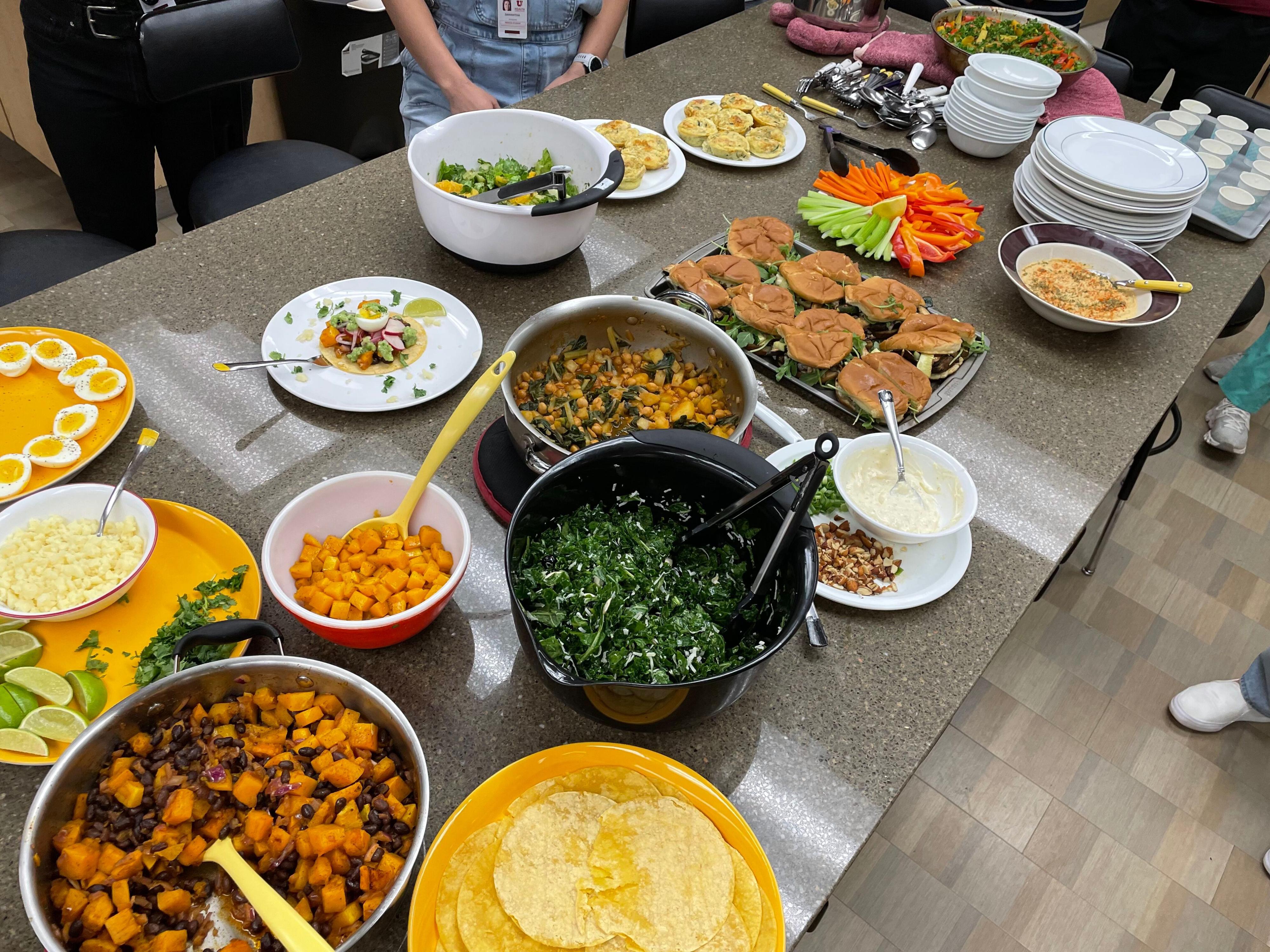 What equipment is available?
Each cooking station:

stovetop oven, microwave, blender, pot, pans, baking pans, cooling rack, dining utensils, corelle dishes (46 oz. and 30 oz. meal bowls, rice bowls, mini bowls, cereal bowls), baking utensils, measuring cups and spoons, liquid measuring cups, mixing bowls, strainers, steamers, shifter, cap openers, kitchen shears, zester, peeler, garlic mincer, cheese grater, potato masher, tongs (long and short) whisks, thermometer, paper towels, dish and hand soap, dish scrubbers, sponges, dish mats, dish drying mats, 409 cleaning spray bottles

Other items:

Center island: extra dining plates, food trays, baking pans, pizza stones, muffin tins, chef knives, zip lock bags, tin foil
White station drawers: electric scales, mandoline slicers, toaster oven,
White station cupboard: mugs and cups.
Blue station drawers: rolling pins,
Blue station cupboards cleaning linens, toaster oven, extra large pots and pans, wok
Purple station: extra large pots and pans
Red station tall cupboards: broom, swiffer sweeper
Red station cupboard: Extra cutting boards, kitchen timers, first aid kit
Black station: convection pots, pans, demo station with mirror

Available upon request:

​​​​​​​Kitchen aid mixers and attachments, food processors, instant pots, air fryers, crockpots, electric griddle, immersion blender, rice maker, candy thermometers, cast iron pans, coffee pots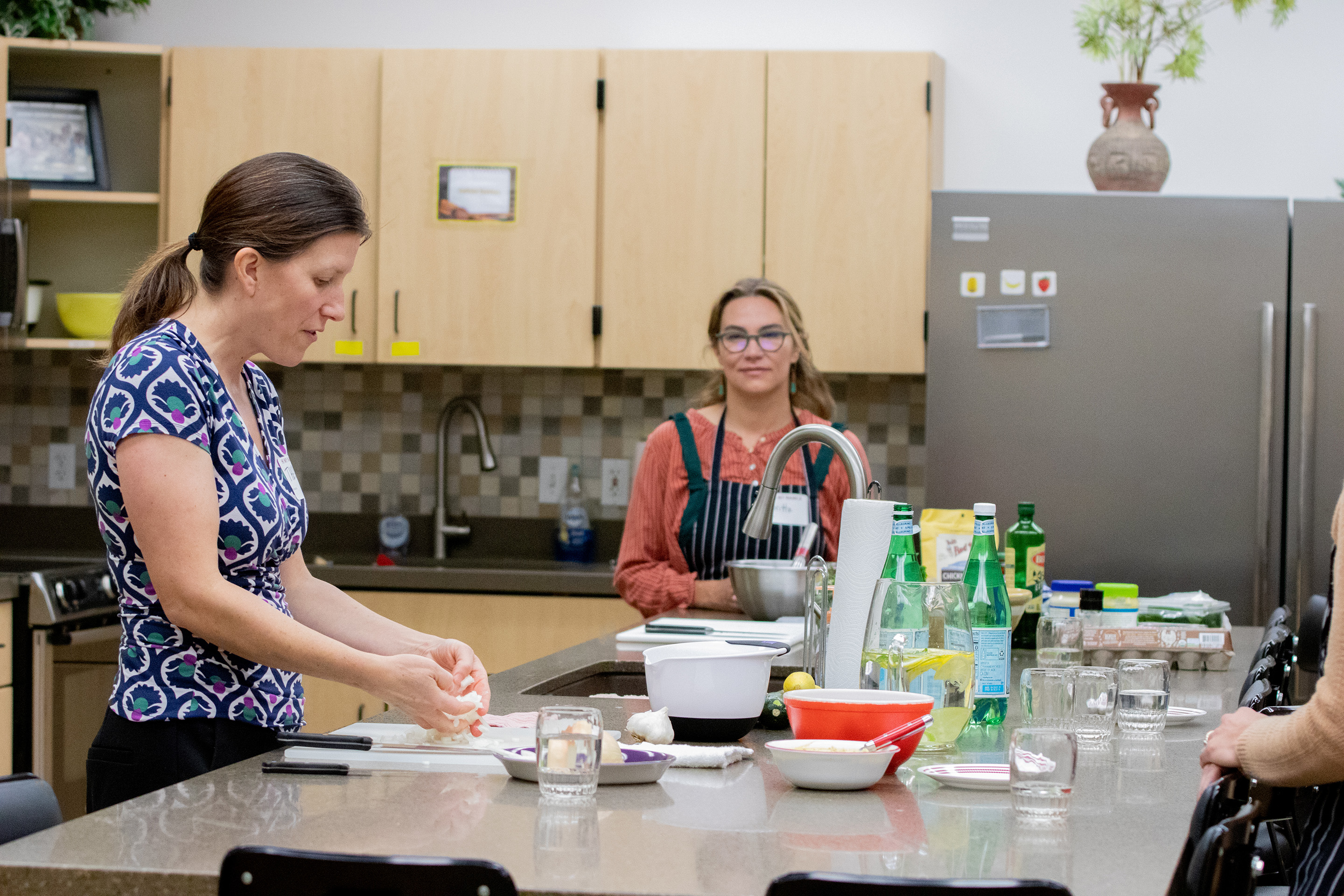 THOROUGHLY

clean all used dishes using 2-compartment sink washing protocol (posted on Pantry door)

Leave no dirty dishes in the sinks
Scrub and rinse both sink compartments after all dishes are done
Make sure dishes and utensils are placed in their correct color station
Put away dishracks and dish mats under each sink
DO NOT use the dishwasher without express permission from the department

Run all garbage disposals to rinse drains of lingering food particles
Make sure all kitchen equipment is thoroughly cleaned and put away
Label and date all non-perishable ingredients to be stored in the refrigerator or pantry bins

Take all leftovers with you
Discard any leftover ingredients that will expire
No unmarked or bagged food shall be left on the counters or in closet areas. All must be put in storage containers in dry storage.

Clean all counter tops, handles, and stove tops with 409 disinfectant spray (under sink) and a clean towel
Place dirty towels and washcloths in dirty laundry bag located in the pantry closet
Wipe up any spills
Sweep entire floor
Put stools back in neat formation around center island
Check all stove top knobs are in the off position
Close the partition door, lock the lock box and scramble code (if applicable)
How do I reserve the classroom next door?
There is a classroom (HPER N 226) that is attached to the Foods Lab via a partition door. In order to use the classroom a separate reservation must be made with the Office of the Registrar, Scheduling Office via ASTRA
Review ASTRA's daily scheduling grid to identify classroom availability
Send "Event" request to the Scheduling Office
If HPER N 226 is available during your reservation of the Foods Lab and your ASTRA event request is approved, email nutrition@health.utah.edu with the .pdf copy of the "Notification of Event Request Approval with Summary" from notifications@aais.com, to receive partition door lockbox code
REQUIRED VIEWING - NUIP FOODS LAB ORIENTATION VIDEOS
Cleaning and Hand Washing Protocol
Knife Skills for the Salsa Lover with Dr. Amy Locke and Theresa Dvorak