The Center for Emergency Programs Reaches Thousands Every Year
A Critical Mission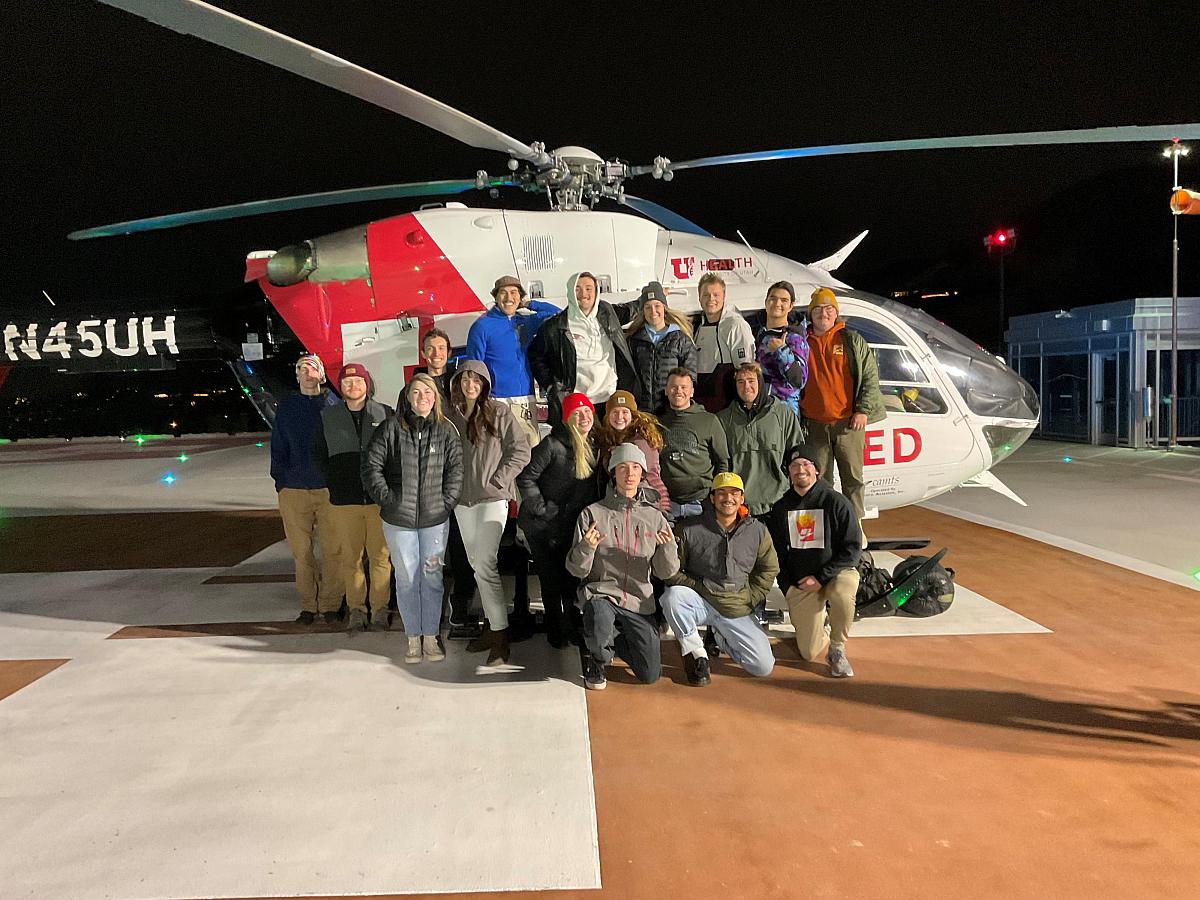 If you're ever swept off a cliff by an avalanche, bucked off a raft into whitewater, or passed out at a concert, you might be unlucky—but your odds greatly improve with a trained emergency professional nearby.
The Center for Emergency Programs trains those professionals at the University of Utah and across the state. Led by Director Chris Stratford, they reach thousands of community members each year through courses on everything from CPR to swiftwater rescue.
"We're teaching them that they're going to jump into a scenario that's the worst moment of an individual's life," Stratford said. "We teach them to be calm, thoughtful, and organized in how they assess and how they reassure the patient that they're being taken care of properly."
Housed in the Department of Health and Kinesiology, the center offers:
·      An EMS emphasis degree with several interest track areas including EMS management, community response (paramedic), and wilderness rescue.
·      Emergency Medical Technician (EMT) and Advanced Emergency Medical Technician (AEMT) training throughout the year.
·      Remote Rescue Training, a variety of wilderness-based rescue courses that includes avalanche and winter rescue, swiftwater rescue and rock and alpine rescue.
·      CPR and First Aid training for individuals and groups.
·      Emergency Medical Services Continuing Education for groups and agencies.
"We have great instructors teaching courses that are preparing people for great careers in emergency medical services."
"If you look at the University's pillars of research, service and academics, the academic side is where our strong point is," Stratford said. "We have great instructors teaching courses that are preparing people for great careers in emergency medical services."
Stratford estimates that about 40% of students pursuing the EMS degree are pre professionals—they'll go into nursing or medicine and using it as a foundation. Once students complete the degree, they'll get certification as an advanced EMT or paramedic, which gives them a leg up in the job market.
Matt Haberman is one of the college's EMS graduates and today, he co-leads the center's wilderness rescue programs with Andy Rich. Each year, they offer four rescue classes for undergraduate students: high angle rescue, advanced rope rescue, avalanche rescue and swiftwater rescue.
The classes are experiential, so students spend time in the field practicing in a raging river or on a snowy mountain. Students from any major can sign up and hone their critical thinking skills outside of the classroom.
"I think what students get the most out of these classes is leadership and teamwork, problem-solving under stress," he said. "Rather than just 'how do I lower a patient down this cliff,' it's 'how do I make this decision under stress with my teammates?'"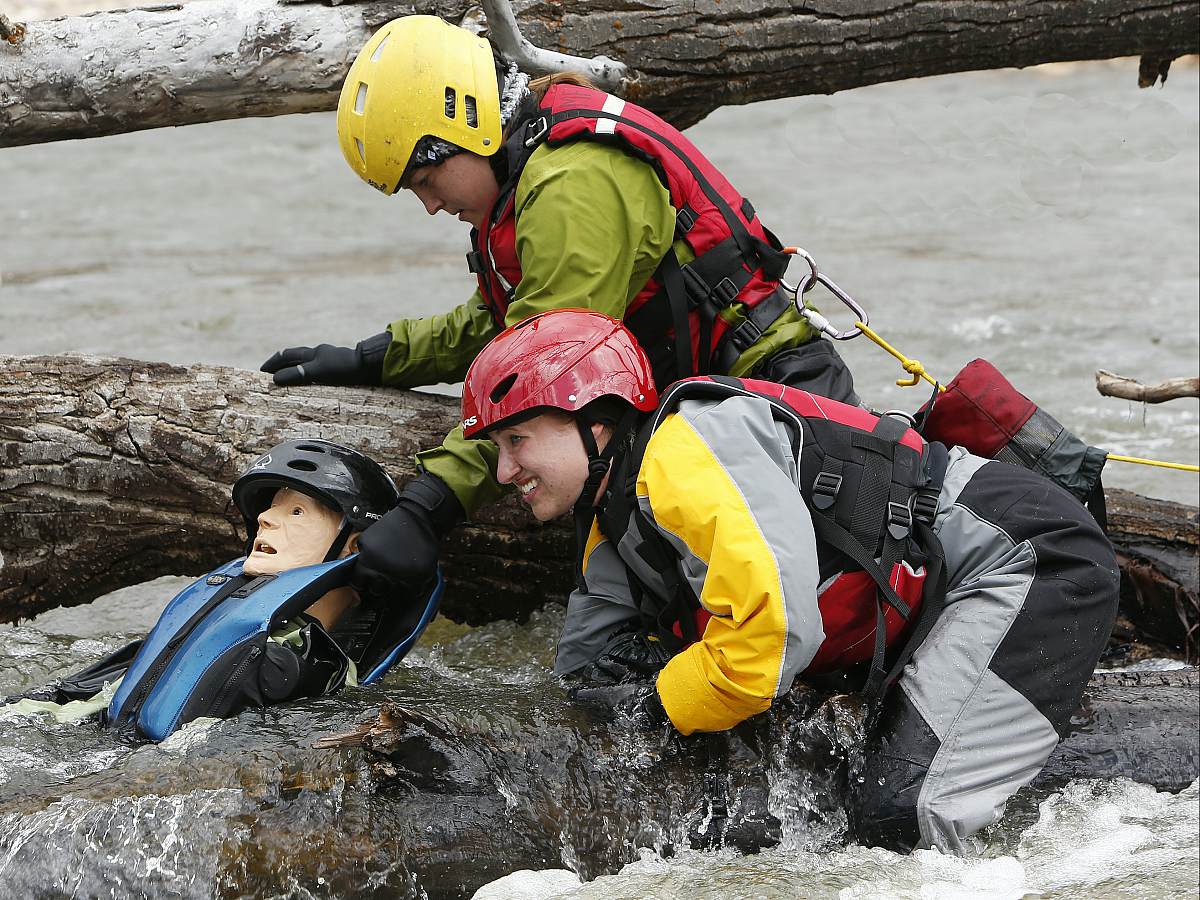 "Rather than just 'how do I lower a patient down this cliff,' it's 'how do I make this decision under stress with my teammates?'"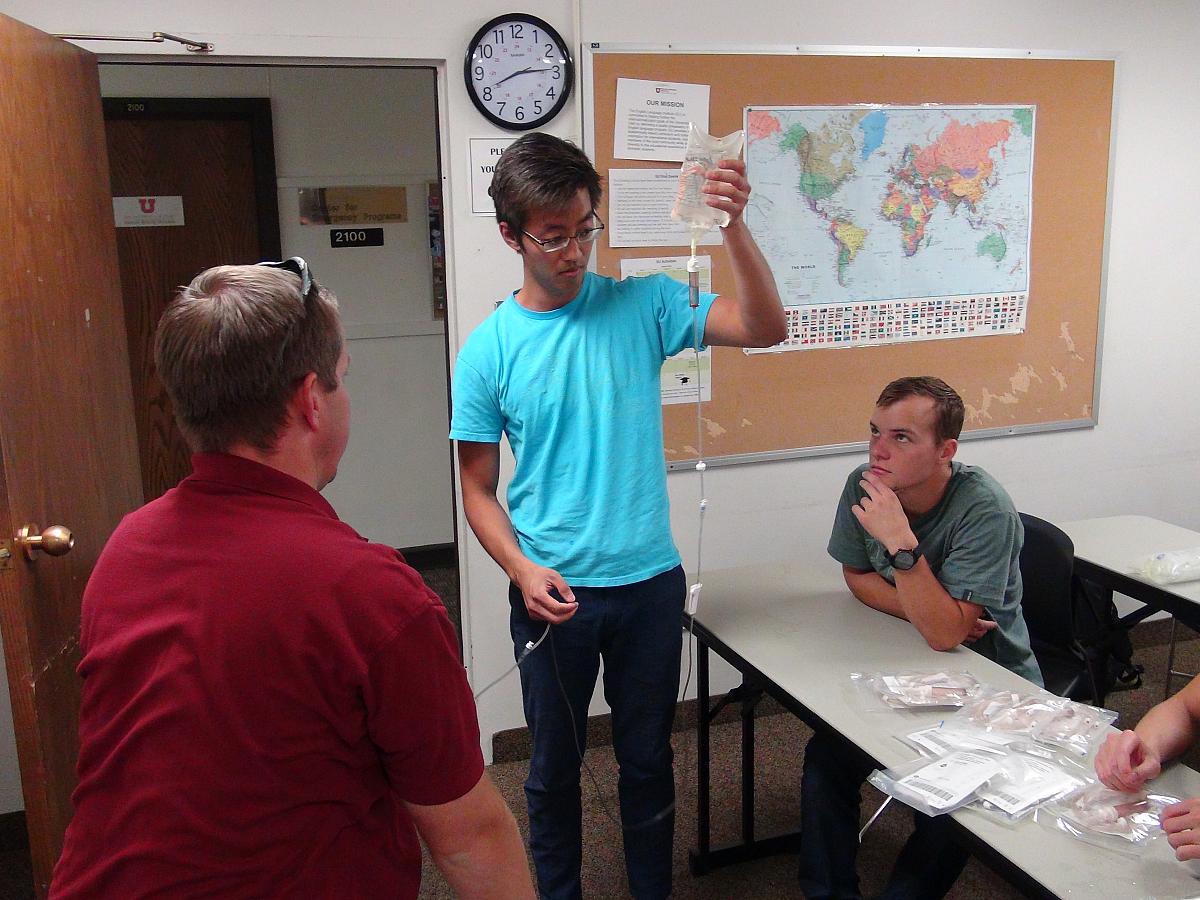 But you don't have to be a Utah student to take advantage of the center's expertise. Stratford and his team frequently go out into the community to provide trainings, including an average of 500 CPR and first aid students a year. 
"We go out to businesses within the community—a dental office, a manufacturing office, something like that," Stratford said. "We work a lot with our campus communities as well, the security folks, the Museum of Natural History, Red Butte Garden. A lot of departments are interested in first aid training."
That campus work extends to event medicine, which Stratford has worked since the 1980s. He and his team are available to provide medical care at almost all of Utah Athletics' sporting events, as well as events at America First Field and Zions Bank Field.
Stratford and his team also travel to train in rural regions of Utah, where resources and expertise can be scarce. Like Wayne County, sandwiched between Capitol Reef and Canyonlands, which has a total population of less than 3,000 people.
"We've traveled to Wayne County for the last couple years and taught an EMS course for them," Stratford said. "It's a very central county without a lot of resources—we were happy to be able to support their dedicated first responders."
The center's community courses go beyond the basics. The remote rescue staff of Haberman and Rich spend roughly half their time as instructors in the Salt Lake City area and beyond.
They partner with Brighton Ski Resort to implement critical responses, including cliff rescue protocols. They teach rock and alpine rescue sessions to medical professionals enrolled in the Wilderness Medical Society. And they work with search and rescue teams, firefighters and recreational river users in swiftwater rescue courses, crucial during Utah's runoff season.
"With our high runoff, we've had a lot of demand for our swiftwater courses this year," Haberman said. "We're still working through the backlog for people who got into rafting during COVID as well."
Community members can sign up for remote rescue courses, like climbing self-rescue, avalanche rescue fundamentals and cliff and crag rope rescue at http://remoterescuetraining.com. Utah's backyard playgrounds make these skills high demand, so Haberman recommends signing up a couple months in advance of a course to avoid the waitlist.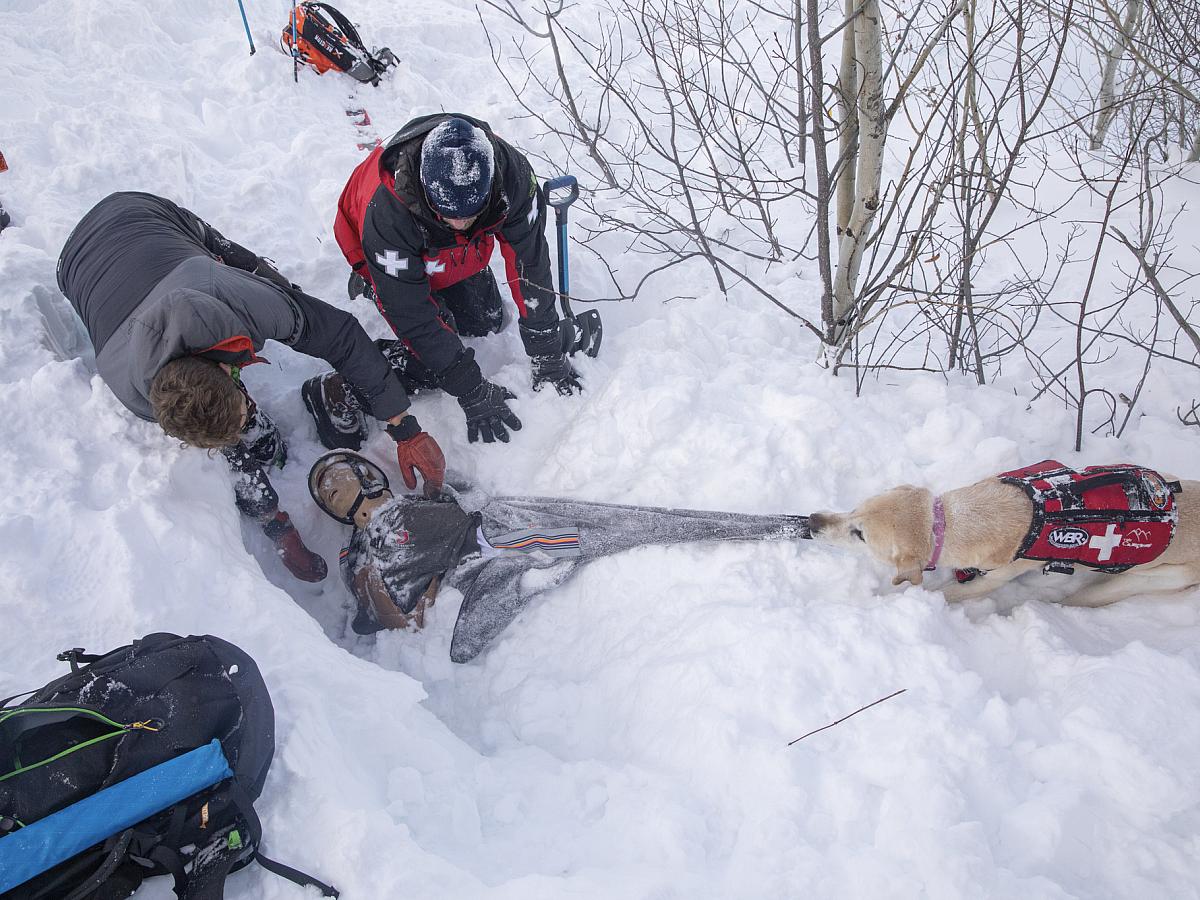 Once they get out in the field, they see how important all this training was for them. And how much better prepared they are compared to others."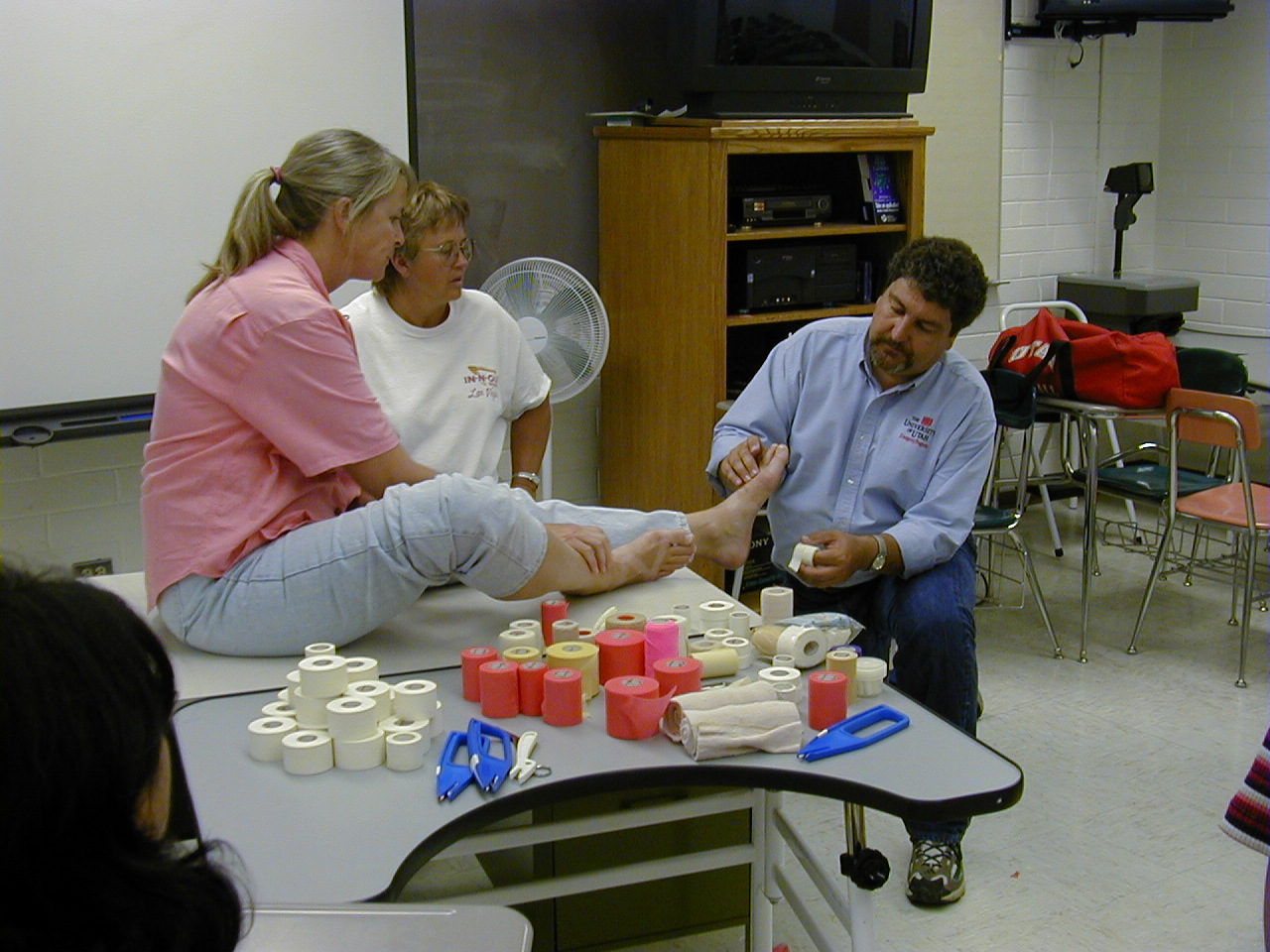 Sometimes the Center for Emergency Programs flies under the radar—and the staff is working with limited resources in outdated spaces on campus. But the training they provide is invaluable, and the foundation was set by longtime director Les Chatelain, who passed away earlier this year.
Chatelain directed the center for almost 34 years. He also served as special assistant to the University's VP responsible for emergency management. And he was the first introduction to the world of emergency medicine for countless Utah students, including Stratford. He took a first aid course from Chatelain during his freshman year in college and never looked back.
Stratford remembers reading a letter from a former student that touched on Chatelain's lengthy influence. As a college student, she wasn't interested in his class and blew it off. But Chatelain patiently took the time to connect with her and show her the value of the subject. Today she's the director of a paramedic program in Las Vegas.
"The moment she stepped into the position, she understood how valuable that class was," he said. "I think that's what most of our students realize—once they get out in the field, they see how important all this training was for them. And how much better prepared they are compared to others."