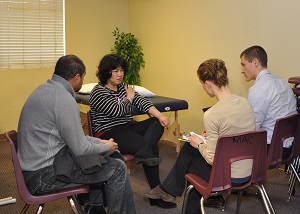 What is physical therapy (what type of services do we offer)?
 

Physical therapists evaluate and treat movement disorders that affect an individual's occupation, recreation, and activities of daily living. We use scientifically based treatments that focus on restoring function, reducing pain, and preventing disability. We understand anatomy, biomechanics, exercise science, and movement analysis and are able to provide treatment that is specific to each individual.
Who is eligible for physical therapy services with us?
 

We offer free physical therapy services to underserved and underinsured individuals in the Greater Salt Lake area who are at or below 150% of the poverty line. Our services will focus on treating physical impairments or injuries that affect an individual's occupation, recreation, and activities of daily living.
What do we treat?
 

Midvale CBC Clinic and the Maliheh Free Clinic: Joint and spine pain including arthritis, muscle pain and weakness, movement and balance disorders.

Neuro Pro Bono Clinic: Common impairments and functional deficits associated with medical diagnoses such as Stroke, Multiple Sclerosis, Cerebral Palsy, Traumatic Brain Injury, Parkinson's Disease, and others. We do not treat the medical condition directly but rather treat the resulting impairments and deficits. 

 
Who provides the treatment?
 

Services are provided by teams of students currently pursuing their Doctor of Physical Therapy (DPT) degree at the University of Utah and are supervised by a licensed physical therapist.
Are there translators available?
 

Spanish interpreters are available on-site at the Midvale CBC Clinic and Maliheh Free Clinic when needed. Spanish Interpreters are not always available at the Neuro Pro Bono Clinic. 

Interpreters for additional languages may be provided upon request. Please let us know if you need these services when scheduling an appointment.
What will my appointment be like?
 

When you come in for an appointment, you will be seen by two student physical therapists who work together to evaluate your injury and to diagnose your injury or complaint. This initial appointment and follow up appointment time will vary based on the clinic site. The physical therapists and physical therapy students will prescribe a treatment plan specific to your needs which might include activities for you to work on at home.
Donate
Monetary (cash or check) and equipment donations can also be made at the main office of the Department of Physical Therapy, 520 Wakara Way, Salt Lake City, 84108 (located in Research Park). Checks should be made out to the Department of Physical Therapy, just write Pro-bono clinic in the memo line.
All donations are tax deductible and all funds will go directly to the clinic. Although we are currently unable to accept large pieces of equipment, we would greatly appreciate many smaller items and supplies (e.g., variety of tape, resistance bands, small free weights, medicine balls, foam rollers, ice packs, hand sanitizer, etc).