Master of Science Program
At the master's degree (MS) level, you may choose either thesis or non-thesis professional preparation programs. You can specialize in areas involving tourism, commercial recreation, natural resource management, therapeutic recreation, or experiential education.
Thesis Track
The thesis track is best suited to individuals who intend to pursue advanced studies beyond the masters degree. It is designed for students who are interested in the scientific study of phenomena related to park, recreation, and tourism management.
The thesis option requires a minimum of 36 semester hours of course work, including thesis research. Search for previous PRT theses at the Marriott Library's Theses and Dissertations collection.
Non-Thesis Track
The non-thesis option within the academic track is intended for students who are anticipating an administrative or professional position and who are interested in extending the scope of their studies in the discipline accordingly.
The non-thesis professional option requires a minimum of 36 semester hours, including a eight hour practicum, and additional course work in lieu of thesis.
Graduates of our MS program have found employment in the public, private, and non-profit sectors, or have continued on to PhD programs.
APPLYING TO THE MS DEGREE PROGRAM
Students must have an earned a bachelor's degree with an undergraduate GPA of 3.0 or higher for the final two years of undergraduate work. Students with degrees not in Parks, Recreation, and Tourism are encouraged to apply. Those students without prior degrees in Parks, Recreation, and Tourism will enroll in content awareness classes.
Three letters of recommendation (reference requests are made from The Graduate School's application portal, see below).
Resume indicating background and experience.
For international applicants, performance on TOEFL meeting the requirement of The Graduate School.
Entrance examination (written composition of approximately 10 pages). Please prepare an original composition, not to exceed ten pages, on a specific topic related to parks, recreation, and tourism studies that is of special interest to you. The composition must be uniquely composed for this exam. Term papers, employment-related reports, etc. are not appropriate. Be certain to focus on a single topic and include citations for any references that you use. The composition should provide faculty with insight into one of your interests in parks, recreation, and tourism studies and it should enable you to demonstrate your ability to organize and integrate ideas and communicate in written form. Graduate faculty in Parks, Recreation, and Tourism within the Department of Health, Kinesiology, and Recreation will examine your paper for clarity and grammatical construction, organization and focus of ideas, effectiveness of transitions between major themes and ideas, validity and soundness of reasoning, and quality of evidence you provide in support of your positions. As such, you are writing an argument, not a descriptive work. Results of the evaluation of your paper will be used by graduate faculty in making a recommendation to the Graduate School concerning your admission or non-admission to graduate studies in Parks, Recreation, and Tourism. Please download the Master's Program Examination Form and attach it as a cover sheet for your paper.
Graduate school application, fee, and official transcripts.
Scores of 155 Verbal and 145 Quantitative on the GRE. Comparable scores on alternate graduate exams may be acceptable (e.g., GMAT).
All materials can be submitted electronically to The Graduate School's Application Portal.
Application Materials Due Date
Students seeking Fall admission to the MS program should complete their graduate applications by March 1.
International applicants are encouraged to allow additional time for the application process. Please note: The international student applicant pool is highly competitive, and most successful applicants have arranged for faculty sponsorship prior to completing their applications.
Graduate Assistantships
Each year, we offer a limited amount of graduate assistantships to MS students. All applicants are assumed to desire funding and are matched with these positions through the admission process.
Each assistantship requires 20 hours of work a week for 9 months and includes a monthly stipend, tuition/fee waiver, and subsidized health insurance. Please visit The Graduate School for details on fellowships and benefits.
The Parks, Recreation, and Tourism program typically awards a few masters students with assistantships each year. Additionally, funding may come from sources external to the Parks, Recreation, and Tourism program, such as Campus Recreation Services. However, the number and nature of assistantships available to new masters students changes from year to year. To learn more please visit the PRT Graduate Assistantship page.
Western Regional Graduate Program
Residents of Alaska, Arizona, California, Colorado, Hawaii, Idaho, Montana, Nevada, New Mexico, North Dakota, Oregon, South Dakota, Washington, and Wyoming are eligible to enroll in our program and pay resident tuition rates through WICHE (Western Interstate Commission for Higher Education). Learn more about how to receive resident tuition through WICHE or contact graduate admissions at (801) 581-7283.
FREQUENTLY ASKED QUESTIONS
You've got questions and we've got answers. To make it easier we've provided answers to the most common questions.
When is the application deadline?
We review master's applications once a year. The deadline for master's program admission to fall and summer semesters is March 1.
Are there any teaching and research assistantships for master's students?
Occasionally. These typically involve 20 hours of work each week for nine months and include a monthly stipend, tuition remission, and health benefits. Specific job requirements depend on the source of funding and supervisor. We try to match incoming students with funding opportunities. No separate application is needed. View upcoming graduate assistantships.
Can I be admitted if my previous degrees are not in Parks, Recreation, or Tourism?
Yes. If admitted, you will be required to complete some content awareness classes before you can take core graduate classes. The specific classes depend on your background and previous course work, and may include up to 12 hours of undergraduate courses in the Department.
Do I need to take the GRE to be admitted to your graduate program?
Yes. The GRE (or an equivalent test) is a required part of the application for the graduate programs.
I've missed the application deadline, but would like to take a class to see what your program is about. Is this possible?
If you are a current University of Utah student, or can become a current student, then we can help you select courses that might help you in the graduate program. These might either include content awareness classes (see above) or lower division graduate classes that do not have prerequisites. If you are not a current student at the University of Utah, you may be able to take classes by being admitted as a student seeking a second bachelor's degree.
Who should I ask to write my letters of recommendation?
While there are no explicit requirements, previous university instructors are often better able to answer the specific questions regarding your ability to succeed in a graduate program. If academic references are unavailable, letters from current or previous supervisors are generally superior to those of your peers or colleagues.
Where do I send my application materials?
All materials can be submitted via The Graduate School's Application Portal.
As a master's student, when do I have to decide between the Thesis and Professional tracks?
After you are admitted and before you enroll in classes you should discuss this option with your graduate advisor or the Director of Graduate Studies. It is somewhat challenging to switch between these tracks once you have taken a semester's worth of classes.
Do I need a faculty sponsor to be admitted?
The availability of faculty advisors does influence admissions. We match applicants to faculty interests, talents, and available time during the admissions process. However, given the large number of international applicants, it is often beneficial for international students to have a faculty sponsor prior to application to the program.
PRT Graduate Student Advisory Committee (GSAC)
Master's students are represented by the PRT Graduate Student Advisory Committee (GSAC).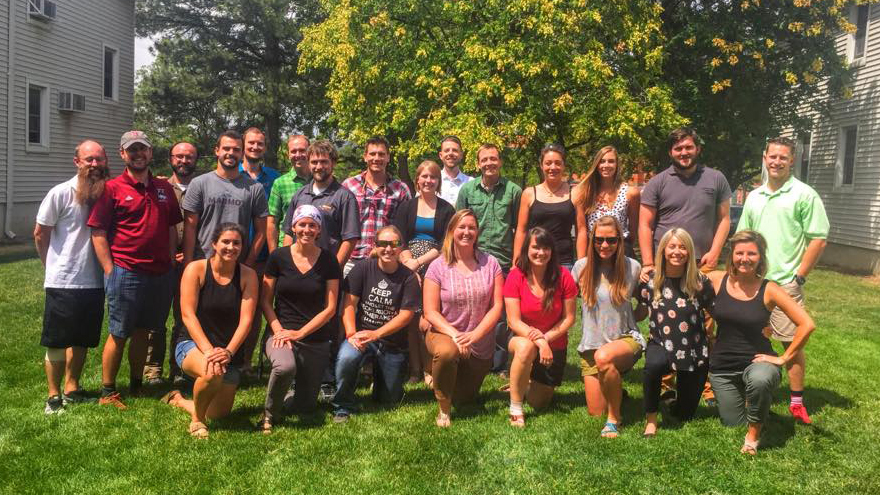 Graduate Resources
Current MS students can find the PRT Graduate Bulletin, Master's Program Handbook, PRT scholarship information, and other resources are under the Graduate Student Resources box.