Textbook Lists
Textbook information can be found by viewing your class schedule in CIS or at the Campus Bookstore.
Handbook
OTD Student Handbook Last updated: 2020Aug
Graduation
Students are responsible for tracking their progress toward graduation. To do this, students must log into the Campus Information System (CIS) and click on the student tab, find the heading "Graduation Information". Under the subheading "graduation", select "Graduate Student Degree Tracking". Students should also view the Graduation Overview for Doctoral Candidates on the Graduate School website. The Department of Occupational and Recreational Therapies requires the following steps:
Request for Supervisory Committee
Advisory Committee Form (link to Word .docx)
A mentor is assigned prior to registering for OC TH 7972 Capstone. The mentor and student will work together to form the committee. This form must be turned in to the Academic Advisor no later than the last day of class of the first OC TH 7972.
Program of Study
This lists all the courses that are part of the degree.
This will be entered after students have registered for their final semester.
Graduation Application
Graduate candidates for graduation must follow the instructions for Application for Graduate Degree with the Registrar's Office. Deadline for Spring is November 1, Summer is February 1, and Fall is June 1.
Sample Graduation Application (link to pdf)
Capstone Project Proposal
Prior to students starting work on their capstone project, students must defend their proposed capstone project to their committee. When the proposed project is successfully defended, this form is submitted to the Academic Advisor and work on the capstone project may begin.
Capstone Project Proposal Approval Form (link to Word .docx)
Final Capstone Defense for the Doctoral Degree
When a student has finished their capstone project and ready to defend, this form must be completed and given to the committee chair. 
Capstone Approval Form (link to Word .docx)
The passing decision is made by the student's committee. This form must be signed by all committee members and turned in to the Academic Advisor after the defense in order for the student to be cleared for graduation.
Graduation Regalia Information
When ordering regalia for graduation ceremonies, students will order the doctorate package (pictured below).
Students are welcome to purchase their regalia from the University Bookstore or purchase a "fine quality" gown from another supplier. If a student purchases a "fine quality" gown, the vendor will allow you to customize the gown & hood colors and type of hat. The University of Utah does not yet have an official regalia policy.
Regalia purchased from the University will have red chevrons and piping on the gown. The hood will be sage green, in place of the blue in the photo below, for the College of Health. The tassel will also be sage green.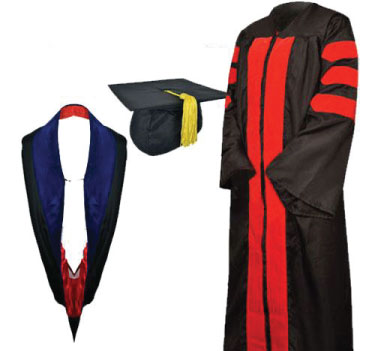 Computer Requirements
General System Requirements:
Mac or PC, desktop or laptop
Microphone and web camera for Skype type use
Newest version of Adobe Flash Player
Web Browser - Internet Explorer is NOT supported in Canvas applications. Use Google Chrome (recommended) or Firefox for PC – Firefox or Safari for Mac
Microsoft Office - free of charge at: https://software.utah.edu/microsoft.php
Video Card: at least 64MB of video memory
Sound Card: at least 16-bit
Computer Speed and Processor:
Use a computer 5 years old or newer when possible
1GB of RAM
2GHz processor
Operating Systems:
Windows 7 and newer (users on Windows 10 need to download the Windows 10 Anniversary Update to submit Canvas assignments)
Mac OSX 10.6 and newer
Linux - chromeOS
Internet Speed:
Along with compatibility and web standards, Canvas has been carefully crafted to accommodate low bandwidth environments.
Minimum of 512kbps
Mobile Operating System Native App Support:
iOS 7 and newer (versions vary by device)
Android 4.2 and newer
*Requirements subject to change. When in doubt, please consult with us before purchasing new equipment.