Application to the Master of Occupational Therapy Program
The application deadline for the Department of Occupational and Recreational Therapies is November 1, 2023 for fall 2024 start. The OTCAS application cycle typically opens in mid-July. open. Applicants are encouraged to submit the OTCAS application early. We will be reviewing applications as they come in as a modified rolling admissions process. We do not recommend using the OTCAS Professional Transcript Entry (PTE). However, if you do, you MUST submit no later than October 1 to ensure PTE completion by our application deadline of November 1. Interviews for fall 2024 will be held mid January 2024 via Zoom. Applicants will receive more information with their interview invitation.
Students must have a bachelor's degree completed prior to the start of the Occupational Therapy program in the fall.
Last updated 2023FEB14
A completed application includes the following:
A minimum of 50 contact hours between at least 2 settings with a minimum of 8 hours in one setting. Hours are recorded into OTCAS so keep a log of the facility name, OT name and contact info, dates and number of hours. The minimum observation hours must be complete at the time an application is submitted. An applicant may continue observation above and beyond the minimum after the application has been submitted. If a student is taking an introduction to occupational therapy course to meet the hour requirement, the course must be complete or in progress at the time of application submission.
GRE is not required
Complete the prerequisite courses.
TOEFL Test if English is not an applicant's first language. The test must be taken early enough so that the Department of Occupational and Recreational Therapies receives the scores by the application deadline. You can view score requirements at prerequisite courses under required tests.
Application to OTCAS must be received and marked as complete in OTCAS by midnight EST (that's 10:00 PM in Utah) on November 1. Verification is not required by this date. A complete application in OTCAS is a submitted application, fees paid and receipt of all university transcripts. Applications not marked as complete by OTCAS by the deadline date will not be considered. Start your application early to ensure all components are received and complete in OTCAS by the deadline. To learn more about the OTCAS application process and to get started, please go to the OTCAS website.
Official university transcripts submitted to OTCAS showing completed prerequisite coursework and courses in progress. Transcripts may take 3-4 weeks to deliver. Be sure to plan for this when submitting your application. If you need help with your OTCAS application, be sure to visit their instructions and FAQ page. If you pay for the Professional Transcript Entry (PTE), it may take 2 weeks to process. OTCAS will not process the PTE until the application has been submitted.
Three letters of reference electronically submitted to OTCAS through the application portal. Here is a sample of the online form. At least one (1) reference must be from an an occupational therapist with who you've done observation. The other references should come from an individual who knows the applicant professionally (employer, professor, etc.). The reference should not be a relative of the applicant. Arrange for OTCAS to receive all of your references by the application deadline. The OTCAS application may be submitted without receipt of the reference. It is the responsibility of the applicant to ensure that all references have been received by the application deadline.
Applicants who have prerequisite courses in progress at the time of the application deadline will be required to enter grades fall courses grades into the OTCAS academic update in December/January and to send a official transcripts to OTCAS for grade verification and to list planned prerequisite courses for winter/spring (if any). The academic update opens in mid-December. The academic update must be submitted by January 1.
PLEASE NOTE: Incomplete or inaccurate files/forms WILL NOT be reviewed. It is the responsibility of the student to ensure receipt of all application materials with OTCAS and University of Utah Admissions not the Department of Occupational and Recreational Therapies.
University of Utah Graduate School Application
Students who have been selected for admission will be required to submit an application to the University of Utah Graduate School. The deadline for this application will be sent with the admission offer. Please be aware that a copy of official transcripts from EACH college that you have attended, including the University of Utah, needs to be uploaded to the application site. Additionally, the online Graduate Application has several sections. Please fill out the Basic Information Section. However, as a MOT application, you do NOT need to complete the sections on Resume, Statement of Purpose, Writing Sample nor Faculty. You do NOT submit Letters of Recommendation on this application, either. We use the information from OTCAS.
University of Utah Occupational Therapy Admissions Mission Statement
The University of Utah occupational therapy program values applicants from diverse backgrounds and experiences with the aim to create a dynamic learning environment and a graduating class that reflects the diversity of our community. Applicants will be evaluated on a range of factors including academic performance, evaluations of personal statements, extracurricular experiences, and personal attributes.
The following are among considered factors:
| | |
| --- | --- |
| Life experiences | volunteer, community service, experience with diverse populations, employment history, research activities |
| Educational background | undergraduate major, science and non-science related academic merit |
| Cultural background | multicultural experiences, bilingual/multilingual, international experiences, rural background |
| Socioeconomic background | first-generation college graduate, self-supporting |
Attributes valued by the program include but are not limited to:
Critical thinking abilities

Cultural humility

Ethical integrity

Leadership abilities

Resilience

Adaptability

Self-discipline

Insightful

Positive work habits

Respectful
Application files are reviewed to determine eligibility based upon receipt of all application materials and completion of prerequisite coursework with a "C" or better. Once eligibility is determined, each student's application will be reviewed by the Occupational Therapy Admissions Committee. Students who have all the prerequisite courses completed at the time of application and have been determined by the admissions committee to meet the program's mission and values may be invited for early admission. Early admission offers will be made in November. Applicants who are offered early admission will not need to interview. Qualified applicants not offered early admission are invited for individual interviews. The interview process is a critical one; through the interview process, we gain an understanding of the candidate, their academic preparation and insight into their potential as a future OT. Finalists are chosen on the basis of the interview outcomes in conjunction with the rest of the application. 
Approximately thirty-six (36) students will be accepted into the fall semester class. Notification will be by mid-February. Because there are a greater number of well-qualified students interested in the field of occupational therapy than the University is able to accommodate, there is competition for the limited number of positions available and although well-qualified some applicants are not able to be admitted. Typically we have an application pool of 120-140. Of those applications, we typically interview 90 applicants. Qualified students who do not receive an initial offer of admission may be offered an alternate spot. Alternate students will be offered admission should a spot become available. Students fill out the Alternate Notification Form to remain on this list. We do not maintain a waiting list from year to year. If a student is not selected for admission, the student will need to reapply the following year. Applicants are welcome and encouraged to meet with the academic advisor to discuss the factors that lead to the decision and to explore areas for improvement for future application.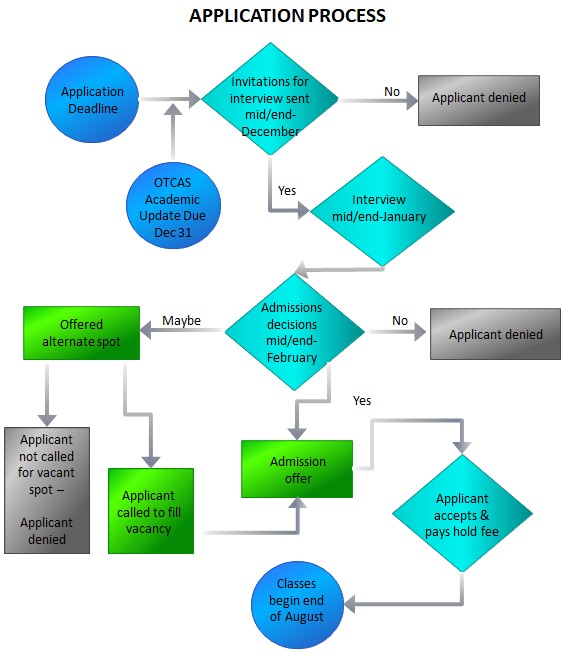 The Department of Occupational and Recreational Therapies at the University of Utah is committed to policies of equal opportunity and nondiscrimination on the basis of race, national origin, sex, age, or status as an individual with a disability in all of its programs and activities, including but not limited to, student admissions and student financial assistance. Reasonable prior notice is needed to arrange accommodations.
College of Health Commitment to Inclusive Excellence in Admissions
The University of Utah College of Health strives to promote diversity and inclusion among its students, faculty, and staff with the realization that diverse perspectives and life experiences strengthen our academic community in multiple ways. By creating a welcoming and supportive environment that encourages academic excellence and diverse perspectives, we work toward the creation of opportunities for all to learn from one another by sharing our wealth of talents and histories. Each of our departments offer degrees in professions focused on health, wellness, and research. With the increasingly rich complexity of our population, we recognize the need for our graduates to reflect the diversity of our community. Furthermore, we also recognize the strong and positive impact a diverse collective of faculty, staff, students, and alumni can have on issues of health equity and the valuable role our College can play in reducing health disparities for all populations.
Hepatitis B for Incoming Students
Hepatitis B vaccination is a series of 3 time sensitive injections. The 2nd injection is administered one month after the first, and the third injection is given 6 months after the second. Therefore, students are advised to begin the series of vaccinations as soon as they begin the application process in order to complete the series before enrolling. Most, if not all, OT programs require these immunizations so it is well worth the applicant's time to get them completed regardless of where they are admitted.
When a student is offered admission, the actual acceptance of those students selected for the next fall semester is contingent on the following:
Receipt of a non-refundable fee of $500.00 to hold class place. This fee is applied to fall semester tuition.
Admission to the University of Utah Graduate School.
Verification of completion of all prerequisite courses and bachelor's degree.
Completion a criminal background check through CastleBranch. The cost of which is the responsibility of the student.
Proof of immunization. Submitted to CastleBranch.
Completion of CPR certification from the American Heart Association Basic Life Support (BLS) for Healthcare Providers 1 & 2-Rescuer CPR and AED for adult, child and infant is universally accepted and is now the is the only CPR program accepted for the University of Utah Department of Occupational and Recreational Therapies. We do not accept CPR from the American Red Cross. The skills practice and Skills testing portion must be done in the classroom, NOT online. Proof of current certification needs to be submitted to CastleBranch prior to the start of the MOT program.
Proof of health insurance coverage prior to participating in fieldwork in January.