What We Do
Motion Capture Core Facility is a research facility focused on the study of the coordination of movement and postural control in health, aging, and disease. Research is conducted using state of the art measurement techniques including kinetic, kinematics, electromyography, and full motion fluoroscopy. While the facility is under the auspices of the Department of Physical Therapy, the equipment in this facility is the product of a collaboration between the Departments of Physical Therapy and Orthopaedics.
Students, faculty, and staff from throughout the University including Departments of Mechanical Engineering, Biology, Occupational Therapy, Robotics, Computing, Bioengineering, and Orthopaedics collaborate together on a variety of projects. In addition, we collaborate with the movement analysis laboratory at the nearby Salt Lake City Shriners Hospitals for Children.
Children with movement disorders may be referred here for clinical gait analysis. The MoCap facility includes a 10 camera Vicon Motion Analysis system, 2 AMTI multiaxis force platforms, instrumented treadmill and stairs, an instrumented gait walkway, as well as software for data collection and analysis. Feel free to contact us with any motion needs you may have.
Inside Our Facility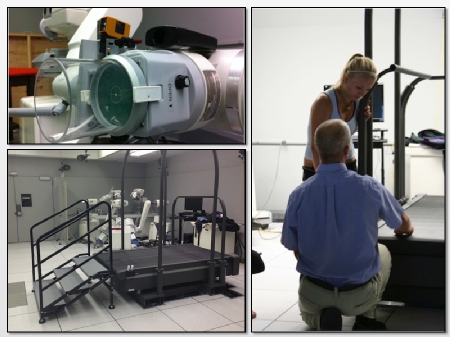 Contact Us
Bo Foreman, PT, PhD
Phone: 801-581-3496 Email: bo.foreman@hsc.utah.edu
Mailing address Motion Analysis Core Facility 520 Wakara Way Rm 106 Salt Lake City, UT 84108