David H. Perrin, PhD
David H. Perrin is Dean of the College of Health and Professor in the Department of Physical Therapy and Athletic Training at the University of Utah.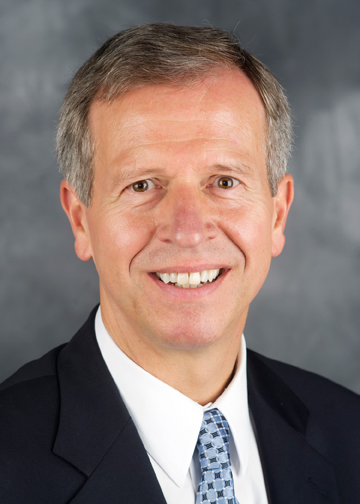 Biography
From 2007 – 2014, he served as Provost and Executive Vice Chancellor at the University of North Carolina at Greensboro and as Dean of the School of Health and Human Performance at UNCG from 2001-2007. 
Dr. Perrin's career as an administrator began in 1995 in the Curry School of Education at the University of Virginia where he served as program area director of Kinesiology (then Health and Physical Education). In 1999, he was appointed Chair of the Department of Human Services at UVa. He received his BS in Physical Education from Castleton State College, MA in Athletic Training from Indiana State University, and PhD in Exercise Physiology from the University of Pittsburgh. 
Dr. Perrin was editor-in-chief of the Journal of Athletic Training for eight years (1996-2004) and founding editor of the Journal of Sport Rehabilitation (1990-1995).  He is author of Isokinetic Exercise and Assessment and Athletic Taping and Bracing, 3nd Edition (with translations in Japanese, Greek, Chinese, Portuguese, Korean and French), editor of The Injured Athlete, Third Edition, and coauthor of Examination of Musculoskeletal Injuries and Research Methods in Athletic Training. He also served as series editor of the 5-textbook Athletic Training Education Series.  
For 15 years Dr. Perrin, directed the graduate programs in Athletic Training (MEd) and Sports Medicine (PhD & EdD) at the University of Virginia. He was named the Joe Gieck Professor of Sports Medicine, founded the Sports Medicine and Athletic Training Research Laboratory, and mentored over 50 students who received a doctoral degree in Sports Medicine. His primary research interest, funded by the National Institutes of Health, focused on anterior cruciate ligament injury risk factors in female athletes. 
From 2007 to 2011 he served on the Advisory Committee on Interdisciplinary, Community-Based Linkages, Bureau of Health Professions of the U.S. Department of Health and Human Services. As a faculty member, he was recipient of a University of Virginia All-University Outstanding Teaching Award in 1997 and in 1998 received the Curry School of Education Foundation's Outstanding Professor Award. His professional awards from the National Athletic Trainers' Association include the Sayers "Bud" Miller Distinguished Educator Award in 1996, the Most Distinguished Athletic Trainer award in 1998, the William G. Clancy, Jr., MD Medal for Distinguished Athletic Training Research in 1999, and induction into the Hall of Fame in 2003. In 2015 he received the NATA Research & Education Foundation's Lifetime Contribution Award. In 2017 he was recognized with the American Kinesiology Association's Distinguished Leadership Award for doctoral-level institutions. 
Among Perrin's honors are distinguished alumni awards from CSC, ISU, and Pitt, including induction into the Legacy Laureate Society at the University of Pittsburgh in 2008. In 2009 he received an Honorary Doctor of Humane Letters from the Arizona School of Health Sciences at A.T. Still University. 
Friends and former students have established the David H. Perrin Athletic Training and Sports Medicine Scholarship in the Curry School of Education Foundation at UVa, the NATA Research and Education Foundation's Outstanding Dissertation Award and the Ethnic Diversity Advisory Committee scholarship given in his honor. Perrin is a Fellow of the American College of Sports Medicine, the National Athletic Trainers' Association, and the National Academy of Kinesiology, and a Founding Board of Director of the American Kinesiology Association.
Our Plan & Vision
Read the Dean's strategic plan and vision for the College of Health.
Give to the College of Health
You can help the College of Health continue to progress with even a small contribution.