"There's never a downside to learning," Dr. Martin Robinette, Ph.D. says humbly about his pioneering career in Audiology that spanned from 1965 at the University of Utah to his retirement in 2007 from the Mayo Clinic. One former doctoral student remarked, "Dr. Robinette is a consummate student with the belief that learning is an important part of life's mission and existence. This life quality had a significant effect on my professional growth and career progression. I consider my professional success Dr. Robinette's success, and thank him for imparting this quality to me."
Thanks in part to Robinette, new parents take relief knowing that their newborn's hearing is tested before leaving the hospital. His most notable legacy is that following the discovery of otoacoustic emissions (OAEs) by British physicist, David Kemp, Martin demonstrated the effectiveness of the test for newborn hearing screen and as a test for sensory hearing loss. He also painstakingly navigated the insurance system in order for these tests to be covered universally. 
Truth be told, Robinette's career began long before his life at the U. The California native, who moved to Utah at the age of 11, admits to being a little directionless at the age of 24. To pay for school at Weber State College, he became a house parent for teenage boys at a local school for the deaf. Martin reminisces, "I got them up in the morning, got them breakfast, and made sure they got to classes. Around 3 pm, I played games with them and later put them to bed. I was 24 then and not taking life too seriously."
But then something clicked. "I just felt for these kids," Robinette explains. "They yearned for companionship. They really needed to feel a part of a family." 
Robinette's playful curiosity led him to apply for and win a $1,500 scholarship for deaf education at the University of Utah, where he ultimately received a B.S. in Education of the Deaf through the Special Education Department. Along the way, he met and married Helen, a teacher for the deaf. "She was the star student. I was not."
Yet Robinette persisted. "I learned all about audiology, which is the scientific side of the field. I applied and got a scholarship to get my Master's degree from the U of U. With my Master's, I was a straight-A student. That happens when you get married. You feel responsible for someone else," he imparts. 
And when you find your passion.
The newlyweds hit up inner-city Detroit for their next adventure where Robinette earned a Ph.D. from Wayne State University. "I could have gone to a number of schools, but Wayne State was the one school that had an audiology department that was located in its medical school. My doctoral chair, John Garth, received the first-ever Ph.D. in Audiology from Northwestern back in 1949."
Challenges lay ahead when the newly-minted Ph.D. transferred to the University of Wyoming in 1970 to form an Audiology Masters Program. Despite getting grant money to kick off the program, then being promoted to associate professor and tenured, Robinette was itching for the next move. 
"After four years there, I needed to change," he says. That's when the Director of Speech Pathology and Audiology at the University of Utah called. He invited Robinette to apply to become an Associate Professor at the U. "So, I applied and got hired," Robinette says. Back at the U. in 1974, he set his focus. 
Upon returning, he learned that his lab had no equipment ("not even a voltmeter," he explains), he was one of only two faculty members to manage a growing audiology student body, and he was required to publish multiple referred journal research articles quickly or else be terminated. So, Robinette wrote and won a grant request that offered scholarships to audiology graduate students. The money also enabled the University to hire a third faculty audiologist and fund his new research laboratory.  
Among his many contributions to the University of Utah, one of the biggest was spending two years negotiating a move of speech language pathology and audiology from the Department of Communication within the College of Humanities to its own department with the College of Health, where it lies today. 
It was a journey as challenging as it was rewarding. Robinette credits his success to the collaboration he had within and outside of his department. "In the university environment, you pull from all learning environments: neurology, psychology, even engineering, and philosophy." By way of example of collaboration, Robinette was on a five-member research group that developed and now hold the patent on the first all-digital hearing aid. Ultimately, he was recruited by the Mayo Clinic where he spent the last 21 years of his working career. 
Recently, Dr. Robinette was honored with a University of Utah endowed scholarship funded by students he mentored during his tenure at the U. One of the donor's commented, "Martin, for four decades, as an educator, administrator, clinician and researcher, you selflessly gave of yourself for the greater good, and we don't think you were given the recognition you deserve. We are here tonight to change that." Over 45 students, family members, colleagues, and life-long friends contributed over $27,000 to recognize Robinette's contributions to the field of speech language pathology and audiology, and their lives.
Today, Robinette lives in Sandy with his wife Helen. "I love this institution," Robinette cheerfully beams while donning a U of U logo on his chest. The couple enjoys the mountain life and their season tickets to Utah basketball games. "This is home."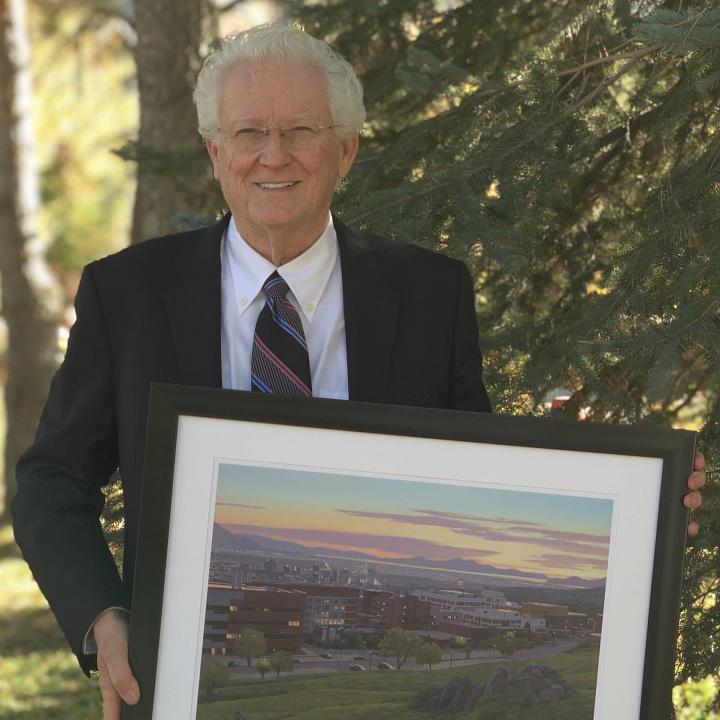 Martin Robinette
---