By Bill Keshlear, College of Health
A dream about being in a circus could symbolize specific aspects of your life in chaos, out of control, a "circus." Or, the circus could represent creative potential and a desire to try new things. 
  
Did Jaclyn Arduini ever imagine a master's degree as a way to run off and join the circus? "Never," she said.
So much for the deep stuff of psychoanalysis. Jaclyn's career trajectory was more or less firmly planted in reality.
After completing two undergraduate degrees in Canada, she said she had her eye on a master's degree program – Exercise and Sport Science with an emphasis in athletic training – at the University of Utah.
"I thought I'd end up teaching," said Jaclyn, who completed the degree in 2016.  "Stay with traditional sport. That's all I've really ever known." 
 
She'd tap expertise as a practitioner in performance medicine gained through working with team sports at the University of Utah, lacrosse and hockey, plus modern dance and ballet.
The challenging degree program, currently offered through the Department of Physical Therapy and Athletic Training, opened doors to a world of elite-level athletic performance she vaguely knew existed but never really considered. One of those doors led to the circus, specifically Montreal-based Cirque du Soleil's first-ever touring ice show called CRYSTAL. 
Behind the hypnotic illusions and the derring-do of nationally ranked figure skaters and acrobats creating a story with the girl-power appeal of "Mean Girls" meets "Frozen" meets "Wonder Woman" is a troupe whose performances require first aid, injury assessment and management, supervision of rehabilitation and recovery. It's a long way from the stuff of dream analysis.
Jaclyn signed up after talking to recruiters from Cirque du Soleil at the National Athletic Trainers' Association (NATA) Convention where she was giving a poster presentation. "They were very approachable," Jaclyn said. "They said, 'Oh, your background really fits what we're looking for.'"
They were talking about her work with dance majors but also going through a program that outside the classroom gave her experience in multiple sports and an ability to adapt to a rigorous workload: 11 months on the road; a city per week; flying or busing along with 100 athletes (as part of the circus, they're "artists") and technicians Jaclyn calls family.
"I am very lucky. I use what I learned at the University of Utah every single day," she said. "Some degrees aren't like that." 
The way injuries happen in the circus and other performing arts is different than in sports. But the injuries are essentially the same. Knee and ankle strains and sprains. Shoulder injuries. Wrist, finger and hand injuries. Pretty much everything you'd see on a football or soccer field. 
"Emergency care is huge for us," she said. "We have to make sure we know how to care for any injury or accident that occurs on site." 
Jaclyn did not attend the University of Utah in order to work in a circus show, however. Her eye was on a job in a college environment. The athletic program opened another possibility. "You just have to keep your mind open. Never turn down an opportunity to talk to someone." 
"We're seeing a shift toward performance medicine. And it's quite broad. Demand for athletic trainers is growing because we provide services to more than just traditional sport," she said.
Over the course of her life on road, Jaclyn invites athletic-training students backstage to glimpse career possibilities beyond the football field. "I happened to be in the right place at the right time and got this great job. Anybody who went through the training at the U could do what I do." 
OK. But what are you going to do when you grow up? "Come back to the U," she said.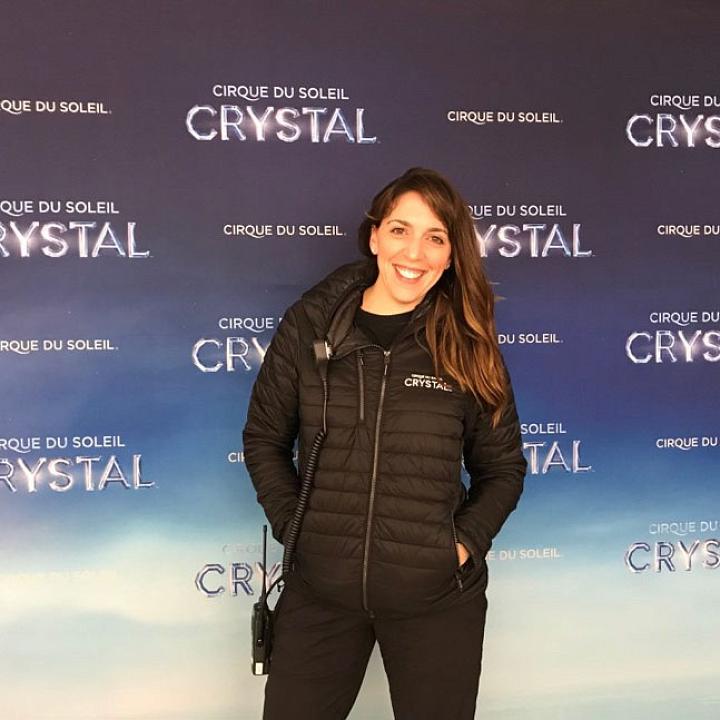 Jaclyn Arduini
---