By: Val Rasmussen
Ever taken a trail run, mountain biked, ice skated, played soccer, utilized a dog park, or brought the kids to a playground in the Park City area? If so, you have Bonnie Bedford Park to thank for that.
Skiing brought Park from New Jersey to the University of Utah in 1975. Since then, she has called the Beehive State her home. Those same mountains kept her in Utah long after graduating from the U in 1980 with a Master's in Leisure Studies. "My almost-twin sister who was at Princeton at the time joked, 'Only Bonnie would go west and study Leisure Studies,'" Park says with a laugh.
Long before Utah touted the "Greatest Snow on Earth," Park interned at the Park City Chamber of Commerce during the state's recreation infancy. "We had a staff of four women in the office on Main Street when Park City was nothing back in 1979," she says. Later, Bonnie moved to the private sector at Park Meadows Country Club when they opened a golf course designed by Jack Nicklaus. 
"Basin Recreation started in my laundry room when my kids were three and six-years-old," Bonnie says. The part-time gig began when a seven-member Administrative Control Board hired her following a $7.5 million dollar bond election in 1995. 
Park's moxie quickly outgrew her part-time responsibilities. "In the 1980s, we had all this residential growth with no planning for parks and recreation. I was a mom at the city park with these little children thinking, 'how can we have all this residential development and no planning for public parks and rec?' For me at the time, the catalyst was playgrounds. Then as my kids grew, it was soccer fields. I'm a trail runner, so then it was trail system improvement and open space preservation. It was a huge evolution." 
Park knew the process went deeper than creating pretty spaces. "Dr. Rockwood was one of my professors at the U's Department of Leisure studies. He taught Legal & Financial Aspects of Recreation, which was everyone's nemesis because it was a hard class." That class taught Park the ins and outs of budgeting: creating a chart of accounts, assuming all line items, calling utility companies, and making assumptions on how rates would change from year to year. "At the time, I was thinking, 'nobody's ever going to have to do this.' But when I started Basin Recreation, that's exactly what I had to do."
Budgeting aside, Park also managed the painstaking process of gaining approval for a trail masterplan from government officials, property owners, and even uncooperative ecosystems. "What I know about the intricacies of beaver dams would make you laugh," Park says.
Regardless, she persisted. "The recreation district is a taxing entity. In 1995, the voters of the Snyderville Basin funded some capital projects starting with the park sites and the beginning of a trails masterplan. Then, the trails masterplan was the regulatory tool we used to review all new development as it was going through the approval process," she continues. "To acquire all the trail easements, I would sit in every planning commission meeting looking at every development thinking, 'we need to connect all this.' For years, public perception was, 'the trails are great, but how are they going to connect?'"
Park eventually connected all the dots...and all the trails. Today, the entity "owns and manages nearly 2,000 acres of open space, maintains 150 miles of trails and works with Summit County and state and local organizations on planning and conservation issues. They also operate an 83,000-square foot indoor fieldhouse facility that serves over 168,000 patrons a year."
Her drive and success didn't come from selfishness. "I think one of the reasons I was originally hired [to start Basin Recreation] is because I participate in certain activities recreationally, but mostly I enjoy seeing people have fun." 
What advice does Park have for young students and alumni? "Choose to live in a place that you love to live, and find something you love to do." 
In 2013, Park left the parks and recreation world and pivoted to another passion: writing. Using letters she discovered in the back of her mother's closet, Park weaves together three generations of her family's history in "Brides of 1941."
Be on the lookout for her second book of this trilogy "Six Weeks for Boat Mail," due out soon.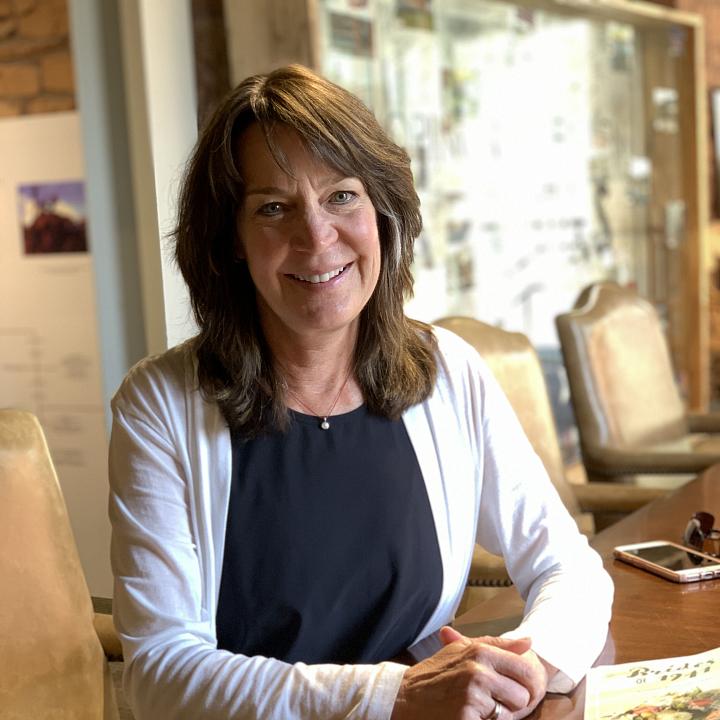 Bonnie B. Park
---