What are the U-EXPLORE courses?
Offered through the Department of Parks, Recreation, and Tourism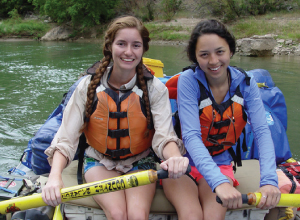 in the College of Health, these outdoor adventure courses offer an opportunity for University of Utah students to enjoy "wild Utah" through an exciting array of 60 course titles.
What kinds of outdoor adventure courses are offered?
Hiking, backpacking, rock climbing, mountain biking, canyoneering, canoeing, kayaking, whitewater rafting, fly fishing, swiftwater rescue, snowboarding, skiing, avalanche awareness, and more.
May I earn credits toward graduation by successfully completing a U-EXPLORE course?
Yes. These courses typically offer the opportunity to earn 2 credits, though a few are listed at 1 or 3 credits. Almost all of them are offered on a "credit – no credit" basis, and their successful completion does appear on your transcript and count toward graduation.
What demands on my schedule are required to complete these courses?
Due to the outdoor environment in which the field trips take place, courses start and end at various points throughout the semester, requiring different add and drop rules. Most involve one night of classes and a three-day field trip. Others have different schedules. Some involve overnight camping, some do not. Some require Sunday field trip involvement, some do not.
Where do I find these courses in the University of Utah's Schedule of Classes?
They are listed under three department names, each based on Parks, Recreation, and Tourism: PRTL (land-based courses), PRTS (snow-based courses), and PRTW (water-based courses). View the course catalog.
Who can answer more specific questions that I have, or send a sample syllabus to me?
Contact the program coordinators, Nate Furman and Nate Bricker